Citigroup (NYSE:C) has traded off quite sharply since the end of March, when the Federal Reserve rejected its capital return proposal. Investors where anxiously awaiting the approval of a dividend increase coupled with an increase in the share repurchase amount. With hopes currently dashed, many sold with the belief that the turnaround in C is permanently stalled. The article below will update my previous bullish article on C, with a discussion of the recent earnings report.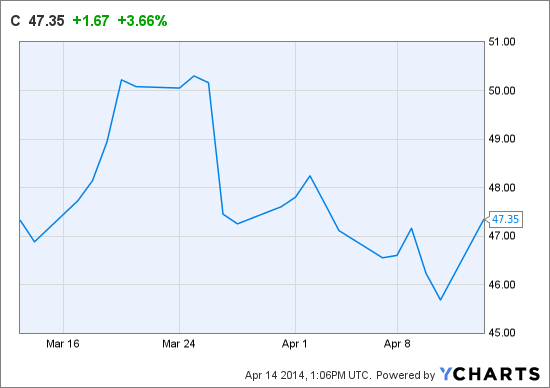 C data by YCharts
I would like to begin by highlighting the performance of Citi Holdings, the division which contains the vast majority of C "bad debt".
Citi Holdings revenues in the first quarter 2014 increased 61% versus the prior year period to $1.5 billion. Revenues in the first quarter 2014 included CVA/DVA of $14 million (compared to negative $9 million in the prior year period). Excluding CVA/DVA, Citi Holdings revenues increased 58% to $1.4 billion primarily driven by the absence of repurchase reserve builds for representation and warranty claims in the first quarter 2014, as well as higher levels of mark-to-market gains, lower funding costs versus the prior year period and a one-time gain on a debt transaction. As of the end of the quarter, total Citi Holdings assets were $114 billion, 23% below the prior year period, and represented approximately 6% of total Citigroup assets.
Citi Holdings net loss was $284 million in the first quarter 2014 compared to a net loss of $804 million in the prior year period, driven by the higher revenues and lower net credit losses.
As we can see from the quote provided above, we are witnessing a significant reduction in the assets held in Citi holdings. This augurs well for the bank going forward, as they are finally able to reduce the drag on their earnings.
The second part of the earnings release I would like to highlight revolves around the increase in the book value of C. C is now reporting a book value of $66.25 per share, with a tangible book value of $56.40 per share. At a current quote of roughly $46, C is clearly undervalued especially when compared to its peers who trade at minimum book value. C in my opinion offers tremendous value here; however patience will be required before realizing the gains. Clearly, the Fed rejecting C capital return plan dealt a significant blow to investor confidence. Many investors purchase banks for a combination of dividends and capital gains, with the dividend portion being relatively absent at C. As the assets in Citi holdings are sold off with the goal for 2014 being for this division to achieve break even status, the book value should continue to rise which will eventually translate into a much higher share price.
The third part I would like to highlight is the comments made by Michael Corbat, the CEO of C. He said:
"Despite a quarter that was difficult for our company, we delivered strong results. Both our consumer and institutional businesses performed well and we grew both loans and deposits while holding the line on our expenses. We reduced our deferred tax assets more than any other quarter since the crisis and drove Citi Holdings closer to break even.

$4 billion in net income helped generate $6 billion in regulatory capital during the quarter and increased our estimated Tier 1 Common ratio to 10.4% on a Basel III basis. Very cognizant of our shareholders desire to see a sustainable return of capital, we are engaged with the Fed to better understand their expectations regarding the CCAR process. We are committed to bringing our capital planning process to the highest possible standards, befitting an institution of our global reach. I will dedicate whatever resources and make whatever changes necessary to achieve this critical goal," Mr. Corbat concluded.
I though the last sentence was particularly telling, as the CEO seems very open to making changes to get the approval of the Fed to return capital to shareholders. I suspect we will see asset sales coming, as the Fed seemed to be concerned about credit quality in some of the overseas divisions. I suspect we will see further changes announced as the year progresses. The CEO is under enormous pressure here to deliver returns for shareholders, and seems to be very willing to do what it takes to achieve this goal.
C currently possesses all the qualities I look for in an undervalued company. The shares are unquestionably undervalued as evidenced by book value the standard measure used to determine value in banks. The underperforming assets which almost led to the fall of the company are being worked off as evidenced by the performance of Citi Holdings. We have a CEO who has been embarrassed by the Fed and is under enormous pressure to exact change. The only thing missing here is a dividend hike and a significant share reduction plan, which will come as the CEO makes the changes that will lead to his overseer, The Federal Reserve giving their blessing to proceed with a capital return policy. I suspect the approval will come sooner rather than later, what is required here is a bit of patience. I will remain long and will continue to monitor the situation. There is tremendous value here that will eventually be realized. Thanks for reading and commenting.
Disclosure: I am long C. I wrote this article myself, and it expresses my own opinions. I am not receiving compensation for it (other than from Seeking Alpha). I have no business relationship with any company whose stock is mentioned in this article. Investors are always reminded that before making any investment, you should do your own proper due diligence on any name directly or indirectly mentioned in this article. Investors should also consider seeking advice from a broker or financial adviser before making any investment decisions. Any material in this article should be considered general information, and not relied on as a formal investment recommendation.