Marathon Oil (NYSE:MRO) is determined to divest its offshore assets in Angola and the North Sea. It closed Angola Block 31 during February 2014 and Angola Block 32 is expected to be sold during Q1 2014. The company will use the proceeds to boost the development of its onshore liquids rich resources in the US. It recently announced that it will begin accepting bids for its North Sea businesses during the second quarter.
In addition, Marathon has been efficiently conducting its operations. During 2013, the company managed to improve its proved reserves by 194 percent to 2.2 billion barrels of oil equivalent. Let's examine the company's operations and discuss whether or not it is headed in the right direction.
Marathon has been operating in one of the prime locations in Eagle Ford shale, Bakken and Oklahoma Woodford. Going forward, the company wants to accelerate Eagle Ford and Bakken rig activity by 20 percent each. Similarly, it plans a 100 percent increase in the rig activity in Oklahoma Woodford. To do so Marathon has allocated more than 60 percent of 2014's $5.9 billion capital budget to these resource plays; that allocation equals $3.6 billion. The allocated capital for the North American E&P resource plays is further prioritized according to the growth prospects of these resource plays; 64% allocated to Eagle Ford, 29% to Bakken and 7% to Woodford.
Given the appropriate capital allocation Marathon expects Eagle Ford to produce approximately 120 million barrels of oil equivalent per day during 2014.This will be higher than the average production of approximately 80 Mboed in 2013. Similarly, with the increased rig activity, the growth in production is expected to increase by a CAGR of 30-35%within the next five years.
Marathon is also progressing with similar plans in Bakken. It is considering increasing rig activity by 20% compared to 2013;this increase will be translated into increased well spuds from 73 in 2013 to 75-85in 2014 and recompletion of 22-26gross wells. The successful implementation of the plan will result in increased production with a CAGR of 14-18percent over the next five years.
In addition to Eagle Ford and Bakken, Marathon is determined to increase activity by 100% compared to 2013 by drilling 20-25 gross operated wells. The increased activity will result in 30-40 percent production growth over the next 5 years with increasing concentration on liquids (50 percent by the end of 2017).
After combining the production from these plays the company is set to achieve the desired production growth in 2014 (see figure below).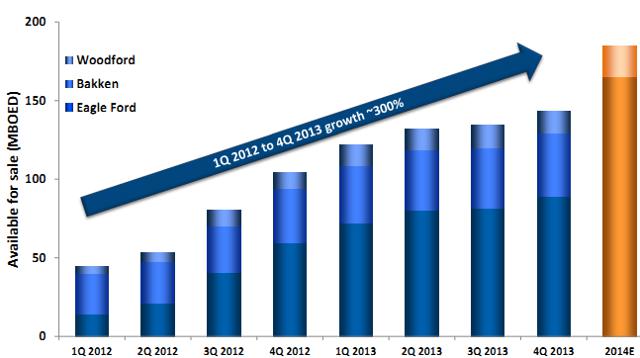 Source: Investor Presentation
Moreover, in the long term the resource plays are positioned to post robust growth through 2017 and will deliver production growth of 5-7 percent. The figure below demonstrates the long term growth of the company.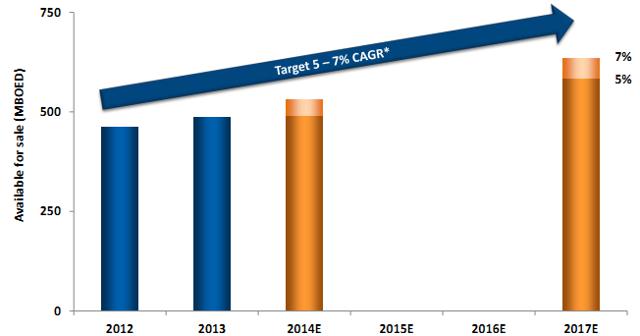 Source: Investor Presentation
Increased Shareholders Return
The company recently announced that it will buy back an additional $500 million worth of shares. It is worth mentioning here that it has already completed a $1 billion share repurchase by using proceeds from the sale of its interest in Angola. Marathon has $1.5 billion under its current share repurchase authorization. The shares repurchase program highlights Marathon's commitment to creating long term value for shareholders.
Concluding Remarks
Marathon's strategy is not solely focused on increasing production. The company is also focusing on achieving lower cost production supported by technological advancements. For 2014, the company is targeting 11spud drilling days for the Eagle Ford shale reflecting a 50% improvement from 2011. Similarly, in Bakken it is aiming to achieve 15 spud drilling days reflecting a 32% improvement from 2011.
The divestment plan is strategic and allows the company to focus more on the efficient assets. With increasing production Marathon also offers a nice return to the shareholders through its shares buyback program. Therefore, I recommend buying the stock.
Disclosure: I have no positions in any stocks mentioned, and no plans to initiate any positions within the next 72 hours. I wrote this article myself, and it expresses my own opinions. I am not receiving compensation for it (other than from Seeking Alpha). I have no business relationship with any company whose stock is mentioned in this article.