The stock price of China Marine Food Group (NYSEMKT:CMFO) has be crushed lately, largely as a result of several well publicized articles by short sellers which have cast doubt on management's credibility and on the company's financials. I think many of the issues raised by these shorts are interesting but not necessarily relevant and certainly do not prove there is fraud at the company. CMFO has already answered many of the shorts' questions and other of the shorts' claims are either not supported by any evidence or are hard for any company to refute (for example, how can any management refute charges that they are lying when there is no evidence to suggest they were lying in the first place?).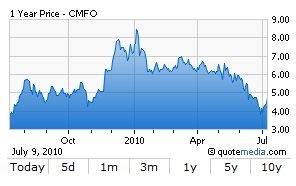 I believe the stock of CMFO represents an attractive investment on a risk/reward basis and lately have been aggressively buying the stock because at $4.44 per share it is undervalued for a growing consumer products company (5.9x p/2010E EPS and 4.3x p/2011E EPS), has a healthy balance sheet (over $1.60 per share of net cash and no debt…note that this cash represents over 30% of CMFO's equity market cap), is growing (EPS in 2011 is estimated to increase 38%) and is generating significant free cash flow.
I would ask the shorts the following:
1) Why would CMFO's Chairman Liu be perpetuating such a fraud? He is the company's largest shareholder, personally owning almost 12 million shares with a current (depressed) market value of over $50 million. He, more than anyone else, has the most incentive to create value for CMFO shareholder. Similarly, he has the most to lose by perpetuating fraud. I don't believe he has ever sold a single share of his stock and in fact last week he increased his investment in the company by personally buying $1 million of stock (which is a sizeable purchase considering his combined compensation over the past 3 years at CMFO was only $555k). If his company were a fraud, I would think he'd be trying to sell his (theoretically overpriced) stock rather than buying more of it. I'd also note that the company's second largest shareholder, a US investment fund named Jayhawk Capital, also purchased 110,000 more shares for approximately $450k last week.
2) If Mr. Qiu and CMFO were perpetuating a fraud in the acquisition of Xianghe, why did CMFO only buy 80% of Xianghe and why did Mr.Qiu chose to retain 20% of the business? Buying 100% would obviously make covering up any fraud (or earnings shortfall) easier for CMFO because it wouldn't have to report any minority interest expense in the future. Similarly, if his company were a fraud, wouldn't Mr.Qiu be smarter to sell 100% of the company to CMFO and walk away from the deal with more immediate cash and less potential legal liability?
3) What evidence is there that CMFO's SEC financials are fraudulent? Often when there are accounting irregularities there is a mismatch between a company's net income and cash flow operations. Sophisticated investors became concerned about companies such as FUQI and CXTI (companies which some people claim are fraudulent...although I am not expressing an opinion on either of these companies) because they kept reporting strong net income but were actually bleeding cash as evidenced by their negative cash flow from operations. However, unlike these companies, CMFO is generating net income and cash flow from operations.
4) Just because CMFO's SAIC and SEC financials differed prior to 2008, why does this imply that the SEC financials are fraudulent? Many US listed Chinese companies have such differences. Furthermore, shouldn't US investors be more concerned about SEC financials than SAIC financials?
5) I commend whichever short first asked how Mr. Qiu could have formed Xianghe with apparently very little of an investment (less than $1mm, including the purchase of certain "know-how" from a third party) and then sold the company to CMFO for over $28mm. While that is an interesting question, how relevant is this to CMFO shareholders? Shouldn't CMFO shareholders be concerned about how much future profit Xianghe (a fast growing company) will generate and if CMFO will get a good return on its $28mm investment? If CMFO's projections are correct and Xianghe generates for CMFO net income of over $3.5 million in 2010, over $5 million in 2011 and even more in subsequent years, then this will prove to have been a terrific acquisition for CMFO. It wouldn't surprise me if Mr. Qio got a sweetheart deal when he purchased the "know-how" from a third party. If he did, that is great for him, but not that relevant for me or other CMFO shareholders. When I'm buying something, whether it is a house or a stock, I'm concerned about how much that item is worth to me, not how much the seller paid for it.
6) How confident are you that CMFO will miss its 2010 guidance for Xianghe (which is $20mm of revenue in 2010)? Management has recently disclosed that for the first half of the year, beverage revenue was $10 million, and since revenue in the 2nd half of the year should be higher than in the first half, it is very reasonable to assume management will achieve its guidance. By the way, if your answer to my question is that they will report $20 million of revenue but that those numbers are fraudulent, kindly explain why you think the numbers are fraudulent.
Maybe the shorts are right and CMFO's management, whom I've known for a few years, are blatantly lying to me. Perhaps Chairman Liu is so greedy that he would perpetuate a fraud that would jeopardize his sizeable personal investment in the company and perhaps expose him to legal troubles, especially in China which is often far more punitive than the US judicial system. Maybe the Chairman and Jayhawk are so naïve or stupid that even after the shorts exposed this apparent fraud, they recently decided to buy another $1.5 million of stock.
Only time will tell if the shorts are right and so far they have been very effective in knocking down CMFO's stock price. However, I think ultimately I'll be very happy with my recent CMFO stock purchases.
Disclosure: Author holds a long position in CMFO