Citi (NYSE:C) reported their Q1 earnings this morning and market reaction seems positive as early indications go. A deeper dive shows some positive signs but tempered expectations aside the needle is not moving much at Citi.
Overall revenue was lackluster year over year showing a decline of 2% with operating expenses down 1% and net income was higher by 4% on an enterprise basis but only 1% on EPS. The increased profitability was due to lower credit costs during the 2014 versus 2014, by nearly 20%.
While the discipline in credit is encouraging, C needs to show better discipline in revenue and operating expenses to generate sustained profitability. The outlook is positive as core operating expense that exclude the impact of legal and restructuring costs were lower year over year.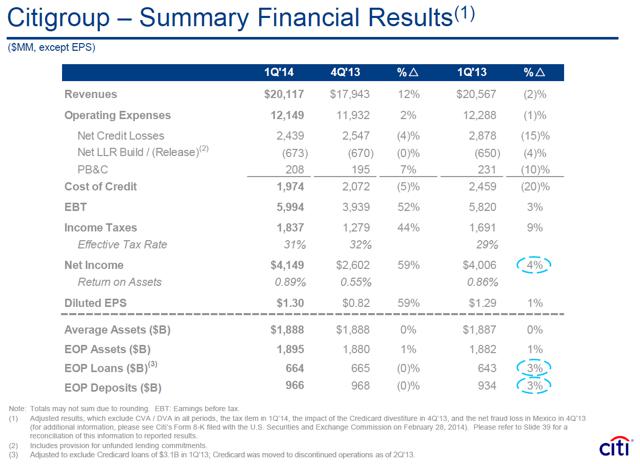 Click to enlarge
International Consumer Markets is showing positive revenue growth and operating leverage. Growth in key markets such as Latin America by 5% and Asia by 1%. Most encouraging is the expense side where Citi has grown cost by less than revenue in growth markets and reduced expenses faster than revenue decline in EMEA. This demonstrates a management that is very in tune with its revenue and cost structure and allocating resources proactively rather than reactively. No small task at an institution as large as Citi.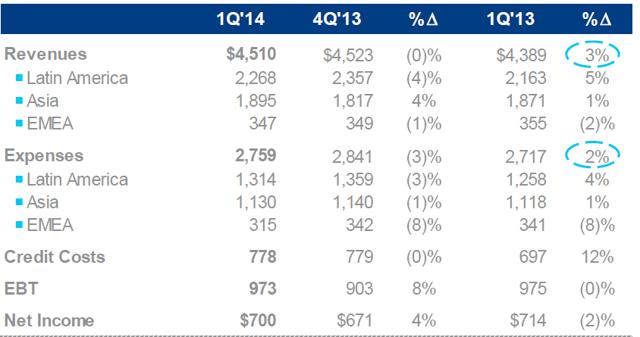 Click to enlarge
Citi's Capital metrics continue to improve. Total Book Value is up over $4.00 per share year over year and Tier 1 capital stands at 10.4% up over 100 basis points from 9.3%. Ultimately, capital will be the investor focus over the next several quarters. We expect C's continually improving capital metrics will ultimately result in significantly increased buyback and dividend capacity adding a much needed boost to the share price.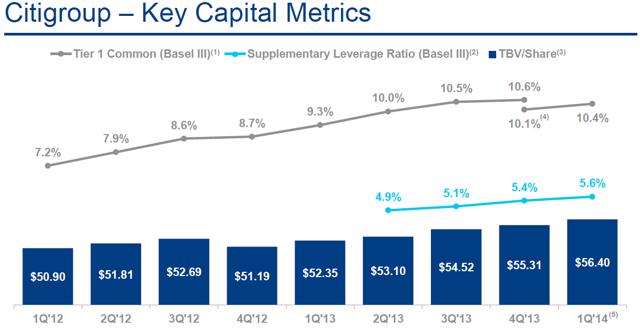 Click to enlarge
Conclusions
C reported lackluster earnings from a revenue and operating expense point of view.
Disciplined metrics within international franchise demonstrate management is proactively in tune with its revenue and cost base.
Near term, Citi is a capital story and improving metrics will drive the stock price higher from absurdly discounted levels. Long-term challenges will remain.
Source: Citi Earnings Release
Disclosure: I am long C. I wrote this article myself, and it expresses my own opinions. I am not receiving compensation for it (other than from Seeking Alpha). I have no business relationship with any company whose stock is mentioned in this article.