Opening:
Marijuana itself is far from new, but publicly traded companies in the cannabis industry are somewhat new. The trend is here, legalization is picking up and the recreational and pharmaceutical use of cannabis is picking up nationally. Capturing this trend as a company could be extremely profitable - and this article is aimed to see if Medical Marijuana will profit or quiver away in the face of this great opportunity. Below, we will explore an overview and a wide range of factors affecting the company to clear the air.
Medical Marijuana, Inc. (OTCPK:MJNA) was the original marijuana medium when all of the hype broke out in the sector. The meteoric rise from tenths of a penny to nearly fifty cents a share was nothing short of a dream come true. At this time, an overview of the company itself and the company's last fiscal year is in order, to see if management is chasing a tangible dream or just front running the trend of investment in marijuana companies.
Expanded Thesis:
Who Are They:
Medical Marijuana is an Oregon Corporation who provides a diversified set of products and services aimed directly at the cannabis and hemp industries. These products include patented cannabinoid-based products and extracts for pharmaceutical, nutraceutical and cosemeceutical industries.
MJNA owns or is a partial owner in various holdings that are integral pieces of its business.
| | | |
| --- | --- | --- |
| Holdings: | Ownership Percentage: | Business Operation: |
| Wellness Managed Services | 100% | Health and wellness facilities |
| Canipa Holdings | 80% | Obtaining marketing and product approvals and distribution partners for MJNA's products. |
| HempMeds PX | 80% | Online product sales for MJNA |
| Red Dice Holdings | 60% | Owns Dixie Brands, widely known hemp and cannabis brand with over 70 unique products. Sells direct to consumer products, licenses its brands and IP and has researchers who are improving the products. |
| CanChew Biotechnologies | 50% | Gum-based cannabis medical products for the treatment of pain and other medical disorders. |
| HempVap™ | 50% | The first Hemp based cannabidiol (NYSE:CBD) vaporizer product line. Launched in the 4Q of 2013. |
| KannaLife Sciences | 16.5% | Late stage biopharmaceutical company, researching new transport carriers to break the blood/brain barrier. |
A Look At 2013:
MJNA does not break down their operating results in a Y/Y fashion, but they do show a three month period from October 2013 - December 2013 and an annual period from January 2013 to December 2013. For the latter annual period, the company provides a breakdown of their operations for investors.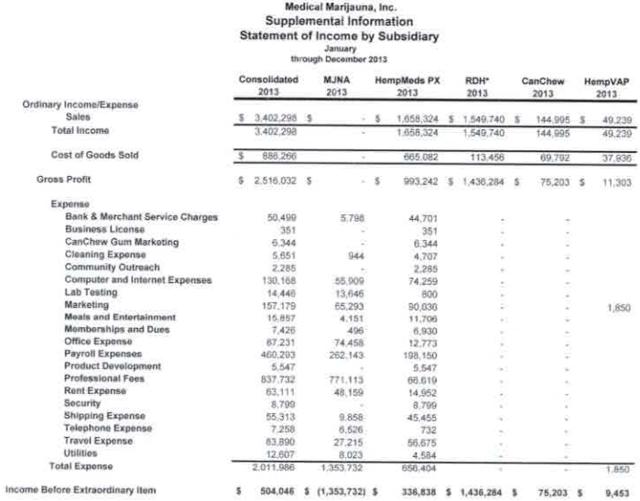 For the year, HempMeds PX and RDH provided the bulk of the consolidated income for the company. MJNA controls 80% of HempMeds PX and 60% of RDH. This does not tell the whole story, though, as MJNA's PhytoSPHERE licensing and inventory sales provided $30.5M in revenue, less $6.1M owed to HDDC.
On the bottom line, MJNA provided the bulk of the total revenue adding $24.49M (due to a sale explained later on). HempMeds PX and RDH provided the most sales, although the former decreased net income by $64k and the latter increased revenue by nearly $543k. MJNA's CanChew subsidiary where it owns a 50% stake lowered net income by $361k. Lastly, HempVap was minor for the year, adding $4.7k to net income.
Who Is HDCC?
Back in March of 2011, an equity exchange between MJNA and Hemp Deposit and Distribution Corporation (HDDC) took place. MJNA raised its authorized share capital form 300M to 600M shares to be able to issue HDDC 260M shares. Currently, MJNA owes HDDC $1,363,333 due to loans provided as working capital to MJNA. MJNA states in their annual report that HDDC provides working capital to the company if needed.
Where Did The Huge PhytoSPHERE Huge Licensing Income Originate?
Earlier we saw of MJNA's partner holdings provided the bulk of the sales revenue, yet MJNA's PhytoSPHERE licensing and sale income bolstered the bottom line in a big way.
This sale struck the balance sheet recently, but it was organized back in December of 2012 when PhytoSPHERE entered into an agreement to sale certain assets to CannaVest Corporation (CANV) in exchange for $35M in five installments of cash or stock. In the agreement PhytoSPHERE included in the sale everything from PhytoSPHERE's web domains to contracts with processing facilities to phone numbers, permits and vendor lists - the whole nine years.
Interestingly, included were bank accounts with a total balance of $50,774.55, above the sale price. The liabilities were not listed so it is not clear if this was a positive or negative deal - but at face value the bank accounts alone are worth more than the sale price for PhytoSPHERE.
Currently, 100% of CannaVEST's sales came from MJNA, so the companies do have an existing business link. MJNA also owns 4.66M shares in CANV as well.
CannaVEST is a thinly traded company worth $800M, whose shares trade around $24. Shares ballooned as high as $170 in February as the Justice Department issued memos to banks on how to deal with cannabis companies. CannaVEST has been on the decline due to a securities fraud investigation, shown below.
On April 3, 2014, CANV announced that its Form 10-Qs for the first three quarters of 2013 could no longer be relied upon. Specifically, CANV admitted that the purchase price and the allocation of the purchase price related to PhytoSPHERE Systems as disclosed on the 10-Qs were not in accordance with accounting principles generally accepted in the United States ("GAAP"). In addition, CANV concluded that sales and cost of sales for the quarter ended March 31, 2013 were incorrect. As a result of these adverse disclosures, the value of CANVS stock fell by 20% on April 3, 2014, damaging investors. (Source)
As an aside, CannaVest seems extremely overvalued. With gross profits shy of a million dollars, an $800M market cap is generous, to say the least.
In closing, MJNA still owns 80% of PhytoSPHERE. The $35M deal granted CannaVEST the right to sell its inventory, supply contracts and certain other assets. Also, MJNA owns a large portion of shares in CannaVEST, originally a spin-off from MJNA. Shares of CANV are closely held by insiders and by MJNA, and shares are thinly traded.
Targeting The Trend:
MJNA is in a unique position as they are a key distributor of cannabis and hemp related products. Their balance sheet is a train wreck, but if the share price continues its fade, it may be attractive for the long term - at lower levels, if management executes and the business turns around substantially. MJNA has a broad product line which is a factor I do personally like. But may be more of eye-candy than a sustainable model for providing income.
MJNA's products are unique, and that's a niche I do like. Their CanChew gum can bypass the gastrointestinal tract and increase the bioavailability of the active ingredients. It is also protected against degradation to the bypass of enzymes in the GI tract.
Recently, MJNA launched "The Hemp Network," an online network aimed to educate the population on the benefits of Hemp. This is a net positive as raising the positive awareness of Hemp can help the product overall and help to position the company as a player in this market.
Red Dice Holdings is interesting, as the hemp-based CBD oil range from a salve to drops. Along with MJNA's cannabis and hemp products, the company is well positioned to target the broad array of cannabis/hemp mediums that consumers can choose from. Although this is contingent on MJNA's management transitioning them from a hyped up penny stock, to a legitimate, profitable and sustainable business.
Investors should not be deceived, pump and dump tactics may still be at play with MJNA, as Wise Alerts was paid $10,000 by a non-affiliated third part to promote the company a few months ago.
The Bottom Line: Is Investing In MJNA Worth It?
The trend is here, although I do not think an investment in Medical Marijuana is worth it, even as shares have fallen to their current levels. Having various business units to target the numerous tranches of the cannabis trend is awesome, although having a viable business model is a whole different playing field. MJNA's business performance does not warrant an investment in the company's shares in my personal and humble opinion.
Lack Of Income Is A Problem:
Outside of the extraordinary income payment from CannaVEST, net income from the company's other four segments was $121,986. With 948,507,961 shares outstanding, this is a whopping $0.001 per share in net income for the entire year. With a current share price of $0.219, this equates to a P/E ratio of over 1700x - ridiculous for an investment in a company with operations. At the share price of $0.40 on January 27, 2014 this equates to a P/E of over 3100x.
The other problem with CannaVEST is the transitory link that investors may be placing on the company. MJNA owns 4.66M shares in CANV, and at $24.21 per share, this equates to a value of $121,818,600. It was worth much more, but CANV's share price has tanked from $165 to $24 over the past few months. CANV has minute income, is closely held, extremely volatile and thinly traded - as such the value of MJNA's holdings in CANV should not be taken at face value.
More so, this link described above, coupled with the $35M payment from CANV to MJNA seems to be just news going on between the two companies. Neither company has done anything substantial to justify their large market capitalizations on a fundamental basis either.
Not A "New" Company Anymore:
MJNA's shares have been trading for nearly two years already. As such, management has had ample time to execute and create a viable business if the opportunity is tangible. As such, the excuse that the company is new and needs time to organize is misplaced as the company has had plenty of time.
On a historical basis, the company was originally incorporated back in Canada in 2003, over a decade ago. To state that the company is new and needs time to capture the trend is ill suited. If management was executing successfully, the company would be sustainable and stable by now.
Raising Money Is A Concern:
Of the 950M authorized shares, which MJNA has authorized, 948,507,961 have been issued. This means that MJNA cannot issue more shares to raise money, and if the raise the limit existing shareholders can become heavily diluted.
With only $481k in cash, MJNA is going to have to run a tight and profitable ship as issuing more shares is very limited and raising the authorization limit can seriously dilute existing shareholders.
Colorado Will Not Be The Revenue Stream Some Thought It Would Be:
Rolling O Research pointed out early this year in an excellent article, that MJNA will not profit from Colorado's legalization. This is a big red flag as the legalization in Colorado was thought to be an income source, as MJNA can profit from wide ramping legal sales in the state.
Although a Shareholder Letter issued by the company stated that MJNA (through RDH) will not take in profits from Dixie Elixirs until it has been legalized federally. Rolling O Research also points out that the company can accept revenue from Dixie Botanicals from their federally legal CBD products because they are derived from Cannabidiol extracted from legally grown hemp.
Waiting for marijuana to become federally legal can take a long time, longer than MJNA may have. In the meantime, Dixie Holdings has filed a break of contract suit against MJNA alleging failure to pay an initial payment of 24M shares of stock to benefit RDH. If the end result is the dissolution of RDH, MJNA could lose their Dixie Licenses, formulations and potential for future income from the segment. Alan Brochstein's incredible coverage off the cannabis sector included this event in one of his many articles. In closing on this point, MJNA will not be able to profit from the sale of products containing marijuana or THC in a fast fashion.
Other Opportunities:
The Marijuana Market is not small and includes numerous companies ranging from a variety of activities. One such company is GrowLife (OTCPK:PHOT), a company that supplies the equipment for use in the Cannabis industry. The company seemed more stable to investors with growing profits while having the ability to be able to profit from the rising trend in the marijuana market, without the liabilities and regulations of actually selling cannabis. GrowLife had a huge rise, from a few cents a share to as high as $0.78 over just a few months.
Recently, shares have been halted due to:
"because of questions that have been raised about the accuracy and adequacy of information in the marketplace and potentially manipulative transactions in PHOT's common stock."
The halt lasts until April 25, what can seem like a long time for investors holding shares. This event affecting GrowLife outlines the risks for smaller companies conducting business. This is not related the marijuana industry though, simply potentially manipulative transactions in GrowLife solely.
I expect shares to falter, baring any unforeseen developments. A parallel to this event can be when the SEC halted trading in Advanced Cannabis Solutions. When shares resumed trading they tumbled nearly 40%.
The effects of the halt were far reaching in nature though, demonstrating the trading link between marijuana companies. On the day of the halt, the sector was down with MJNA, and CANV in the red along with many other marijuana companies.
Conclusion:
There is no chance that I would buy shares of MJNA today. Sporting an 8.42x P/E on Yahoo Finance with a line of businesses to target every area of the marijuana market is fantastic. Although a closer look into the company demonstrates that the P/E is much higher and the story is much bleaker.
Originally, I purchased shares of MJNA at $0.0246 back on July 2, 2012 as I was researching the marijuana market roughly two years ago. This was solely meant as a play on the trend, and my trade worked out quite well. I exited for a small gain, as I was not impressed by the company, only the trend. I did miss the huge run to $0.50 but I am happy I stuck to my due diligence. As in depth due diligence can be applied to any investment situation for the best possible understanding of the merits of an investment opportunity. Today the company still does not impress me, but the trend continues to do so.
I am not a bear on the marijuana market, as I think the overall trend is here to stay. But is is just my humble and personal opinion that an investment in MJNA is not worthwhile.
It may be time for investors to kiss this high goodbye, at least for now. There are many other opportunities in the marijuana market for investors and the market in general. For four small cap ideas worth investing in, see my articles on Crossroads (NASDAQ:CRDS), International Commerical Television (OTCQB:ICTL), ViryaNet (OTCQB:VRYAF) and more recently Dot Hill Systems (NASDAQ:HILL).
Disclosure: I have no positions in any stocks mentioned, and no plans to initiate any positions within the next 72 hours. I wrote this article myself, and it expresses my own opinions. I am not receiving compensation for it (other than from Seeking Alpha). I have no business relationship with any company whose stock is mentioned in this article.
Additional disclosure: This article is informational and is in my own personal opinion. Always contact a financial professional before executing any trades and make sure the investment decision is right for you.
Editor's Note: This article covers one or more stocks trading at less than $1 per share and/or with less than a $100 million market cap. Please be aware of the risks associated with these stocks.