ConocoPhillips (NYSE:COP) has long been one of my favorite dividend paying stocks. The company has been able to implement its long-term strategy of shifting capex to North American unconventional energy plays, which will likely lead to strong production growth going forward.
ConocoPhillips returns to growth
2014 will most likely mark the first year of production growth for ConocoPhillips since its spinoff of Phillips 66 (NYSE:PSX). The company's investments in US-based shale plays and Canadian oil sands is paying massive dividends, with production growing at a CAGR of 17% through 2017.
ConocoPhillips is also likely to benefit from a shift it is asset concentration to higher margin liquids. While natural gas prices have recovered somewhat, liquids still provide nearly double the return on an equivalent basis. 95% of ConocoPhillips' capex spending is focused on these higher margin areas.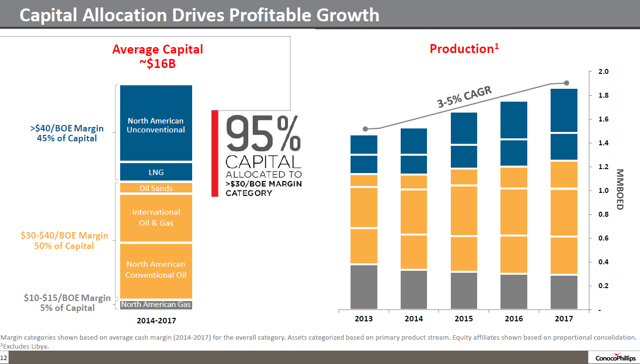 The Eagle Ford is proving to be much more prolific than expected.
On April 10, ConocoPhillips announced that it was increasing its estimates for reserves in the Eagle Ford from 1.8 billion to 2.5 billion barrels of oil in place. In addition, the company also upped its production guidance for the area to 250K BOE/D by 2017.
The Eagle Ford is probably ConocoPhillips' most important organic growth area. With its 80% liquids focus, this area should provide the company with outsized returns for many years. With over 3,000 possible drilling locations, these assets are expected to post a CAGR of over 20% through 2017.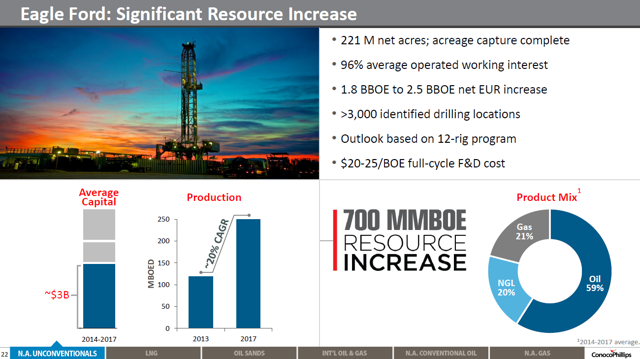 In its release, ConocoPhillips noted that its wells have some of the highest oil rates in the industry, likely due to their position in the "heart" of the Eagle Ford.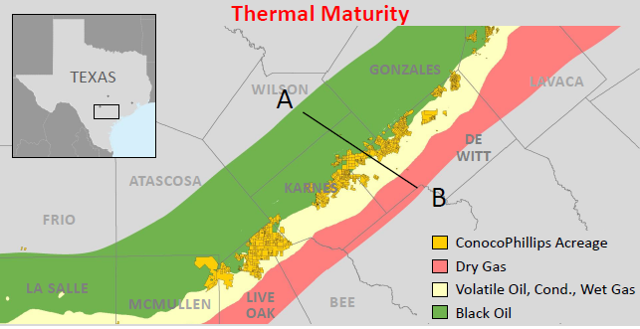 Furthermore, production costs are modest and still declining. Due to advances in EOR techniques, completions costs have dropped 40% since 2010. Net should lead to higher netbacks going forward.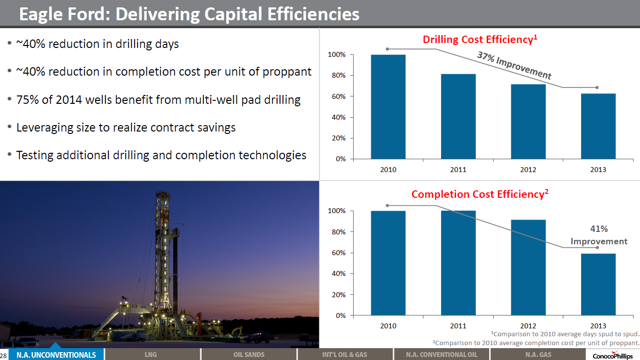 Libya upside?
Not included in any of ConocoPhillips' projection is Libya. While production from that nation is currently stalled due to rebels controlling key export ports, it appears that tensions are now abating.
According to a WSJ report, Libya's government has reached a deal with rebels to reopen two of the four oil ports. This deal may allow over 200,000 BOE/D to finally reach markets. However, do note previous deals have fallen through.
If the deal holds, ConocoPhillips could see a modest production boost. In 2013, the company was producing an average of 30,000 BOE/D in Libya, mostly from its 16.3% working interest in the massive Waha Concession.
Q1 2014 preview
With earnings season upon us, let us look at how ConocoPhillips might do. Severe winter weather somewhat hampered Q4 results. I expected some of this to bleed over into Q1.
However, I still expect ConocoPhillips to meet or beat its production guidance for the quarter of 1.525M BOE/D. This is based mostly on the Eagle Ford, with a recent announcement almost screaming that a guidance raise is in order.
It will also be interesting to see how higher natural gas prices impact the company. ConocoPhillips has basically stopped investing in the product due to long-time depressed prices. However, with natural gas now above $4.50 per MCFE, net income should see a boost. According to the company, a $0.25/MCFE change in Henry Hub prices impacts net income by $115M to $125M. For Q1, natural gas prices were up more than $1.00/MCFE.
ConocoPhillips is dirt cheap compared to peers
When we look at its enterprise multiple, or EV/EBITDA, ConocoPhillips appears to be quite cheap at 6.83x compared to E&P peers such as Apache (NYSE:APA) at 9.77x. While Apache is growing faster, is a 30% discount really warranted?
Even the integrated laggard Exxon Mobil (NYSE:XOM) demands an 11% premium over ConocoPhillips with its 7.67x multiple. Only Chevron (NYSE:CVX) is cheaper, at about 6.37x, or a 7% discount.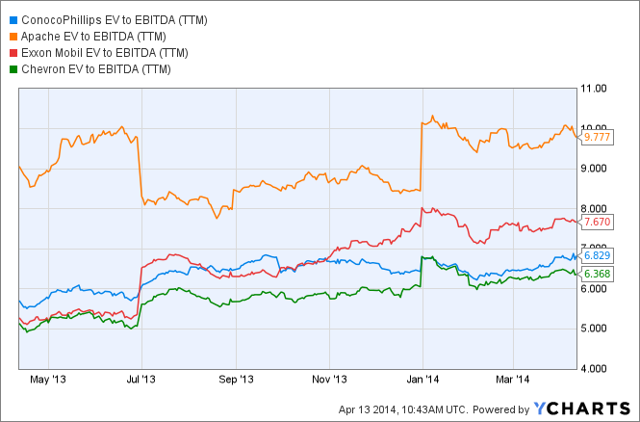 COP EV to EBITDA (TTM) data by YCharts
Conclusion
For those looking for a core, cornerstone stock, ConocoPhillips is a solid pick. With a 4.0% yield, you'll find few better dividend paying stocks. In addition, while ConocoPhillips has recovered nicely from its February lows, the stock is still fairly cheap, at under 10.50x 2014 earnings.
Disclaimer: The opinions in this article are for informational purposes only and should not be construed as a recommendation to buy or sell the stocks mentioned. Please do your own due diligence before making any investment decision.
Disclosure: I am long COP, PSX. I wrote this article myself, and it expresses my own opinions. I am not receiving compensation for it (other than from Seeking Alpha). I have no business relationship with any company whose stock is mentioned in this article.