I believe investors of all stripes should take a good look at Alliance Bernstein LP (NYSE:AB). AB may offer investors the best of both worlds: high income with growth potential. Many investors today are starved for yield due to the FED's current policies that some call "Financial Repression", but in my opinion it is a de facto war on savers. This war on savers has driven investors, especially those on a fixed income who can least afford to lose capital, much further out on the risk curve. Investors have responded to FED actions by flocking to Oil and Gas Master Limited Partnerships (NYSEARCA:MLPS) and Mortgage Real Estate Investment Trusts (MREITs) because of their high payouts; however, investors are overlooking the risks chasing those yields.
Enter Alliance Bernstein LP, a $2.4 billion company with $454 billion under management for clients globally. AB's clientele ranges the full spectrum, from institutions to retail investors. Additionally, AB provides sub advisory services to mutual funds, intermediaries, other investment vehicles (think ETFs), as well as research services. In other words, AB makes its money by charging fees for managing assets and or advising others on how to manage assets.
AB is a financial MLP and is structured as such. Since AB is an MLP they are obligated by law to pay out at least 90% of their earnings to investors or lose their tax status. AB's payout ratio is 94% currently. Unlike the many of the MLPs available, AB has some advantages that more risk adverse investors may want to consider before investing in to energy MLPs or MREITs.
Investors are drawn to the MLPs & MREITs because their yield tends to be much higher than that of regular dividend stocks. The tax structure of an MLP\MREIT allows the company to pass back earnings to the investor, avoiding the double taxation of ordinary dividends like a regular dividend stock. Since the dividends are taxed on each investors taxes, not at the corporate level, the payouts are higher. MLPs\MREITs sound like an income investor's panacea given the current environment, but they have inherent risks.
Oil and Gas MLPs have risks ranging from under producing wells, weak commodity pricing, depleting assets and management utilizing secondary stock offerings to grow. MREITs are subject to secondary offerings as well as interest rate risk.
AB is different from MREITs and energy MLPs in that it earns its income from fees charged. I believe AB benefits from a difficult market environment as much, if not more, than an easier one. Essentially their clients pay them to navigate the ebbs and flows of the financial world. In tough markets like we have today more institutions, pensions and individuals seek the kind of expertise that AB provides.
While AB is structured in the same manner as the MLPs and MREITs, their model does not require them to dilute existing unit holders to gain more assets to manage. As AB performs its business and maintains its reputation they will attract new funds, assets and clients, thereby increasing their fee earnings. AB should be able to continue to grow with no need for the company to issue more shares to fuel their growth.
As far as performance is concerned, as of April 11th 2014 AB had a 1 year total return of 17.95% and the shares are currently yielding 9.44% ($.60 per quarter). AB's most recent operating margin is 100% with a net profit margin of 89.5%, both impressive numbers that I believe management will be able to carry forward.
AB's revenues grew from $70.8 million in 2012 to $185.9 million in 2013, a year over year increase of 165%. Net income grew year over year rising from just over $51 million to $165.5 million, an increase of almost 225%. AB's earnings per share grew year over year from $1.28 to $1.78 per share and increase of 35% (analysts had expected full year of $1.62 so they were only off by 9.8%, close enough for Wall Street work). Another metric that indicates to me that AB is a good value here is its price to book ratio is much less than its peers at 1.57 vs 2.01 for Fortress Investment Group (NYSE:FIG), 2.03 for Carlyle Group (NASDAQ:CG) or 2.76 for Blackstone (BX). AB also has the lowest beta of its peer group coming in at 1.43, which should mean that it will be less volatile than the others.
Analysts are forecasting that AB will earn $1.80 per share which would be essentially flat year over year. I believe that the earnings surprises that occurred in throughout 2013 will happen again in 2014, albeit to a lesser scale. In my estimation AB should be able to earn 1.91 a share this year which would be about a 6.1% year over year increase. AB has been busy implementing cost cutting and efficiency measures started during their 2012 problem year, which seem to be resulting in an improving ratio of operating expenses to revenues.
ABs biggest hurdle to overcome is the past underperformance of their funds. AB has experienced performance improvement, which is part of the reason for the outsized Q4 earnings surprise. Back in December 2013 to address AB's equity situation the company purchased W.P. Stewart, a firm that has a strong performance track record in that space. AB is actively trying to enhance their turnaround prospects by bringing in new blood like Michael H. Conn the new Managing Director of Strategy, Operations and Development, supporting the firm's Fund of Funds business. AB also brought on Roberta Matheny to expand AB's defined contribution business. AB is trying to innovate as well launching a new products like an age based index portfolio for 529 plans.
I believe the steps that AB is taking will allow the company to exceed the analyst's expectations. Recently AB announced that in February assets under management decreased by $4 billion to $454 billion since the 28th of February. The 1% decrease was due to outflows flows but market appreciation, a metric that should attract more capital to AB was strong. Moreover, I believe that AB gives an investor the opportunity to collect a nice income stream while they wait for appreciation of their shares.
From a technical perspective, AB is in an uptrend and currently consolidating in a high tight flag between $24.87 and $26. I am of the opinion that AB is currently a buy in buying range.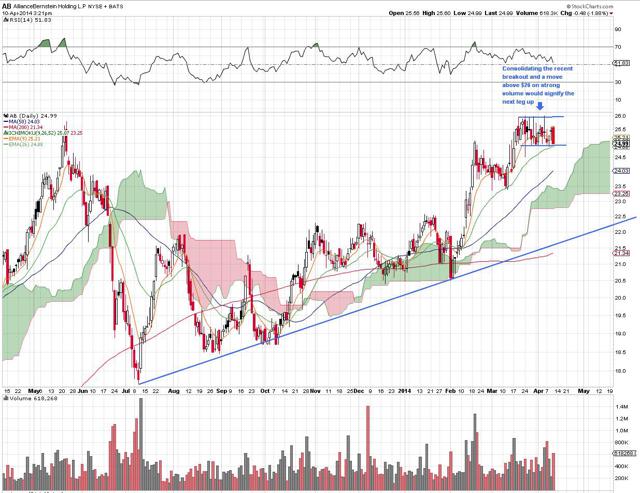 Disclosure: I am long AB. I wrote this article myself, and it expresses my own opinions. I am not receiving compensation for it (other than from Seeking Alpha). I have no business relationship with any company whose stock is mentioned in this article.
Additional disclosure: Some data and statistics were obtained via Fidelity research but can also be viewed freely on many sites on the internet. The analysis and opinions contained in this article are my own and derived from publicly available information. Please do your own due diligence and consult with your financial advisor to make sure that this investment meets your risk tolerance and financial needs.