Investors are usually rewarded for investing in small cap stocks if the company is acquired by a larger company or merges with a similar company. Oil and gas producers have seen a big jump in merger and acquisition activity lately. Many larger companies are looking to acquire smaller companies with proven reserves and drilling infrastructure already in place. This is a cheaper way to maintain a company's current cash flow without needing to drill new areas.
Surge Energy Inc. (OTCPK:ZPTAF) has been very active in acquiring smaller producers this year. On March 31, 2014 they announced they were merging with Longview Oil Corp. (LGVWF). Earlier in the year they acquired a property in Southeast Saskatchewan for $109 million. Surge paid roughly 5 times cash flow to acquire the property. The deal with Longview was at a little more than 5 times the yearly cash flow of Longview. The announcement of the merger sent shares of Longview 9% higher. Both Surge and Longview pay monthly dividends that yield more than 8%.
There have been two other recent acquisitions of producers that do not pay monthly dividends. Baytex Energy Corp. (NYSE:BTE) is purchasing Aurora Oil & Gas Ltd. (OTCPK:AAGLF) and Teuton Resources Corp. (OTC:TEUTF) is purchasing Santonia Energy Inc. (OTCPK:FAIRF).
The price of acquisitions will become more costly if the price of oil or natural gas continues to climb higher. United States Natural Gas (NYSEARCA:UNG) found its support after prices peaked in 2008. It trended sideways for most of 2012 and 2013 and is now up more than 20% in 2014. Another cold winter next year would give plenty of reason for prices to continue to trend upward.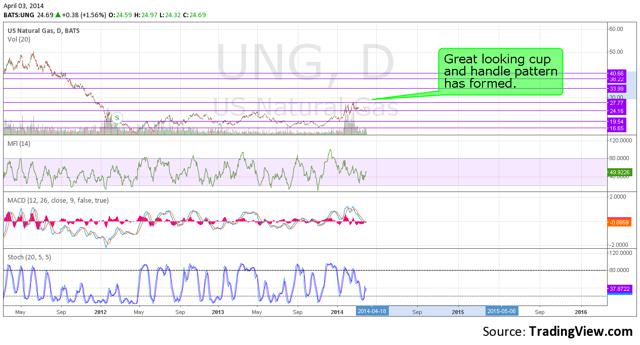 Click to enlarge
Companies' reserves will become more valuable if prices of West Texas crude continue to trend higher. iPath S&P GSCI Crude Oil TR Index ETN (NYSEARCA:OIL) is up about 5% for the year. It traded over $26.00 last summer, which is 10% higher than current levels. The price was as high as $30.00 in the summer of 2011, which is 25% above current levels.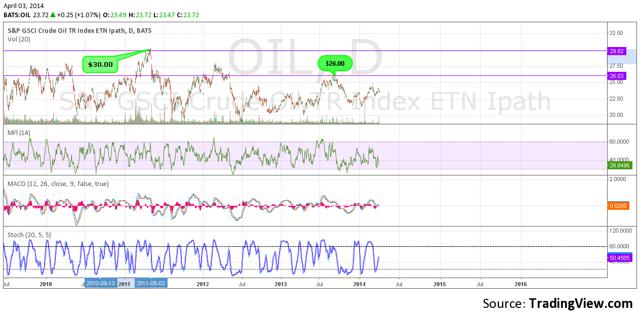 Click to enlarge
To help give a value to small cap stock, look at recent mergers and acquisitions and see what multiples were paid for similar companies in the same sector. Below is a chart showing the multiples paid in recent acquisitions compared to the multiples three Canadian oil and gas stocks are currently selling for.
| | | | |
| --- | --- | --- | --- |
| | Price/Cash Flow Multiple Paid | Enterprise Value/Cash Flow Multiple Paid | Yield |
| | | | |
| Recent mergers and acquisitions: | | | |
| SANTONIA ENERGY INC | 8.47 | 7.27 | N/A |
| Aurora Oil & Gas Ltd. | 6.39 | 8.53 | N/A |
| LONGVIEW OIL CORP | 5.31 | 3.73 | 8.30% |
| | | | |
| Similar companies trading at lower valuations: | | | |
| Eagle Energy Trust (ENYTF) | 4.85 | 6.71 | 15.00% |
| Long Run Exploration Ltd. (OTCPK:WFREF) | 2.56 | 4.36 | 7.39% |
| Lightstream Resources Ltd. (OTC:LSTMF) | 2.59 | 4.26 | 7.51% |
Eagle Energy Trust has all of its production in the U.S. This gives the company an added value because the Canadian dollar has been weak versus the US dollar. A weaker Canadian dollar increases the value of U.S. companies' reserves relative to Canadian currency. The stock currently yields over 15%. Investors should do their due diligence and understand the added risks that come with investing in any smaller oil and gas producer. Companies have buried themselves in debt in the past, and any company has the potential to do the same if they are reckless with their debt management.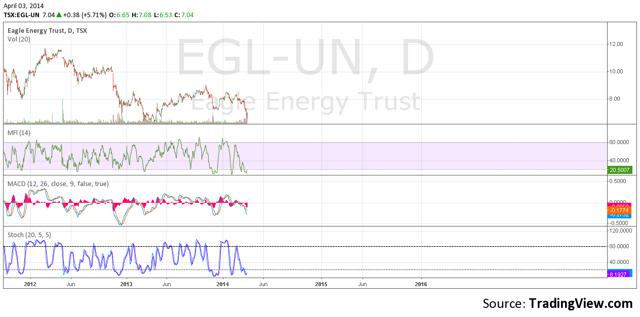 Click to enlarge
Two other dividend paying stocks that are trading at very low cash flow multiples are Long Run Exploration Ltd. and Lightstream Resources Ltd. LSTMF recently cut its dividend in half. This will help the company reduce its debt, while still maintaining current levels of production. The company uses an enhanced recovery technique where it re-injects its dry gas production into the shale formations it is drilling. This helps increase recovery rates while reducing decline. Higher oil prices will obviously help drive the stock price higher, but Lightstream offers two other potential catalysts that could also support higher prices. If the company can show the ability to successfully reduce its debt level and/or continue its success in being able to expand oil recovery rates the stock price could return to the prices seen in the first half of 2013.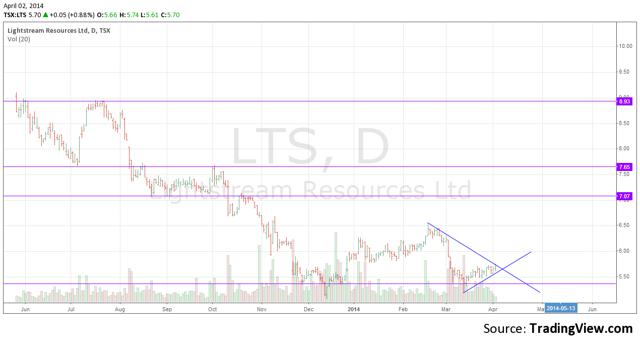 Click to enlarge
All the companies mentioned all pay monthly dividends and have proven reserves. The value of reserves will only increase should the prices of oil and gas remain high or go higher which would support stocks trading at even higher prices. The stocks have the potential for significant returns should they be acquired or by share price appreciation. Investors are advised to do their research and understand the risks that impact each individual company before investing.
Disclosure: I have no positions in any stocks mentioned, and no plans to initiate any positions within the next 72 hours. I wrote this article myself, and it expresses my own opinions. I am not receiving compensation for it (other than from Seeking Alpha). I have no business relationship with any company whose stock is mentioned in this article.
Editor's Note: This article covers a stock trading at less than $1 per share and/or with less than a $100 million market cap. Please be aware of the risks associated with these stocks.