Introduction
When the natural gas was scarce in the US, the natural gas price spiked to more than $14/Mcf and this high price made both Forest Oil (NYSE:FST) and Quicksilver Resources (NYSE:KWK) invest big in the natural gas.
However, Greek-American George Phydias Mitchell had a different opinion. When he first started experimenting with cracking shale in Fort Worth Texas, the target was natural gas. George Mitchell's parents were immigrants from Greece. His father's real name was Savas Paraskevopoulos. His father took the name Mike Mitchell from an employer handing out paychecks who couldn't say his real name, Savas Paraskevopoulos.
George Mitchell pioneered the economic extraction of shale gas, and is considered the father of the shale boom in the US. He was the first to use hydraulic fracking to crack open the Barnett shale field in Texas. The thin layers of shale rock he was observing weren't thick enough to hold a conventional well.
And now we know a whole lot more about shale and how to make it produce. Mitchell's process has evolved, and the operators have figured the techniques out in order to make the best well at the cheapest cost. The more they crack the code, the more the production rises. As a result, the natural gas price landed at ~$2/MMbtu in 2012 and currently hovers at approximately $4.5/MMbtu. The significant drop of the nat gas price has pushed both Forest and Quicksilver to the verge of bankruptcy.
Although Forest Oil has reduced its net debt by $1.1 billion from 2012, it has not convinced the investors for its bright future, as shown below: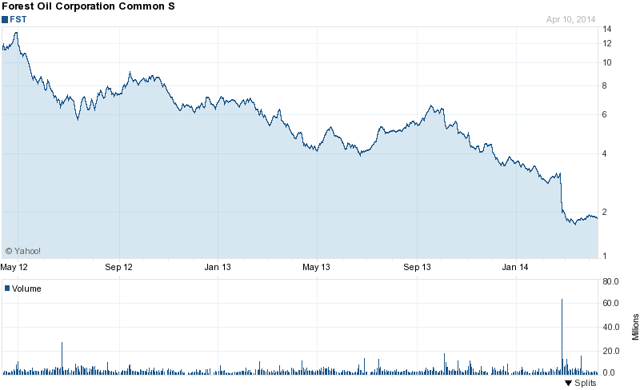 Quicksilver is not in a better shape, and the stock has dropped a lot, as shown below: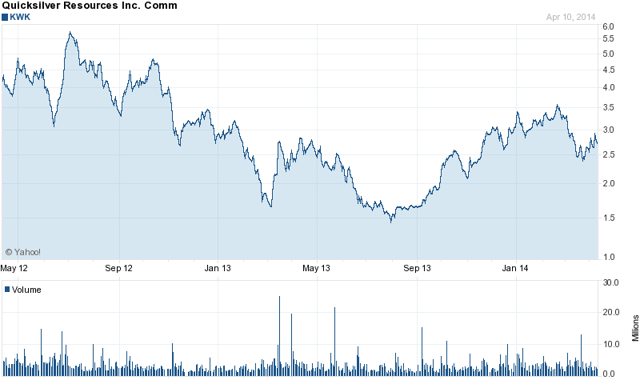 Quicksilver's recent rise is attributed to the fact that the natural gas price has surged over the last 4 months. Consumers pulled a record amount of gas from storage this freezing winter, leaving stockpiles at the lowest level since 2003.
Will Forest Oil and Quicksilver Resources follow Lone Pine Resources?
Lone Pine Resources (OTCQB:LPRIQ) was a spin-off of Forest Oil that began bankruptcy proceedings in H2 2013 under Chapter 15 of the United States Bankruptcy Code. Lone Pine was another natural gas weighted producer with a lot of debt, same like Forest Oil and Quicksilver Resources. This is the company's chart over the last years: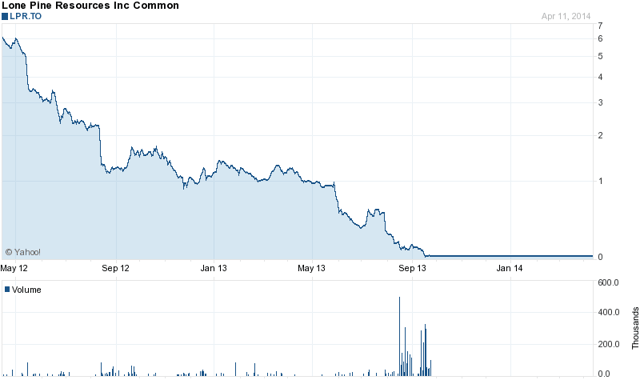 Lone Pine Resources recently announced the successful completion of its previously announced financial restructuring and its emergence from creditor protection under the Companies' Creditors Arrangement Act and Chapter 15 of the U.S. Bankruptcy Code. As a result of the restructuring, Lone Pine has reduced its long term debt from approximately Cdn$395 million as of September 25, 2013 to approximately Cdn$90 million at emergence. Furthermore, the company announced the conversion of all outstanding 10.375% senior notes due 2017 and other affected unsecured claims into new common shares, an offering of new preferred shares to eligible affected creditors to raise between $100 million and $110 million in new capital, and the cancellation of all outstanding shares of Lone Pine common stock.
The question is whether Forest and Quicksilver follow the same way. Well, Forest Oil had negative stockholder equity in Q3 2013, and the company returned back to positive stockholder equity (~$55 million) in Q4 2013, thanks to the recent sale of its Texas Panhandle assets. Forest raised net cash proceeds of about $944 million and used them to reduce its debt and enhance its financial strength and flexibility. That divestiture also enabled Forest to focus on its core Eagle Ford Shale assets, where it intends to accelerate the development of its oily properties. The Eagle Ford has been one of the drivers of the North American oil-production renaissance, attracting billions of dollars in drilling and acquisitions over the last couple of years.
Forest's CapEx for 2014 is approximately $300 million, and the company plans to deliver growth in oil volumes and accompanying growth in EBITDA as it initiates development drilling activities in the central area of its Eagle Ford position, with emphasis on pad drilling and increasing economies of scale and capital efficiency. Forest's 2014 production is expected to increase by 11% with oil production volumes expected to increase by nearly 100%. The average production for 2014 is expected to be approximately 20,833 boepd (35% oil/liquids)
Including the working capital deficiency, Forest Oil had net debt of $853 million (as of December 2013). Furthermore, Forest had operating cash flow at approximately $202 million in 2013, but its operating CF dropped at approximately $18 million in Q4 2013, pro forma the aforementioned sale. In February 2014, the company announced workforce reduction and amended the leverage ratio of its credit facility that was reduced to $300 million.
The recent rise of the natural gas price helped Quicksilver return back to positive operating CF in Q4 2013, and the company will likely generate positive CF in Q1 2014. Is this enough to turn the ship around? Quicksilver has negative stockholder equity of $1 billion (as of December 2013), and the long term debt has not dropped substantially since 2012. In Q1 2013, the company sold 25% interest in its Barnett Shale oil and gas assets for $485 million to TG Barnett Resources LP, a wholly-owned U.S. subsidiary of Tokyo Gas Co., Ltd.
Quicksilver Resources intends to invest a total of $136 million in 2014, which includes $98 million for drilling and completion activities, primarily in the Fort Worth Basin and the Horseshoe Canyon, $15 million for leasehold and seismic, and approximately $23 million for overhead and interest expense that is expected to be capitalized in the ordinary course of business.
In Q1 2014, Quicksilver sold to Southwestern Energy (NYSE:SWN) its holdings in the Sand Wash Basin in Colorado for cash proceeds of $90 million. Through this deal, Southwestern Energy purchased approximately 312,000 net acres in Colorado, although it has already a significant position in the oily Denver-Julesburg (DJ) Basin in Colorado. As I discussed in my recent article about Nighthawk Energy (OTCQX:NHEGY) that was selected as a "Top Idea" by SA's PRO Editors, Southwestern Energy already owns approximately 300,000 net acres in the DJ Basin, as illustrated below: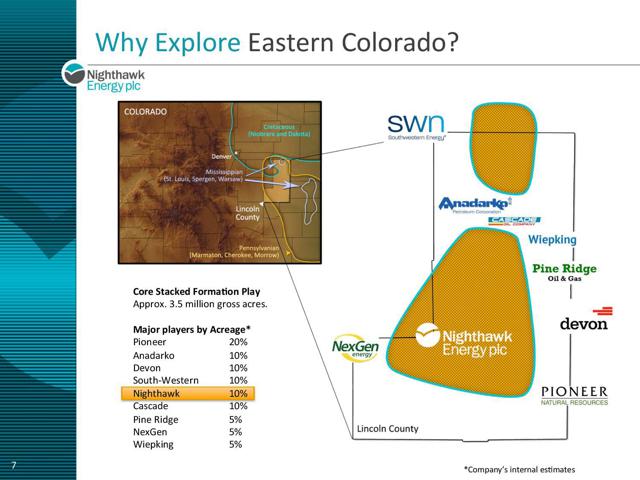 The Valuation
Will Forest Oil follow Quicksilver and return back to negative stockholder equity? Is the current CF enough to serve the debt of both companies on a going forward basis? Are Forest Oil and Quicksilver expensive at the current levels?
To find what the future holds both for Forest Oil and Quicksilver, let's dive into their current valuations and compare them to the peers. Forest Oil has its core producing properties in Arkansas, Louisiana, Oklahoma, and Texas. Quicksilver Resources owns producing oil and natural gas properties principally in Texas, as well as in Alberta and British Columbia, Canada.
Here are the peers:
1) Comstock Resources (NYSE:CRK) whose core assets are in Texas (including Eagle Ford Shale) and Louisiana (Haynesville and Tuscaloosa Marine Shale).
2) PetroQuest Energy (NYSE:PQ) has its core producing properties in the Arkoma Basin, Texas, South Louisiana and the shallow waters of the Gulf of Mexico.
3) Quattro Exploration & Production (OTC:QEXXF) is a new and unknown natural gas weighted producer with profitable operations in Canada. Quattro's assets are located in 4 different core areas, and this is the reason behind the name of this new producer. Quattro's properties cover approximately 220,000 net acres, and they extend from the oily SE Saskatchewan (Bakken and Shaunavon formations) and EC Alberta (Viking, Belly River and Manville formations) to NW Alberta (Montney, Doig formations) and NE British Columbia, as shown below: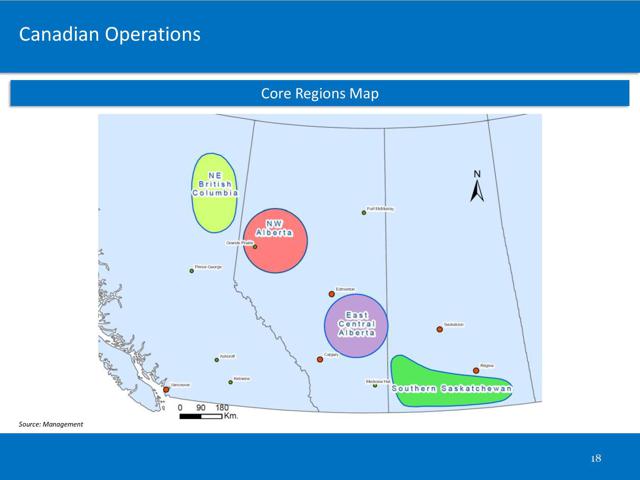 These peers have not been selected accidentally. Firstly, all of them have their producing properties onshore US and Canada. Furthermore, they are natural gas weighted. Additionally, two of them are intermediate producers, same like Forest Oil and Quicksilver Resources. Quattro is a new junior producer with a stellar balance sheet and without any debt problem, although it has been growing fast over the last months.
1) Per EV/Production: Here is the table with the first key metric:
Company

EV

($ million)

2014

Production (*)

(boepd)

EV

---------

2014 Production (*)

($/boepd)

Comstock Resources

2,040

~31,000

(~63% natural gas)

65,806

Quicksilver Resources

2,220

41,667

(85% natural gas)

53,280

Forest Oil

1,070

20,833

(65% natural gas)

51,361

PetroQuest Energy

810

21,700

(70% natural gas)

37,327

Quattro Exploration

& Production

33

2,000 (**)

(~63% natural gas)

16,500
(*): Average production, based on the latest corporate guidance.
(**): Pro forma the latest two acquisitions.
2) Per EV/1P Reserves: Here is the table with the second key metric:
Company

EV

($ million)

Proved Reserves

(MMboe)

EV/1P

($/boe)

Comstock Resources

2,040

97.42

(78% natural gas)

20.94

PetroQuest Energy

810

50.33

(84% natural gas)

16.09

Forest Oil

1,070

104.17

(34% natural gas)

10.27

Quicksilver Resources

2,220

221.67

(82% natural gas)

10.01

Quattro Exploration

& Production

33

4.2 (*)

(~63% natural gas)

7.86
(*): Pro forma the latest two acquisitions.
3) Per EV/EBITDA: Let's check out the table below with another key metric:
Company

EV

($ million)

2014 EBITDA (*)

($ million)

EV

---------

2014 EBITDA (*)

Quicksilver Resources

2,220

180

12.33

Comstock Resources

2,040

330

6.18

PetroQuest Energy

810

140

5.79

Forest Oil

1,070

200

5.35

Quattro Exploration

& Production

33

15 (**)

2.2
(*): Estimate, based on the company's production guidance.
(**): Pro forma the latest two acquisitions.
4) Per D/CF Ratio: The higher this ratio is, the weaker the balance sheet is. To find the net debt of the companies mentioned, I will take into account the working capital deficiency, if any.
From this perspective, Quattro Exploration &Production has the strongest balance sheet while Quicksilver Resources has the weakest balance sheet, as shown below:
Company

Net Debt

($ million)

(as of Dec 2013)

2014 CF (*)

($ million)

Net Debt

---------

2014 CF (*)

Quicksilver Resources

1,730

110

15.73

Forest Oil

853

100

8.53

PetroQuest Energy

450

120

3.75

Comstock Resources

937

280

3.35

Quattro Exploration

& Production

6

12

0.5
(*): Estimate, based on the company's production guidance.
Valuation Results
Both Quicksilver and Forest have a lot of work to do on the debt front. Those investors who ignore the debt hurdle or try to put it aside, are making a huge mistake. In fact, both companies carry scary debt to CF ratios that threaten their survival, considering also the fact that the natural gas price is inflated currently and will not stay at the current levels of $4.5/MMbtu for long.
Given the fact that Comstock is a natural gas weighted company, it has very high key metrics. Moreover, it has been losing money over the last quarters. If Comstock had not sold one of its core assets in 2013, it would have lost money in Q2 2013 too. Comstock's bet in Tuscaloosa Marine Shale is also a very risky bet because that area is highly unproven and the wells are very expensive (~$13 million). In short, Comstock is not a compelling buying opportunity at the current levels of ~$23.5. I will definitely pass it because I can find other truly undervalued natural weighted companies.
PetroQuest's metrics are not attractive. However, this company is profitable and its core properties are located in proven producing Basins. For instance, the company's core assets in the Cotton Valley provide consistent and predictable results.
Quattro Exploration & Production is an emerging producer with a strong balance sheet. As shown above, Quattro remains cheap at the current price of C$0.76, despite the recent significant rise. On top of that, Quattro's core properties are in proven producing Basins that have significant oil and NGL potential (Bakken, Shaunavon, Viking, Belly River, Montney formations).
My Takeaway
Regarding Quicksilver and Forest, I do not need to read the tea leaves to confirm the quality of their balance sheet and their future. The situation at both companies is bleak. Both Quicksilver and Forest are turnaround companies in the process of deleveraging the balance sheet. As such, it will not surprise me if they breach the covenants on their loans one day.
Legendary oil man J. Paul Getty famously said: "If you owe the bank $100 that's your problem. If you owe the bank $100 million, that's the bank's problem". Since both Quicksilver and Forest owe to their lenders a lot of money, it appears that it is now their lenders' problem. Unfortunately, the lenders control Quicksilver's and Forest's destiny and this does not bode well for current equity holders, who try to hit a big return by betting on these two highly risky turnaround plays.
When it comes to my investments, I am not a gambler but I am a fundamentally driven investor instead. As such, I believe that the investors must not bet on "all or nothing" stocks to become rich overnight. My 24 years of experience in the international markets have showed to me that there are always grossly undervalued gems with strong fundamentals and low debt. It just takes hard work to unearth these gems, and most investors quit in the middle of this tiring discovery process.
I also know very well that it is challenging to find stocks that have an opportunity for gains that exceed 150%. However, Quattro Exploration & Production is my third stock pick that hits a return higher than 150% over the last 18 months I have been writing for SeekingAlpha, after Rock Energy (OTCPK:RENFF) and Crown Point Energy (OTCPK:CWVLF) which have yielded 500% and 200% respectively, since I recommended them. My articles about them are here and here.
That being said, I strongly believe that the alpha seekers who do not want to bet their hard-earned money on risky turnaround plays and heavily indebted companies like Quicksilver and Forest, have to check out my latest "Top Idea" about Nighthawk Energy here. Nighthawk Energy could be the next stock that will yield more than 150% over the next months.
Disclaimer: This article covers a stock trading at less than $1 per share and/or with less than a $100 million market cap. Please be aware of the risks associated with these stocks.
The opinions expressed here are solely my opinion and should not be construed in any way, shape, or form as a formal investment recommendation. Investors are reminded that before making any securities and/or derivatives transaction, you should perform your own due diligence. Investors should also consider consulting with their broker and/or a financial adviser before making any investment decisions.
Disclosure: I am short SWN. I wrote this article myself, and it expresses my own opinions. I am not receiving compensation for it (other than from Seeking Alpha). I have no business relationship with any company whose stock is mentioned in this article.
Additional disclosure: I am long NHEGY, QEXXF.