Just last month I joined Seeking Alpha and began writing research articles as one of its Certified Contributors. I decided to write my very first article about Las Vegas Sands (NYSE:LVS) because I believe Asia's casino boom is providing growth investors with one of the best long-term investment opportunities in the world.
Those investors who saw the early opportunities for casino gaming in Macau and Singapore have been significantly rewarded. Take a look at the five-year chart below comparing the stock prices of Las Vegas Sands, Wynn Resorts (NASDAQ:WYNN) and Melco Crown Entertainment (NASDAQ:MPEL) and you'll see how powerful this growth trend has been.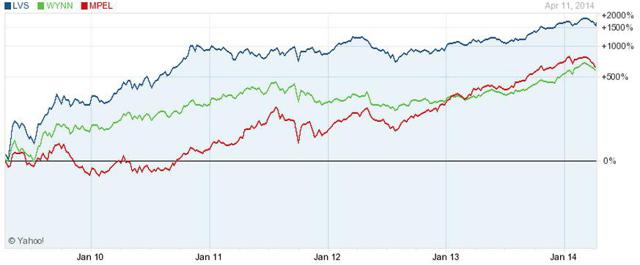 Click to enlarge
Almost all the earnings growth propelling these stocks higher has come from Asia. And now, I see a new catalyst on the horizon that could significantly propel all these stocks much higher.
Although casinos are currently illegal in Japan, I've placed my investments that new legislation will soon be enacted to open up Japan's lucrative gaming markets. I believe Japan could then become the second largest gaming jurisdiction in the world, surpassed only by Macau.
The brokerage firm CLSA estimates that Japan could generate $40 billion in gambling revenue a year, assuming two large integrated resorts are set up in Tokyo and Osaka, and 10 smaller sites open in places like the northern island of Hokkaido and Okinawa to the south.
Japanese Prime Minister Shinzo Abe is in favor of legalizing casinos. His Liberal Democratic Party controls the Diet, the Japanese parliament, and is now considering legislation to open up Japan to casino development.
A group of Japanese lawmakers submitted an initial promotional bill to the Diet last December to legalize gambling, with expectations that it will be debated in the next few months. If that bill passes, the proposal will go into a second bill with concrete regulations, which proponents hope can be passed by 2016.
There are several political and economic factors that make passage of both bills very likely. With the 2020 Olympics bid clinched, the case for legalizing casinos in Japan received a major boost as a way to generate new tax revenue to offset the financial costs of the upcoming Olympic games. Also, Japan is desperate to find new ways to regenerate the country's declining tourism numbers which were devastated after the 2011 quake-tsunami and subsequent nuclear disaster. New integrated resorts with casinos and hotels could once again make Japan a major tourist destination in Asia.
If the two-step legislative process I described above goes smoothly the first casino could be opened in time for the Tokyo Summer Olympics in 2020. A gaming tax rate for Japan hasn't been determined, but the "Singapore model" is under consideration for awarding the licenses and tax structure.
Singapore has two tax rates for casino gaming. Revenue from high-end customers who maintain a minimum bankroll of $100,000 in Singapore dollars ($78,208 U.S.) are taxed at 5 percent. Other gaming revenue are taxed at 15 percent. There is also a 7 percent "goods and services tax" on all gaming revenue. Given the CLSA estimate that Japan could generate $40 billion in gambling revenue a year, the tax revenue for Japan's government would be significant.
Place Your Investments Now
Many of the largest casino operators in the world have expressed strong interest in Japan, but only a few licenses are likely to first be awarded. Las Vegas Sands, Wynn, Melco and MGM Resorts International (NYSE:MGM) are all leading contenders. There are a few other large casino developers in Asia such as the Genting Group and Galaxy Entertainment but those stocks are not listed in the US. Even if they were, I would not have them near the top of my list as a way to invest in Japan.
At the top of my list is Las Vegas Sands - a clear front runner for a casino license in Japan. No other casino developer has the proven track record and financial capacity as Sheldon Adelson at the helm Las Vegas Sands.
If Japan does emulate the Singapore model for legalized casinos it will bode very well for Las Vegas Sands. Back in 2006, Singapore awarded its first two casino licenses. Las Vegas Sands won the first license and a great success story followed.
The picture below shows Las Vegas Sands' new Marina Bay Sands that has three 55-story sloping towers with approximately 2,600 rooms and suites. Among its most striking features is the Sands SkyPark, a park that is set on top of the three towers.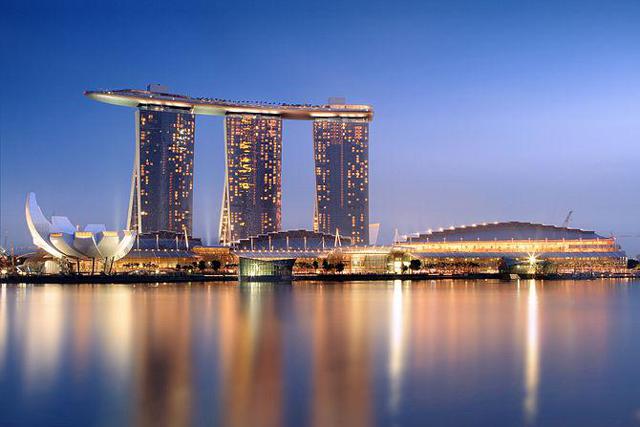 Click to enlarge
Las Vegas Sands spent almost $6 billion to build the integrated resort and it's paying off. Marina Bay Sands and Singapore's other casino, Resorts World Sentosa, earned $5.9 billion last year, nearly as much as all of the casinos on the Las Vegas strip combined. Marina Bay Sands collected $3.15 billion of the total gaming revenue in Singapore. I use this example to clearly show the potential impact for a similar development in Japan.
Final Thoughts
Savvy growth investors should be positioning their portfolios to profit from legalized casinos in Japan. My top pick is Las Vegas Sands but I believe Wynn and Melco are also strong contenders in Japan and positioned well in Asia. Although MGM is playing catch-up in Macau, they are aggressively positioning themselves to also compete in Japan. I own all four of these stocks for a variety of different reasons but Las Vegas Sands is my largest position, about 70% of the capital I've allocated to this sector.
Place you investments now and you'll win on Japan.
Disclosure: I am long LVS, WYNN, MPEL, MGM. I wrote this article myself, and it expresses my own opinions. I am not receiving compensation for it (other than from Seeking Alpha). I have no business relationship with any company whose stock is mentioned in this article.
Additional disclosure: This article is intended to provide information to interested individuals. As I have no knowledge of individual investor circumstances, goals, and/or portfolio concentration or diversification, readers are expected to complete their own due diligence before purchasing any stocks mentioned or recommended.