Gilead's (NASDAQ:GILD) stock has been in a funk. In the last three months, it has dropped 24% from about $46/share to about $35/share; this compares to a 15% drop for the Biotech HOLDERs index. It now has a PE of 11.1, lower than Pfizer (NYSE:PFE), Novartis (NYSE:NVS), and Sanofi Aventis (NYSE:SNY), while having far higher growth and operating margins. Revenues soared 27% from 2008 to 2009 to $6.5 billion and are expected to grow another 15% in 2010 to about $7.4-$7.5 billion. Operating cash flow will be around a whopping $3 billion. It is an incredible money machine. Why is it selling at such a discount?
Fist the bad news:
Investors do have reason to worry. As with any maturing company, Gilead's sales have slowed. Antivirals account for 90% of all product sales, with a full 75% coming from Atripla, and Truvada. While Gilead is the clear leader in the HIV market, competition is nipping at its heels. Low cost generics of older drugs may put pricing pressure on its brand name drugs. Competition is also coming from novel drugs such as Merck's (NYSE:MRK) Isentress, an integrase inhibitor. Pfizer and GSK launched ViiV Healthcare in November 2009 to combine resources in HIV drug discovery; the new entity has multiple approved drugs and pipeline candidates for HIV.
To date, companies have developed or are developing protease inhibitors, entry inhibitors, reverse transcriptase inhibitors, fusion inhibitors, integrase inhibitors, maturation inhibitors, and combinations of these- this must surely be one of the greatest leaps of innovation to combat one disease. But it sure keeps drug developers on their toes.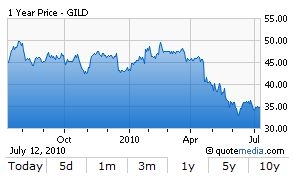 Another major issue plaguing Gilead is the patent expiration of Viread in 2017. Viread is the backbone of Gilead's antiviral business. It is used as a treatment for HBV, and is a major component in Atripla and Truvada. Truvada and Atripla have US patents that run through 2021, but it remains to be seen how those hold up. Already, generics companies have filed ANDAs for Viread, Truvada, Atripla, and Ranexa- a recently acquired drug from the purchase of CV Therapeutics. Three other drugs will go off patent by 2016. Drugs with patents expiring by 2017 will impact a large majority of Gilead's current lineup of products.
While Gilead leads in HIV and is doing well with two products in HBV, surprisingly, it has no offerings in HCV. Similar to the development of HIV treatments in the 1990s, a wave of novel treatments is sweeping over the field, led by Vertex Pharmaceuticals (NASDAQ:VRTX), which is developing telaprevir, the first in a class of protease inhibitors. Final results for its pivotal trial will be available 3Q this year. Merck is not far behind with its own protease inhibitor, boceprevir, now fully enrolled in a Phase III trial.
What else can go wrong? Beginning in 2006, Gilead has gone on a bit of an acquisition spree. It has picked up Myogen for $2.5 billion, bringing it two drugs, darusenten and ambrisentan. Darusenten has since been dropped, and ambrisenten, now called Letairis is estimated to have peak sales of likely less than $500 million. Next came Corus for $365 million; its antibiotic, Cayston, for Cystic Fibrosis received approval in February this year, but sales estimates are low, ranging from $100 to $300 million. CV Therapeutics, with heart drug Ranexa, was bought for $1.4 billion; Thomas Wei of Jefferies estimated peak sales of $500 million. Just this June, Gilead acquired CGI Pharmaceuticals for $120 million for its inflammation discovery capabilities. Of these, perhaps only the Myogen purchase can be called an outright bust. On the other hand, none of the others appear to be homeruns.
In just the past four years, Gilead has expanded its focus from virology to include cardiovascular disease, pulmonary disease, and inflammation. Hopefully, it hasn't stretched itself too thin.
Accentuate the positives:
Despite intense competition, Gilead remains the leader in HIV treatment and has become a major player in the HBV market. Its sales are currently almost evenly divided between the US and five major European nations. Japan Tobacco has licensed Gilead's products for sale in Japan. It is also increasing its international footprint, which will become increasingly important in the future as the share of drug sales increases in developing countries.
It isn't sitting still as others develop new drugs and patents begin to run out on its own blockbusters. By the end of this year, Gilead anticipates filing an NDA for a once-daily pill combining Truvada with TMC275, a non-nucleoside reverse transcriptase inhibitor (NNRTI) from Tibotec. This will become, along with Atripla, only the second completetreatment regimen for HIV available in a single tablet taken once daily, fortifying Gilead's leadership position.
Gilead is also developing the highly anticipated Quad pill, combining four of Gilead's own drugs, including two novel compounds, elvitegravir and cobicistat. Elvitegravir, like Isentress from Merck, is an integrase inhibitor. Cobicistat is a PK enhancer, boosting the activity of its co-administered drug by inhibiting CYP3A4, an enzyme that plays a key role in drug metabolism. Both elvitegravir and cobicistat are being tested separately as well as together in the Quad pill.
The Quad pill began Phase III trials in April. In a head-to-head comparison with Atripla in Phase II, it was shown to be as good as, if not better than Atripla, but with fewer CNS side effects. If this is confirmed in Phase III, the Quad will be a multi-billion dollar drug.
Both elvitegravir and cobicistat may become successful products in and of themselves. If approved elvitegravir will join Isentress as just the second integrase inhibitor on the market. Cobicistat has the potential to be paired with multiple drugs currently in use as a boosting agent.
Merck's successful launch of Isentress- it is expected to reach blockbuster status in 2011- shows effective and novel treatments have the ability to grow the market. New and better medicines will be able to grow the market. Drugs such as the Quad and the Truvada-TMC275 combo can do that.
In the field of HCV, Gilead is currently behind the competition. The market is expected to grow enormously in the next few years with the advent of a new era of direct acting antiviral drugs for HCV. The HCV market is expected to grow from about $4 billion today to over $8 billion by 2016. Vertex's telaprevir is expected to become a staple in HCV treatment- an instant blockbuster. However, patients must still take telaprevir with interferon and ribavarin, along with all their unwanted side effects.
Gilead is now racing to develop a two-drug combination pill that would eliminate the need for the addition of interferon and ribavirin. Though it has ceded the lead for the first new drug, it is head to head with Vertex in developing a combination pill- both studies are in Phase II. The convenience of a pill without the inconvenience and side effects of interferon and ribavarin- now that will be big.
On the money side- although none of the recent acquisitions look to have produced blockbusters, the company is taking a slow and steady approach, building up expertise in cardiovascular and pulmonary diseases as it works to diversify its revenue mix. I give management credit for the persistence it has shown with the drugs it has acquired; they are definitely a determined bunch. Over time, sales growth in this category will begin significantly the company's overall growth rate.
I also appreciate a company that doesn't hoard cash, but returns it to shareholders. (I'd prefer a dividend, but the world is tilted toward buybacks.) Gilead is a very well run company with many catalysts to maintain both top-line and bottom-line growth. There have been a couple of setbacks with the end of development for darusentan and GS 9450. But the key drivers for future growth are performing well.
I do not dismiss the multiple ANDAs that have been filed off hand, but I have faith in the company's inventions. I believe that by the time Gilead's true test comes around when Viread's patent expires in 2017, investors won't even blink an eye because Viread will no longer be at the core of all its products. GILD now trades at levels not seen since 2007. It is a steal at these prices.