Alcoa (NYSE:AA) is a global leader in lightweight metal engineering and manufacturing and offers a wide range of products across 30 countries. On April 8th 2014 Alcoa released its results for the first quarter of 2014. The company managed to beat analysts' expectations but lagged behind its results for the 1st quarter of 2013. The company's EPS of 9 cents topped Wall Street's modest expectations of 1 cent per share but fell short of 11 cents EPS earned in the comparable quarter last year. Alcoa's stock price increased 2.5% in afterhours trading. The focal point of this article will be the assessment of the company's performance in the latest quarter and ascertaining its future growth prospects.
The Top And Bottom Lines
For the first quarter of 2014 Alcoa generated revenues of $5.45 billion down from last year's $5.83 billion reflecting a shortfall of 6.5%. The decline in the top line was attributed to unfavorable aluminum prices. For the first quarter Alcoa realized an average selling price of $2,205 per metric ton of aluminum that reflecting a 2% rise sequentially and an 8% drop year over year. Cost of goods sold as a percentage of revenue declined 70 basis points year over year and 190 basis points sequentially. Selling, general, and administrative expenses as a percentage of revenue remained flat year over year but declined sequentially by 30 basis points.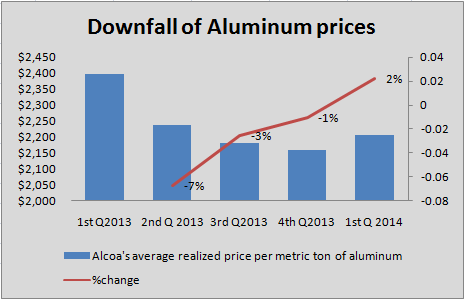 Source: Alcoa News Release
Net income for the quarter stood at $98 million or 9 cents per share before accounting for restructuring charges. Including the special items the company reported a net loss of $178 million or 16 cents per share. A year earlier Alcoa had earned a net income of $149 million or 13 cents per share. The net loss of 16 cents per share for the latest quarter incorporated a charge of $255 million in relation to production decreases in Brazil and plant closures in Australia and New York. Restructuring reduced Alcoa's capacity by a collective 421,000 tons that is almost 10% of its total capacity. Alcoa had already mentioned that it would be recording an after tax charge of $250-270 million regarding the restructuring moves and 60% of these charges will be included in the first quarter results. The first quarter is actually carrying a $255 million charge altogether that reflects around 90-100% of the restructuring costs.
Segment Performance
If we look at the performance of each of the company's segments, it is apparent that the primary metals segment is the only unprofitable segment of the company. The losses from the segment reduced 57% quarter over quarter but the year over year performance has deteriorated by almost 138%. The worst part is this segment is the biggest segment of the company with a revenue contribution of almost 40% to the company's top line. The company's other segments performed better and its engineered products and solutions segment earned record after tax operating income (ATOI) reflecting an increase of 9% year over year. Global rolled products saw a 27% decline in ATOI year over year but increased by a massive 180% sequentially. The rolled products unit that supplies auto manufacturers has shown outstanding results by almost tripling sequentially compared to the previous quarter and definitely indicates the demand for Alcoa's products from automakers. The alumina segment also performed better with increasing operating income both year over year and quarter over quarter.

Source: Alcoa News Release
Margin Improvement
Alcoa's net profit margins stood at 2.5% in the first quarter of 2013 and from that time onwards in every quarter the margin started shrinking. The margins reached negative 41.88% in the 4th quarter of 2013 but for the latest quarter ended March 2014 the net profit margin was -3%. The margin has improved by almost 39% in one quarter and it seems the margin is set to regain the luster it had back at the start of 2013.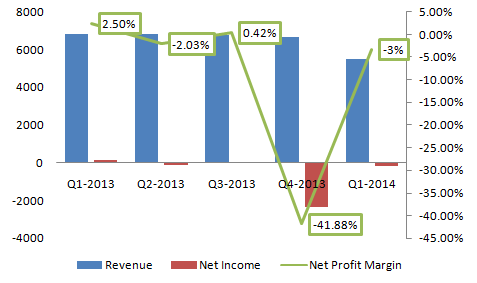 Source: Bloomberg
Apart from the net profit margin the adjusted EBITDA margin also improved year over year as well quarter over quarter. For the quarter ended March 2014 the adjusted EBITDA margin stood at 12.30% up from 11.80% in the comparable quarter last year and 10.10% in preceding quarter. Alcoa has improved its working capital days marginally as this measure has decreased to 30 days from 32 days last year. The debt to capital ratio stood at 35% while the net debt to capital ratio stood at 33% for the quarter.
Saudi JV as a Replacement to the Lost Capacity
In global markets aluminum prices were not enough to let smelters work profitably as it has been stuck below $2,000 per ton. Aluminum prices should be at least $2,000 so that smelters can continue their operations in a profitable manner. Due to the soft prices of aluminum Alcoa, like other companies, has taken steps to cut down its capacity and output. Moreover Alcoa is also working on the costs front as well. Alcoa owns 25% of a new smelter in Saudi Arabia that is expected to produce 550,000 tons up from 190,000 tons last year. Due to the country's abundant energy sources this smelter is going to be the lowest cost producer in the world and thus will produce output at the lowest possible cost allowing the company to sell aluminum at competitive market prices while securing its profits. This smelter is expected to effectively replace the lost capacity of smelters that the company recently closed. Alcoa has shaved almost 551,000 tons of capacity globally in its recent moves. This scenario leads us to believe that no matter what the market prices of aluminum prevail in the market during 2014. Alcoa will be able to generate profits from its aluminum business through its cost-efficient facility. However overheated production in China remains a concern for the aluminum prices as the annual trade surplus of 2 million tons will keep metal prices depressed and under pressure. However Alcoa predicts that the decade long aluminum surplus driven by Chinese output will come to an end this year. The company sees a supply deficit of 730,000 metric tons this year down from its forecast of 106,000 ton surplus back in January of this year. Although aluminum prices may remain soft the premium that aluminum consumers have to pay to take delivery of aluminum from the London Metal Exchange (LME) registered warehouses will ultimately continue to rescue Alcoa from depressed price impacts.
The Road Ahead
Alcoa is a producer of primary aluminum, fabricated aluminum, and is a miner of bauxite and refiner of alumina. Alcoa serves customers worldwide primarily in the automotive, aerospace, consumer electronics, packaging, defense, construction, and oil and gas industries. The following table illustrates the growth expectations set by Alcoa in its respective markets.

Source: Alcoa News Release
Aerospace Market
The company has improved its growth expectations from the aerospace market by 1% up from 7-8% to 8-9%. Strong demand for commercial aircrafts and regional jets and the business jet market favors the company's expectations. According to leading aircraft manufacturer, Airbus (OTCPK:EADSY) the global market forecast for 2013-2032 anticipates air traffic growth at 4.7% annually. That will require almost 30,000 new passenger aircrafts and freighters at a value of US $4.4 trillion. The following graph reflects the fact that the world GDP has been outperformed by passenger traffic and the trend will continue over the long term with emerging economies as the main growth drivers in this regard.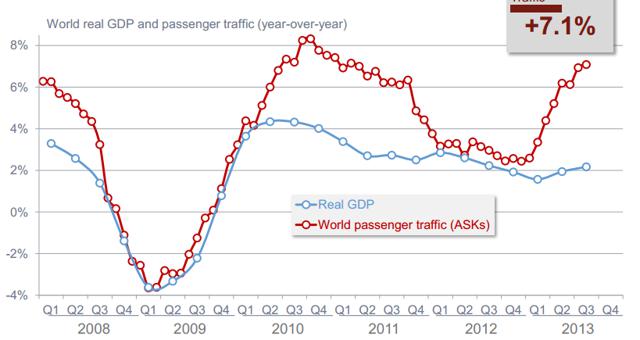 Source: Airbus Presentation
In this bullish scenario for aircrafts and jets around the globe Alcoa will definitely benefit from the situation. Its top line will be bolstered as the aerospace market is the main revenue contributor of the company. The following graph depicts the revenue contribution by various markets that Alcoa serves and shows that the aerospace industry secured the top notch position with a 30.5% contribution.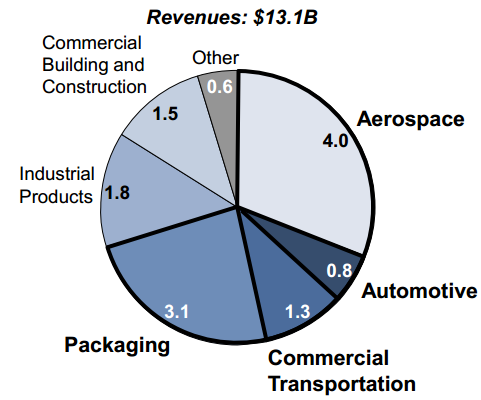 Source: Alcoa Presentation
Automotive & Commercial Transportation
The automotive market is on the rise and it is fruitful for automakers and businesses like Alcoa to also benefit from the rising technological advancements in vehicles. US automakers are using aluminum as part of the body of their vehicle due to its lightweight nature and fuel efficiency features. Ford Motors Co (NYSE:F) is launching its F-150 this summer with an aluminum body and its next generation F-Series vehicles will also incorporate aluminum as their main body element. General Motors (NYSE:GM) is also following Ford in this regard and its aluminum bodied vehicles are expected to hit the market by 2018. If the experimentation by these giant automakers succeeds, then other rivals in the industry will also follow the trend. Aluminum producers like Alcoa are well positioned to grab opportunities that can lift their top and bottom lines to new heights. Moreover Alcoa expects 40% of the global commercial vehicle wheel market (including trucks, trailers and buses) will turn to aluminum by 2014.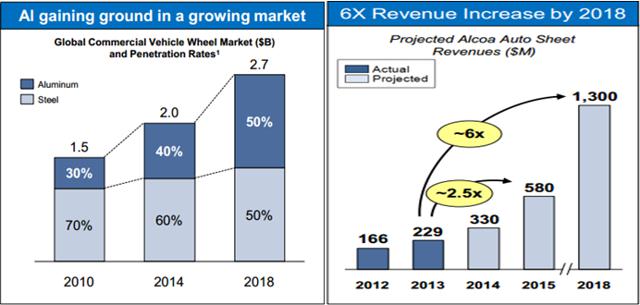 Source: Alcoa Presentation
Alcoa anticipates that by 2025 demand for aluminum auto sheets in just North America will surpass 1 million metric tons and this will increase its revenue 6 times by 2018. Note that the automotive and commercial transportation market combined contributed 16% to the company's top line in 2013.
Packaging
Packaging stands as a major contributor to Alcoa's top line with a 24% contribution in 2013. In terms of packaging prices are expected to be experience a downwards pressure. Aluminum is going to penetrate the packaging market due to its lightweight feature while steel will still dominate the market across China, Asia, Europe, and Africa with 86% global usage. Globally the beverage can market is expected to grow by 2-3% till 2016. Alcoa expects sales growth in Europe and China while In North America it anticipates a 1-2% sales decline.
Commercial Building & Construction
This market segment generated 11% of the company's revenue in 2013. Alcoa anticipates 4-6% sales growth in this market overall mainly driven by growth in North America and China while Europe will experience a 2-3% sales decline. The American Institute of Architects "AIA" predicts commercial construction spending will increase 5.8% in 2014 and 8% in 2015.

Source: BUILDINGS
Summing all this up, for the second quarter of 2014, Alcoa anticipates after tax operating income to surpass $200 million for the first time reflecting a 4% -6% increase year over year. However the ATOI projection for the second quarter seems bullish in contrast to the 1st quarter results. I believe that since the company managed to beat analysts' expectations in the first quarter these targets it has set for itself will definitely be achieved. The favorable market trends and rising demand for the company's upstream and downstream products warrant this bullish forecast.
Concluding Remarks
Unfavorable aluminum prices have adversely affected the performance of Alcoa as it had a greater exposure to the business that transformed alumina into raw aluminum in smelters. However the future outlook for the aluminum industry seems robust due to the rising use of aluminum in vehicles. Moreover Alcoa anticipates robust demand for its downstream products as well coming from both the automotive and aerospace industries. Alcoa's stock has increased by almost 50% in just one year. The stock has the potential to secure more price appreciation as it is currently trading at an expensive P/E ratio of 42 X. The stock is trading at 30 times its 2014 earnings and its current P/E ratio is almost double to that of the S&P 500's P/E ratio. However, the company has a price to sales ratio of 0.6 making the stock seem inexpensive. Some uncertainties surround the company's potential to generate ample revenues to earn handsome earnings so I suggest investors hold this stock until the aluminum industry comes out of the overheated production and depressed price arena.
Disclosure: I have no positions in any stocks mentioned, and no plans to initiate any positions within the next 72 hours.
Business relationship disclosure: The article has been written by a Gemstone Equity Research research analyst. Gemstone Equity Research is not receiving compensation for it (other than from Seeking Alpha). Gemstone Equity Research has no business relationship with any company whose stock is mentioned in this article.