The Wall Street Journal recently provided an update on Amazon's (NASDAQ:AMZN) plan of launching a smartphone in the second half of this year. (Link) The phone will come with a high-end and a low-end version, with the high-end version having the ability to support a glasses-free 3D viewing experience. The article said that Amazon has been demonstrating the handset to developers in San Francisco, and plans to announce the device at the end of June, with shipment starting in September.
The rumor of Amazon launching a smartphone has been going on for years, except this time I find it more credible than before in that we have an estimated device announcement and launch date. In addition, supply chain check indicates that Amazon will initially order 600K units. Japan Display, which provides touch screens for Apple's (NASDAQ:AAPL) iPhone 5C and 5S, is one of the display providers. According to The Financial Times (Link), HTC will be Amazon's smartphone maker.
Enlarging the connected device footprint
Amazon's entry into the smartphone business follows Google's footsteps of enlarging its connected device footprint. Most importantly, the vertical integration of software and hardware allows Amazon to deliver a superior user experience of its services and profit from higher margin content sales through affordable mobile devices.
Amazon already has a hardware presence via its Kindle tablet products.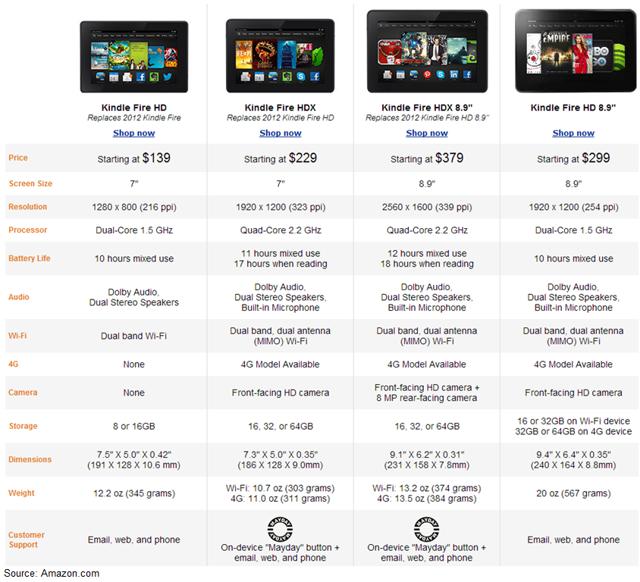 Click to enlarge According to IDC, global tablet sales are expected to reach over $120b by 2017 from $80b in 2013.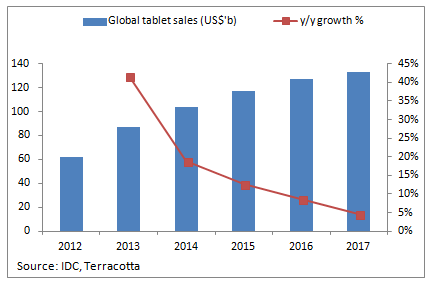 In terms of unit sales, global tablet sales are forecast to reach 400m units, doubling from the current 200m units.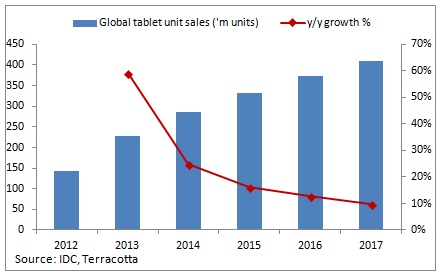 While the tablet market is likely to maintain steady growth, the smartphone market is expected to be 3x the size of the tablet market by 2017 with $450b in sales, per IDC data, compared with $325b in 2013.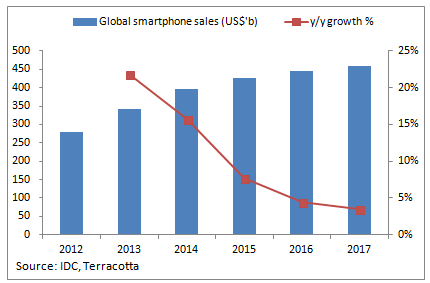 Smartphone unit shipments are expected to reach 1.6b units from 1b units in 2013, representing a 13% CAGR.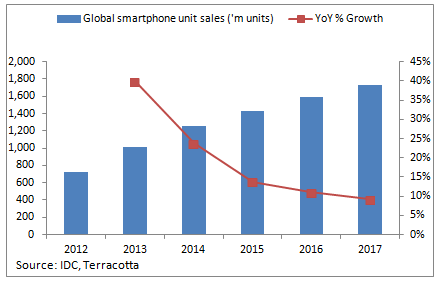 The size and the growth of the smartphone market is something Amazon cannot ignore, and Amazon stands to benefit from the structural shift of device usage to mobile from desktop and shopping habits to online from offline, in my view.
Software-hardware integration
One of the reasons behind software companies to vertically integrate the software and hardware is to control all aspects of development to provide consumers with a product that offers a superior user experience. Apple's integration of its iOS and iPhone is a prime example of how the right execution over vertical integration can result in robust revenue and earnings growth.
Amazon's mobile devices currently run on Fire 3.0, a variant of Android OS but with added Amazon functions such as cloud services, content-forward user interface, built-in media libraries, productivity apps and Amazon digital content integration. I expect all the key functions will be applied to the upcoming smartphone models, thereby ensuring a consistent user experience across all of Amazon's connected devices.
Low-margin hardware, high-margin content
Another reason for the software-hardware integration is that software companies are at a distinct advantage when selling a low-margin device with the backing from high-margin content. It is worth noting that by moving into hardware manufacturing, software companies are at risk of margin contraction given the competitive nature of the hardware business. However, software companies such as Amazon and Google (NASDAQ:GOOG) can offset the narrow, or some time no margin, business by selling high-margin digital content such as ebooks, apps, movies and cloud services.
Google has been extremely successful at leveraging its hardware footprint via its Nexus devices and Android OS to profit from distribution of content via Google Play. I note that non-search revenue grew 99% y/y and 34% q/q in 4Q13 and I expect continued strength in this business segment in the upcoming quarter on Wednesday.
I believe Amazon could replicate Google's success in offsetting low-margin hardware sales with high margin content sales, but in a smaller scale given Fire OS is only limited to Amazon devices and is not as widely adopted as Android.
No official word on the pricing of the Amazon smartphone but I expect the no-contract price to be between $250-$300 for the high-end device and $200-$250 for the low-end model, so both will be competitive against the Google Nexus 5 and Motorola X, as well as mid-end Samsung devices.
Grab the low-hanging fruit before it's gone
I see the timing of Amazon moving into the smartphone space is particular right given that there is still low hanging fruit in North America waiting to be picked.
At the end of 2013, Apple and Samsung accounted for 65% of the smartphone market in North America. As other smartphone OEMs narrow the technology and content gap with Apple and Samsung, I expect Apple and Samsung consumers to switch to competing devices that offer comparable specs and quality at a significant discount.
I believe the next wave of disruption to the North American smartphone market will be from low-cost Chinese imports, such as Lenovo, Huawei, ZTE and Coolpad. As Chinese OEMs build their carrier relations and distribution networks via organic growth (ie. TCL Communications and ZTE) or M&A (ie. Lenovo acquiring Motorola), both Apple and Samsung will face downside risk to ASP given that the Chinese OEMs can deliver comparable products at a significantly lower price point.
At the end of 2013, Chinese OEMs have a combined 8.7% market share in North America, compared with 4.8% in 2011. These companies have gradually expanded their North American market share by building their own distribution channels and relationship with carriers. For example, Coolpad has solid relationships with MetroPCS as a supplier of low-cost 4G handsets.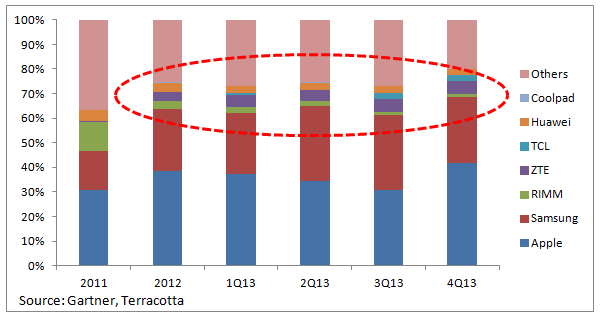 While I am confident that Amazon's smartphone can be competitive in both price and specs against Apple, Samsung and Google, I am skeptical that it is competitive against Chinese imports, therefore I believe that it is critical for Amazon to roll out its smartphones before Chinese OEMs further expand their market share in North America.
Bottom line, Amazon's smartphone launch should be a positive catalyst for the stock, which trades at 76x P/E for 2014E and spotting a 40% forward EPS growth, implying a PEG of 1.8x.
Disclosure: I have no positions in any stocks mentioned, and no plans to initiate any positions within the next 72 hours. I wrote this article myself, and it expresses my own opinions. I am not receiving compensation for it (other than from Seeking Alpha). I have no business relationship with any company whose stock is mentioned in this article.