By Todd Shriber & Tom Lydon
There has been some talk of Internet and social media stocks "partying like it's 1999." Throw in the harsh treatment dealt to biotechnology shares over the five weeks and it is no wonder there is bubble chatter and concern about the health of the Nasdaq Composite.
Bubble talk has been stoked by frothy valuations, but as BlackRock Chief Investment Strategist Russ Koesterich notes;
"Not every tech stock is trading like Facebook (NASDAQ:FB)."
In fact, technology is one of several sectors that is trading below its long-term averages. The Technology Select Sector SPDR (NYSEARCA:XLK) sports a P/E ratio of 15.2, slightly below the 16.3 P/E found on the Utilities Select Sector SPDR (NYSEARCA:XLU).
XLK and comparable technology ETFs have remained sturdy in the face of the Internet/social media retrenchment due to the funds' large allocations to old guard technology companies such as Dow components IBM (NYSE:IBM), Intel (NASDAQ:INTC) and Microsoft (NASDAQ:MSFT).
Another, more focused tech ETF is also benefiting its heavy exposure to some large, but less sexy fare. The iShares North American Tech-Multimedia Networking ETF (NYSEARCA:IGN) has outpaced traditional broad tech sector ETFs this year as well as the S&P 500 and the Nasdaq Composite. IGN, home to $330.5 million in assets under management, is higher by 6.7%.
Although IGN has some cloud computing exposure, an industry that has been pointed to as having bubble potential, the ETF has also easily outperformed the First Trust ISE Cloud Computing Index Fund (NASDAQ:SKYY).
Like XLK, IGN is benefiting from investors finding comfort in inexpensive, large-cap and old tech names. The ETF's two largest holdings, Cisco Systems (NASDAQ:CSCO) and Qualcomm (NASDAQ:QCOM), are up an average of 7% this year. The pair combine for over 18% of IGN's weight.
Shares of Cisco rival Juniper Networks (NYSE:JNPR), 8.7% of IGN's weight, are up 12.6%. Brocade (NASDAQ:BRCD) and JDS Uniphase (JDSU) may never again party like it's 1999, but those stocks are up 15.6% and 8.7%, respectively, year-to-date. The pair combine for almost 9% of IGN's weight.
IGN offers other attributes. For example, Cisco's dividend has more than doubled in just two years. Qualcomm's payout has more than doubled over the past four years, indicating that there is not only some degree of safety in old-school tech stocks compared to higher beta names, but compensation as well.
IGN's P/E is 29.2 with a price-to-book ratio of 3.74. The ETF's beta against the S&P 500 is 0.43 with a three-year standard deviation of 20.6%, according to iShares data. The iShares Nasdaq Biotechnology ETF (NASDAQ:IBB) has a price-to-book ratio of almost 10 and its beta is more than double that of IGN's.
iShares North American Tech-Multimedia Networking ETF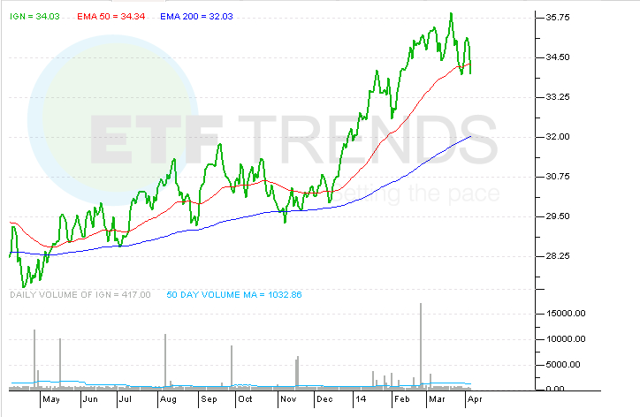 Tom Lydon's clients own shares of Cisco.
Disclosure: I have no positions in any stocks mentioned, and no plans to initiate any positions within the next 72 hours. I wrote this article myself, and it expresses my own opinions. I am not receiving compensation for it. I have no business relationship with any company whose stock is mentioned in this article.