Asia/Pacific country stocks and related exchange traded funds provide attractive yields and bolster an investor's income-focused portfolio.
For example, the iShares Asia/Pacific Dividend ETF (NYSEARCA:DVYA) has a 12-month yield of 5.63%. In comparison, the S&P 500 has a dividend yield of 2.37%.
The iShares Asia/Pacific Dividend ETF tracks high dividend paying stocks from Asia/Pacific, developed economies. Specifically, the ETF includes Australia 54.1%, Hong Kong 15.7%, New Zealand 10.5%, Singapore 10.1% and Japan 8.6%.
The Australian market has been a dividend-generating powerhouse. Compared to companies in other developed economies, Australian firms typically pay out higher yields. According to Morningstar analyst Patricia Oey, Australia's higher-yielding defensive sectors and bank stocks have also recently raised their dividend payout ratios. Credit Suisse equity strategist, Hasan Tevfik, told The Sydney Morning Herald:
While Australia looks to be the most expensive market in the world on P/E ratios, it is the cheapest on dividend yields. As long as bond yields remain low, Australian equities are well positioned to further benefit from the global-search-for-yield.
Tevfik argues that Australia could generate a further rise in dividends as Australian companies' free cash-flow margin in the market is expected to rise to 8.4 percent in 2014 from 1.5 percent in June 2013:
Free cash generation is an obvious early indicator of a company's ability to return capital to investors.
The ETF's top sectors include financials 24.7%, telecom services 20.7%, industrials 19.2% and consumer staples 18.7%. Top holdings include Telecom Corp. of New Zealand (NZTCY) 6.1%, Monadelphous Group (OTCPK:MOPHY) 5.3% and David Jones (OTC:DJNTY) 4.8%.
DVYA has also been outperforming the U.S. markets. The ETF is up 4.5% over the past week and has gained 5.7% year-to-date, whereas the S&P 500 has dipped 0.9% over the past week and rose 1.9% so far this year.
The iShares ETF has an annual expense ratio of 0.49%.
iShares Asia/Pacific Dividend ETF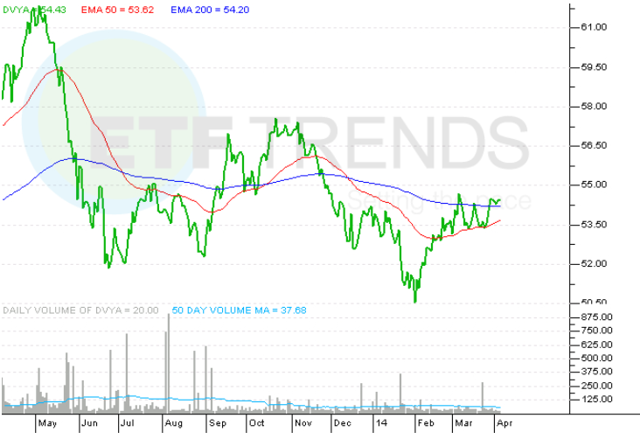 Disclosure: I have no positions in any stocks mentioned, and no plans to initiate any positions within the next 72 hours. I wrote this article myself, and it expresses my own opinions. I am not receiving compensation for it. I have no business relationship with any company whose stock is mentioned in this article.