By Brendan Gilmartin
Overview
IBM Corp. (NYSE:IBM) is slated to report 1Q 2014 earnings after the close of trading on Wednesday, April 16. Results are typically released at approximately 4:05 p.m. EST and will be followed with a conference call at 4:30 p.m. IBM is a member of the Dow Jones Industrial Average, with broad market influence and could impact on the index futures.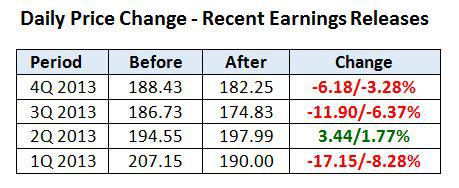 Outliers & Strategy
IBM typically produces a value for the measure Adjusted Earnings Per Share (EPS) and Non-GAAP Earnings Per Share that is comparable to the Street consensus estimate.
Adjusted/Non-GAAP Earnings Per Share for the seasonally weak first quarter is forecast to come in at $2.54 per share (Source: Yahoo! Finance) with a range of $2.49 - $2.63, down from $3.00 in the prior year.
Other key measures:
Revenues: The estimate is $22.93 bln (range is: $22.21 bln to $23.19 bln). In recent quarters, IBM has missed on the top line, triggering noticeable declines in both the equity and index futures.
Adjusted Earnings Per Share Guidance (FY2014): Back in January, IBM said it expects to deliver full-year 2014 GAAP earnings per share of at least $17.00; and operating (non-GAAP) earnings per share of at least $18.00. The current Street estimate is $17.84. A figure of >$18.00 would therefore be seen as a positive signal.
IBM could see meaningful volatility off the 1Q 2014 earnings release, with the options market currently pricing in a >3.0% move. With the shares up more than 12% since early February, but struggling to overtake the recent resistance near $195, the Street is clearly looking for bottom and top-line results at the high end of the Street estimates with a nudge higher in the 2014 full year outlook. Anything less could be cause for a pullback.
Recent News
04/14: IBM announced new security and disaster recovery services that could make the cloud more attractive to companies that remain skeptical.
04/10: Deutsche Bank initiated coverage on IBM with a Hold rating and $200 price target saying "hardware revenue to continue to be challenged, driving overall revenue down modestly in FY-14", according to a post at Benzinga.com.
04/09: Stifel Nicolaus reiterated a Buy rating and a $220 price target despite their expectations for an EPS and revenue miss due to their hardware business becoming less of a drag and increased stock buybacks, according to a post on Barron's Blogs.
03/27: According to an interview on CNBC, technology analyst Dan Niles of AlphaOne Capital said he is short shares of IBM, based on the competitive threat from cloud-computing and exposure to the global economy. Mr. Niles also cited IBM's recently disappointing track record on top-line growth.
Technical Review
IBM's recent strength follows a year of relative underperformance when the overall market rose 20% and technology acted as a leader. As recently as February, IBM had declined 15% during a market uptrend suggesting an over 30% underperformance. While this is partly due to outperformance in previous years, even moving back up to previous highs would get the stock to around $205. Recent support is $193 and below that has the moving averages at $185. Upside potential is over 20% to catch back up to the sector.
(Chart courtesy of StockCharts.com, click to enlarge)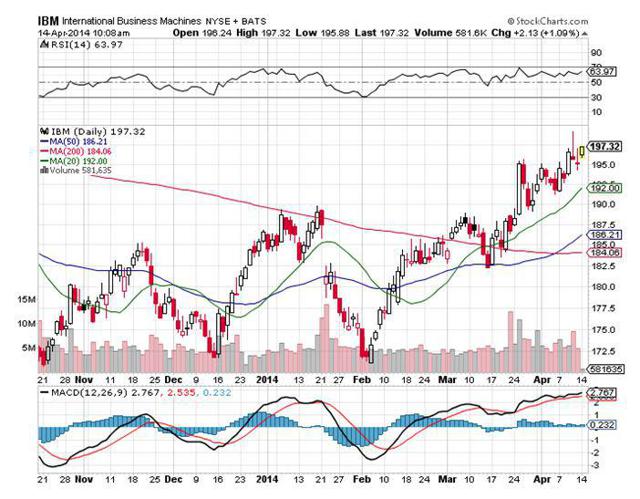 Summary
IBM have been rallying in recent weeks, despite concerns over a softer IT refresh cycle, competition in cloud-computing, and speculation the tech giant faces slower growth in the mainframe business. But with the company buying back shares, creating value-added services, and trading at a modest valuation, IBM could make a run back toward the $200 level so long as top-line growth and the outlook for 2014 top consensus views.
DISCLAIMER: By using this report, you acknowledge that Selerity, Inc. is in no way liable for losses or gains arising out of commentary, analysis, and or data in this report. Your investment decisions and recommendations are made entirely at your discretion. Selerity does not own securities in companies that they write about, is not an investment adviser, and the content contained herein is not an endorsement to buy or sell any securities. No content published as part of this report constitutes a recommendation that any particular investment, security, portfolio of securities, transaction or investment strategy is suitable for any specific person.
Disclosure: I have no positions in any stocks mentioned, and no plans to initiate any positions within the next 72 hours. I wrote this article myself, and it expresses my own opinions. I am not receiving compensation for it (other than from Seeking Alpha). I have no business relationship with any company whose stock is mentioned in this article.