By: Craig Bowles
Overview
Google (GOOG, GOOGL) is scheduled to report 1Q2014 earnings after the close of trading on Wednesday, April 16th. Results are usually available in the minutes after the closing bell with a conference call webcast at Google Investor Relations slated to get underway at 4:30 p.m. EST. The S&P E-Mini, NASDAQ 100 E-Mini futures contracts and PowerShares QQQ (NASDAQ:QQQ) tend to see active trading off the results.

Outliers And Strategy
Key measures:
Non-GAAP Earnings Per Share: The current Street estimate is $6.40 (range $5.92 to $6.96) (Source: Yahoo Finance). Google traditionally reports a value for Non-GAAP Earnings Per Share that is comparable to consensus.
Revenues: The estimate for Revenues (Ex-Traffic Acquisition Costs "TAC") is $12.644 bln, according to Zacks Investment Research.
Insiders have sold 2,729,900 shares the last six months.
Paid clicks were stronger than expected in Q4, but cost-per-click (CPC) declined, so this might be an area of focus in Q1.
Google shares have a one-day average price change on earnings of 6.54%. Options are pricing in an implied move of 6.18% off earnings.
Recent News
04/09: Google is making a move to expand its fiber network and may also be discussing plans to run its own wireless network, according to a post on TheMotleyFool.com.
04/08: Google's bold move to play a larger role in booking hotel rooms carries the risk of offending some of its most important advertisers, according to a post by the Wall Street Journal.
04/07: The decision to sell off the Motorola Mobility unit will drive Google's operating earnings higher. In addition, the company's recent stock split will drive the share price even higher, according to a post on TheMotleyFool.com.
04/04: Nest Labs, purchased by Google for $3.2 bln in January, has stopped sales of its smoke alarms after finding a possible defect which disables the alarm by accident, according to a report on TheStreet.com.
Technical Review
Google shares doubled during the last two years, so such a swift rise has built up limited support areas. 2013 traded $425 to $450 for six months, so that might be a major support area if the stock reversed. Short-term moving averages show a negative cross but the uptrend remains intact with the 200-day MA at $512. A third pullback similar to the March weakness would test the 200-day MA. Technicians note volatility has increased this year after trending lower the previous two years; the options market is finally starting to reflect higher risk. And Google's skew has become abnormal over the last month. (Chart courtesy of StockCharts.com)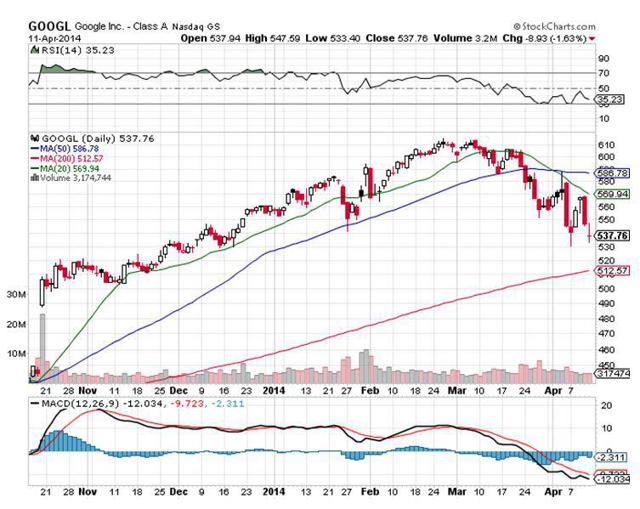 Summary
Google earnings relative to estimates as well as the underlying figures that drive future revenue are important. Revenue, paid clicks and cost per click are a few areas that hold investor interest. The decision to sell off the Motorola Mobility unit is expected to help operating earnings and the recent stock split could help widen ownership of Google's stock.
DISCLAIMER: By using this report, you acknowledge that Selerity, Inc. is in no way liable for losses or gains arising out of commentary, analysis and or data in this report. Your investment decisions and recommendations are made entirely at your discretion. Selerity does not own securities in companies that they write about, is not an investment adviser, and the content contained herein is not an endorsement to buy or sell any securities. No content published as part of this report constitutes a recommendation that any particular investment, security, portfolio of securities, transaction or investment strategy is suitable for any specific person.
Disclosure: I have no positions in any stocks mentioned, and no plans to initiate any positions within the next 72 hours. I wrote this article myself, and it expresses my own opinions. I am not receiving compensation for it (other than from Seeking Alpha). I have no business relationship with any company whose stock is mentioned in this article.