Featured Earnings Reports This Week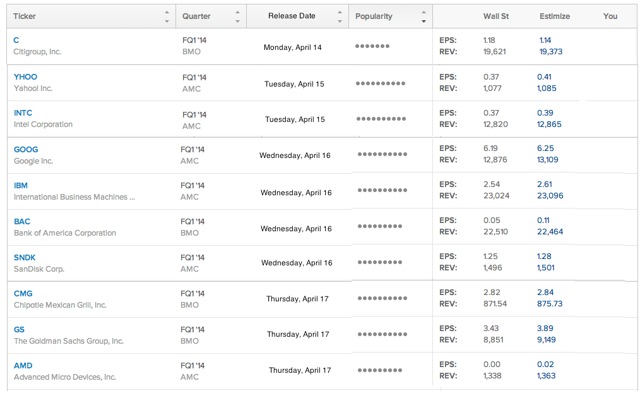 Click to enlarge
Citigroup gets an important earnings week underway Monday morning. The banks kicked off their own earnings season with JPMorgan Chase (NYSE:JPM) and Wells Fargo (NYSE:WFC) reporting last Friday. Wells Fargo posted better earnings than expected but JPMorgan disappointed investors missing targets on both EPS and revenue. A few weeks ago Citigroup failed a Federal Reserve stress test and had its capital plan to increase dividends and buy back more shares of company stock rejected. Since failing the stress test the earnings expectations on the Estimize.com platform have plummeted.
At this point in time the story of Yahoo revolves entirely around the company's stake in Chinese e-commerce website Alibaba (ABABA). Yahoo holds a 21% stake in Alibaba which is expected to IPO this year and fetch a valuation potentially higher than $100 billion. CEO Marissa Mayer continues to put pieces in place to capitalize on the windfall of cash Yahoo is expected to have after Alibaba goes public. This quarter the Estimize community expects Yahoo to beat the Street's consensus on the top and bottom line.
Intel is the largest American semiconductor producer by revenue and the manufacturer of most chips found in PCs. PC sales have been flat over the past 5 years as most semiconductor industry expansion has come from increased sales in both smartphones and tablet devices. The Estimize community expects Intel to beat Wall Street expectations by a modest margin.
Wednesday Google (NASDAQ:GOOG) (NASDAQ:GOOGL)
Google is a notoriously difficult company to estimate earnings on. The search and technology giant aggressively spends cash and reinvests it into new and often secret company products. Throughout the past 2 quarters Google has reported better advertising sales than expected and on Wednesday Estimize contributors expect Google to beat the Street's consensus on revenue while also holding onto enough to cash to beat projections on EPS as well.
IBM is known for marching to the beat of its own drum. The company is currently going through 2 large transformations which may take some time before baring fruit. IBM is working on opening up their Watson supercomputer API for developers to build new apps on top of and has also recently spent over $1 billion on data centers to expand their cloud services offerings. Despite the long term investments the Estimize community expects IBM to pass the Street's forecast by a comfortable margin.
Wednesday Bank of America (NYSE:BAC)
The 4th major bank reporting earnings this spring is Bank of America. Bank of America, Citigroup, and Goldman Sachs are all expected to post weaker earnings than usual this quarter due to a sluggish economy. Specifically trading, mortgage lending, and capital markets are expected to be areas of weakness. Wall Street is expecting Bank of America's revenue to drop 5% compared to FQ1 last year, a target that the Estimize community expects BAC to miss. Although revenue expectations on the Estimize platform are low, the community does expect BAC to beat EPS expectations by 6c per share.
Wednesday SanDisk (SNDK)
Many tech stocks including SanDisk have sold off heavily in the past few weeks. But the computer flash memory company has beaten the Street's expectations on both profit and revenue in each of the past 7 quarters. In late March RBC Capital Markets called SanDisk and Diablo Technology's collaberation ULLtraDIMM, a high end solid state storage device, "…a game-changing product for the enterprise market that should prove to be immediately disruptive". Estimize contributors expect a small beat from SanDIsk on Wednesday.
Thursday Chipotle Mexican Grill (NYSE:CMG)
Chipotle was a big winner in the winter earnings season. The fast casual restaurant industry has been growing rapidly and Chipotle's throughput improvements have boosted earnings significantly. The Estimize community expects small beats on both EPS and revenue from the mass producer of burritos. Analysts expect Chipotle's earnings to climb by 24% per year in both 2014 and 2015.
Thursday Goldman Sachs (NYSE:GS)
Like Bank of America, analyst expectations for Goldman Sachs are significantly lower than last year. The Estimize community expect both EPS and revenue to decline, with revenue projected to fall by 9.3%. Earnings are expected to drop compared to last year but the Estimize consensus is much higher than Wall Street's. The Estimize community expects Goldman to beat the Street's consensus by 46c EPS and nearly $300 million in revenue.
Thursday Advanced Micro Devices (NYSE:AMD) AMD produces computer processors. The Estimize community is expecting a very strong quarter out of AMD to the tune of 25.3% yoy revenue growth. The community also expects EPS to climb from 84c to $1.25 for a 48.8% yoy gain. Over the past year the Wall Street and Estimize consensus numbers have both been similar but AMD has beaten the bar set by both groups in 4 of the previous 5 quarters. This season contributing analysts expect a small beat on revenue and more a more sizable gain in profit.