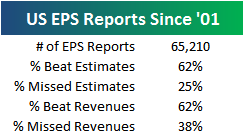 With earnings season kicking off this afternoon, we thought we'd highlight a few stats on the subject. Over at Bespoke Premium, we have a database with every single earnings report for US stocks going back to 2001. This totals out to 65,210 individual quarterly reports. Of these 65,210 earnings releases, 62% of companies beat EPS estimates while 25% missed. Sixty-two percent have also beaten revenue estimates, while 38% have missed.
Predicting whether any random stock will go up or down on the day in response to its report is just about like a coin flip. Of the 65,210 reports in our database, the stock has gone higher on the day 32,563 times and lower on the day 32,251 times (396 times the stock closed the day flat). Unless you dig deeper into the numbers, it's basically hit or miss.
Below we highlight the number of earnings reports per day this earnings season through August 6th. While things get started this week, it isn't until late July when things really pick up. Nevertheless, we've provided a table of the key companies set to report in the coming days. Alcoa (NYSE:AA) is obviously reporting after the close today. Tomorrow we get Intel (NASDAQ:INTC), Thursday we get JP Morgan (NYSE:JPM) and Google (NASDAQ:GOOG), and Friday we get Citigroup (NYSE:C), Bank of America (NYSE:BAC), and General Electric (NYSE:GE).
click to enlarge