Technology and innovation are finally starting to flow into the food industry. So far in 2014, almost $1 billion has been invested, including IPO's, in food-tech companies. In 2013, VC's poured more than $1.6 billion into food-tech companies, up from $1.2 billion in 2012. Food-Tech encompasses digital content, social, local, mobile, grocery, delivery, ordering, payments, marketing, and analytics. Capital is looking for three things, Food + Technology + Logistics, and the behemoths like Amazon.com (NASDAQ:AMZN) and Wal-Mart (NYSE:WMT) are aggressively investing in infrastructure to capture the last of the "last miles" via online grocery-food delivery. The latest investments in Food-Tech are mainly centered on online grocery and restaurant ordering and delivery.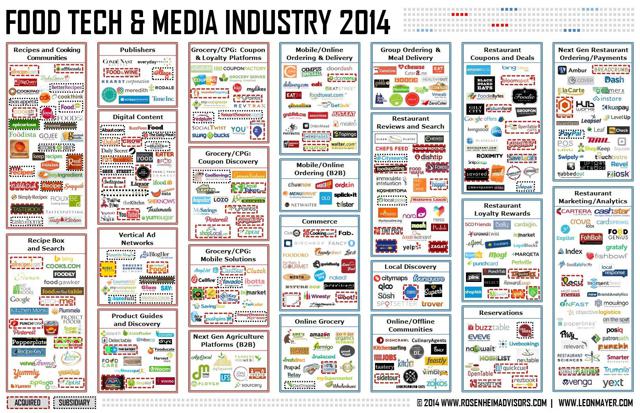 Online groceries generated $15 billion in sales in 2013, out of a total $1 trillion grocery market. Kantar Research expects online grocery to grow at a 26% CAGR over the next six years growing market share from 1.5% to 5% of the total grocery market. Online grocery has made sense since the late 1990's since the craze began with HomeGrocer.com and Webvan, but it's always been a logistical nightmare. 15 years later both Amazon and Wal-Mart are up to the challenge. Amazon.com is the Internet's #1 retailer, and WalMart.com is #4. Wal-Mart is already a leader in selling food, so they just need to tackle the online sales part of it.
It isn't that Amazon and Wal-Mart like the razor thin margin grocery business, but they do love the ability to enter a consumer's high frequency and recession proof purchase decision. If a typical consumer buys a product on Amazon.com or WalMart.com once per month, but goes grocery shopping once per week, that is what they are after. They want consumers to be online making purchases more often, and if you are buying groceries once per week on AmazonFresh or Walmart.com your likely going to buy other things. Shipping-Delivering perishables is another reason why both companies are spending hundreds of millions on infrastructure to push for same day delivery.
Amazon launched AmazonFresh in 2007 to a Seattle suburb of Mercer Island and expanded quickly to other Seattle zip codes. Over the next few years Amazon cut its teeth learning the business and over the last year expanded to Los Angeles and San Francisco. AmazonFresh will likely expand into ten more cities in 2014. AmazonFresh offers free same day and early morning delivery on orders over $35. Consumers are offered a free 30-day trial of Prime Fresh and are charged $299 per year thereafter. If you place your order by 10am you can have it by dinner or by 10pm for breakfast. You can also get them to deliver items from a local bakery or even gourmet meals. In addition Amazon is rolling out other products such as Amazon Dash to make purchases easier and to make for a stickier experience. A review of the AmazonFresh buying experience can be found [HERE].
Wal-Mart has been testing its online grocery-shopping unit, Wal-Mart To Go, since 2011. The service first launched in San Jose and San Francisco, and this past October in Denver. Wal-Mart charges between $5-7 for home delivery and in Denver they are testing an order online and pick up at the store option which is free. Wal-Mart conducted a survey that showed that over half of respondents would rather have grocery pick up rather than home delivery. Wal-Mart is going to give shoppers both options. So far in Denver, the Wal-Mart To Go service has been rated "outstanding" by 90% of users. Europe has been leading the way for click and pick up groceries. Over 20% of France's consumers use some sort of online ordering and drive thru pick up of groceries. Wal-Mart certainly has the physical presence for such a rollout with 2/3 of the US population living within 5 miles of a Wal-Mart store.
The #1 ranked online grocer by CNET, and the oldest player in online grocery is Peapod. Peapod launched in 1989 and went public during the dotcom bubble. Peapod was then acquired in 2000 by global retail conglomerate Royal Ahold, whose large grocery store chains include Giant and Stop and Shop. Peapod is used by the grocery giant for their own chains as an online ordering - delivery option. The company recently expanded into Chicago and is providing pick up points for consumers to pick up orders that can't adhere to a 2-hour delivery window. Peapod has also expanded into delivering business supplies with an aim of being 30% of revenues over the next few years. According to industry estimates, Peapod revenue was $500 million in 2012 growing to $550 million in 2013.
FreshDirect, similar to AmazonFresh but on the East Coast, has been making online grocery deliveries in New York City since 2002. The company started mostly catering to upscale NYC residents, but now has expanded to most of New Jersey and into Philadelphia. Many believe FreshDirect is a takeout target for AmazonFresh as it expands east. FreshDirect has a $30 minimum order with a delivery fee that ranges from $5.99 to $7.99. FreshDirect has plans to relocate its headquarters from Queens to the Bronx, which is expected to produce an economic impact of $255 million. A new 500,000 square foot warehouse would also be constructed on the proposed site that would produce nearly 1,000 local jobs. The company has grown revenues from $250 million in 2010 to $400 million in 2012.
Instacart was founded in 2012 by Apoorva Mehta who worked for Amazon as a supply chain engineer. Mehta believed AmazonFresh was going about it all wrong with their "conventional model", so he went out on his own to build Instacart. Instead of using their own inventory like Amazon or Wal-Mart does, Instacart partners with supermarkets like Safeway, Whole Foods, and Costco, and utilizes personal shoppers to deliver fresh food to consumers. Instacart charges $14.99 for one-hour delivery and $3.99 for two-hour delivery. The company will waive its delivery fee for orders over $35 with an annual Instacart Express service for $99. Instacart is operating in San Jose, San Francisco, Los Angeles, Santa Clara, Washington DC, Philadelphia, Boston, Chicago, and New York with plans on entering 10 more cities by YE 2014. Revenue figures for Instacart are unknown, but they recently told TechCrunch that its revenue has risen 2.4x in the last two months.
The next major area of investment has been in restaurant ordering and delivery. Larger chains and franchises are coming out with their own online ordering systems and apps. For example, Panera (NASDAQ:PNRA) unveiled their Panera 2.0 - a combination of technologies to enhance online and in-store ordering. Over 60% (350,000) of all US restaurants are independently owned, and according to Euromonitor, Americans spent $204 billion at these restaurants in 2012. Roughly $67 billion, or 1/3, was takeout at these independent restaurants. Several companies are looking to streamline the online ordering - takeout - delivery for independent restaurants providing a win-win for consumers and independent restaurants.
GrubHub (NYSE:GRUB) is the largest takeout platform, with approximately $1.3 billion in combined Gross Food Sales on the platform in 2013. The company has 28,800 restaurants across 600 cities in the US, and 3.4 million Active Diners, yielding 135,000 Daily Active Grubs. Roughly 43% of GrubHub orders were placed on mobile devices for the latest quarter (Q4 2013). The company was started in 2004 and merged with rival Seamless in August 2013 before going public earlier this month. The company produced FY 2013 revenues of $137 million and net income of $6 million, and the company is currently being valued at $2.6 billion.
Just Eat is the GrubHub of Europe operating in 13 countries although the business model is a bit different. The company went public via IPO on the LSE earlier this month at a $2.44 billion valuation (15x Revenues) making it the biggest UK technology IPO in eight years. Just Eat's business model is a bit different from GrubHub. A restaurant pays ~$1,200 for a physical hardware terminal that must be used to process orders. More than half of orders come via mobile. The restaurants pay Just Eat 10-12% of each order. Just Eat has 36,000 restaurants signed up. Just Eat's average order is size is $28 compared to GrubHub's $40. FY 2013 revenues were ~$160 million, up 60% from FY 2012.
Blue Apron launched 18 months ago and has already hit a milestone of 500,000 meals delivered per month. Blue Apron takes a different approach. Blue Apron believes the best food is cooked at home, so they don't ship you a made meal, they send you the ingredients to make your own meals. Blue Apron is a subscription service that is delivered once per week with raw ingredients you need to produce three meals per week. You can create a dietary profile where meals are designed to your liking. Delivery is free and it can be cancelled at anytime. The meal plans are $60 per week for two people. Blue Apron operates in 40 states with its biggest market being New York City. Revenues are estimated to be ~$60 million currently. The company recently raised $30 million at a $500 million valuation.
Munchery offers delivery of prepared gourmet meals which can be heated up within 10 minutes. The company recently raised $28 million. Kitchensurfing, an online marketplace for booking private chefs, raised $15 million from Tiger Management at a $40 million valuation. Other Food-Tech companies that have raised money recently: SpoonRocket ($10 million), Sprig ($10 million), EatStreet ($6 million), foodpanda ($20 million), and Delivery Hero ($88 million).
Food-Tech is heating up. In many ways, technology needed to play catch up over the last ten years to enable increased investment. Now investors are bidding up valuations to 10x+ sales in most cases. The way the game is played is institutions and VC's buy first, and then they sell to retail investors at much higher prices after the IPO. The key to making money is not investing where the "big money" is; invest where the "big money" is going to go. Enter Innovative Food Holdings (OTCQB:IVFH), a profitable public food-tech company trading at 1/10th the valuation of the peer group, with no institutional ownership.
Innovative Food Holdings is a bit further up the supply chain sourcing new and innovative foods for professional chefs. In many ways IVFH is the palate trendsetter. Who knew about Gluten-Free before it was mainstream? Innovative Food Holdings. The company provides 7,000 unique specialty foods to approximately 30,000 professional Chefs through its proprietary specialty foods platform. The platform is so unique that it is white labeled by two of the top ten largest broadline food distributors in the US. The IVFH platform sources the food as well as handles logistics and Chef-to-Chef customer service. The company announced in its most recent earnings conference call that they are in various stages of discussion with several more top ten broadline food distributors. In 2013, IVFH managed the delivery of over 180,000 specialty food packages to chef's nationwide compared to 140,000 in 2012, with as many as 2,600 packages going out in a single day. Since the company already has the backend infrastructure in place it is now looking to white label the platform for e-grocery and retail e-commerce solutions. The company announced plans for a unique pilot project with "a very large online retailer" utilizing IVFH's product portfolio and infrastructure. For FY 2013, revenues increased 26% to $23.5 million, while adjusted net income grew 72%. IVFH is currently trading at a $20 million valuation, a fraction of its larger food-tech peers. If IVFH were a private VC backed company going public it would likely have a $100+ million valuation ($6+ per share). This is the opportunity, buying it before the institutions do. CEO presentation can be found [HERE].
Disclosure: I am long IVFH. I wrote this article myself, and it expresses my own opinions. I am not receiving compensation for it. I have no business relationship with any company whose stock is mentioned in this article.
Editor's Note: This article covers one or more stocks trading at less than $1 per share and/or with less than a $100 million market cap. Please be aware of the risks associated with these stocks.