Screening for insider buying, I recently came across Office Depot (NYSE:ODP). In this case, there are a few things that make the insider buying especially attractive. A few of the attractive characteristics are connected to price development over the past six months. The chart below shows the stock performance over the past six months: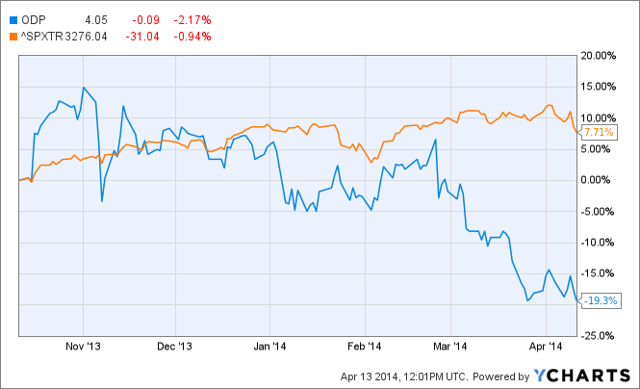 To be able to discriminate better between insider trades, I've set up a checklist. I weigh a number of different factors to arrive at a HIT-score. After performing this analysis on a number of insider trades, this will provide additional context to score the strength of the signals. This is meant to provide readers with an objective background. I've set this up to supply you with a better tool compared to my subjective judgment on a case-by-case basis.
An important source of inspiration to set up my insider trading checklist has been The Vital Few vs. the Trivial Many by George Muzea, an insider trading expert (advising Stanley Druckenmiller, among others), but I've also included ideas from other investment gurus and research papers.
The checklist is based on insider trading data over the past 12 months, as provided by Morningstar, unless otherwise noted.
| | | |
| --- | --- | --- |
| Positive Insider Buying Signals | Office Depot | Notes |
| Buying after 6-month stock price decline | X | |
| Buying after 6-month stock price increase | N/A | |
| Operations Officers Buying | N/A | |
| CFO Buying | X | |
| Directors Buying | X | |
| Female insider buying | X | |
| Insider increasing position by 33% in negative trending stock | X | |
| Two or more insiders are buying | X | |
| Four or more insiders are buying | X | |
| Buying insiders have favorable track record | - | |
The insider buying at Office Depot checks out for quite a few of the criteria I view as positive. For example, the fact that insiders are adding to their positions while the stock is in a decline is quite favorable. The number of insiders buying is also a positive signal. A few are increasing their holdings in a substantial way.
| | | |
| --- | --- | --- |
| Negative Insider Buying Signals | Office Depot | Notes |
| Selling after 6-month decline | - | Few smaller dispositions from insiders that are also acquiring |
| Selling after 6-month stock price increase | N/A | |
There have been a few dispositions by insiders, but these trades are small in size. The same insiders hold onto a much bigger amount of acquired stock or bought more stock in the past six months as well. They are not net sellers, so I haven't checked this box.
The total HIT-score for Office Depot's insider trading profile comes to 55. This objective measurement is something new I'm experimenting with, and previous articles where it was used are listed below. I've also included the stock return of the companies in question. On the basis of these insider profiles, Ralph Lauren was considered a Sale and JPMorgan Chase & Co. a Buy.
To visualize the buying by insiders, I've edited a Morningstar insider buying graph spanning the past two years: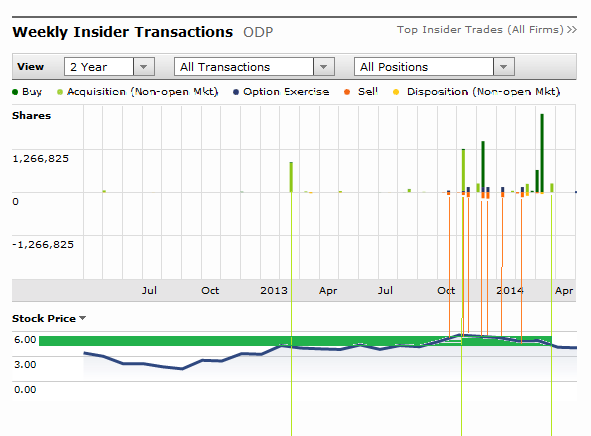 It shows that insiders have been interested between $4.5 and $5.6 to buy shares. It also shows they sold relatively modest amounts of shares at ranges between $4.5 and $5.9, the majority of sales near the higher part of that range. This selling followed a period of strong performance.
Office Depot trades at $4.05 now. This gives you the opportunity to pick up shares at a significant discount to a level that motivated insiders to increase their holdings.
Disclosure: I have no positions in any stocks mentioned, and no plans to initiate any positions within the next 72 hours. I wrote this article myself, and it expresses my own opinions. I am not receiving compensation for it (other than from Seeking Alpha). I have no business relationship with any company whose stock is mentioned in this article.