By Zoe Tan
Our Near-Term Outlook is More Optimistic for Auto Parts Retailers
Starting in late 2008, the nation's three largest auto parts retailers, Advance Auto (NYSE:AAP), AutoZone (NYSE:AZO) and O'Reilly Automotive (NASDAQ:ORLY), delivered record same-store sales growth in the mid- to high single-digit range (see Exhibit 1), thanks to a surge in demand for automotive replacement parts.
Given the weak economic environment, consumers have been seeking ways to extend the lives of their existing vehicles, and to put off purchasing new ones. This tendency is further underscored by the well-documented retreat in U.S. light vehicle sales, which posted sharp declines--in the 30% range--from October 2008 to June 2009.
Additionally, as the number of off-warranty vehicles hit at an all-time high in 2009, these companies benefited from a larger proportion of vehicle owners performing do-it-yourself vehicle maintenance over the past year. Furthermore, given their nationwide presence, these retailers have been well-positioned to pick up additional sales, as the difficult economic environment pressures "mom-and-pop" auto parts stores into going out of business. (Click to enlarge)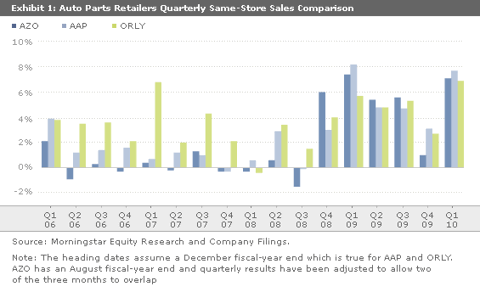 Click to enlarge
However, as new vehicle sales turned the corner in August 2009 (see Exhibit 2, below, "Monthly New Vehicle Unit Sales"), driven by stimulus programs like Cash for Clunkers and some pent up demand, we expected tempered sales for replacement parts beginning in 2010, given fewer maintenance needs. Yet, all three auto parts retailers have continued to deliver solid high single-digit comparable-store sales over the past quarter, despite lapping tough comparisons from the prior year. This has led us to believe that the negative impact of recovering new car sales on demand for auto parts will be delayed. While new car sales have improved from their historical low of 9 million units in early 2009, to about 11 million units (based on seasonally adjusted annualized rate) in recent quarters, these figures remain well below the 16 to 18 million units sold on a comparable basis from 2001 to 2008.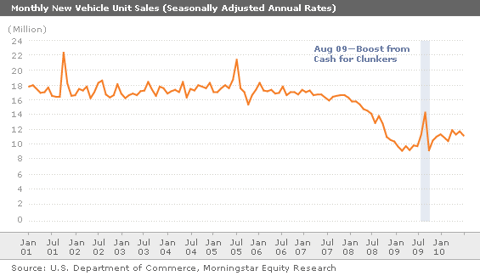 Click to enlarge
Additionally, the average age of vehicles on the road remains high, at 10.2 years. This provides a positive tailwind for these retailers, given that older vehicles require more repair and maintenance work. As a result, we have increased our fair value estimate for these companies, as we incorporate more optimism into our near term sales and margin assumptions (see Exhibit 3).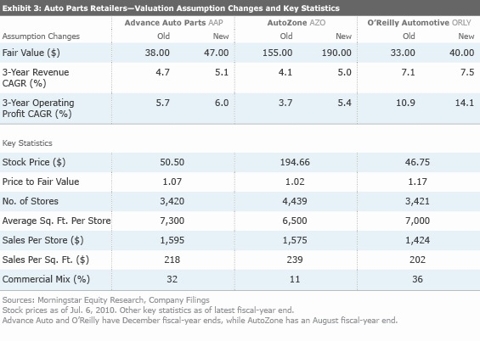 Click to enlarge
We Expect Stable Demand over the Long Haul
Although we expect demand for automotive parts to moderate as new car sales improve from record lows over the next few years, we remain optimistic about the long-term outlook for these three chains. Despite cyclical swings in the industry, the aftermarket parts industry has proven to be relatively stable over the long haul. Prior to 2008, both the automotive retail and commercial segment grew at a compounded rate of more than 4% annually. We believe this is mostly attributable to the fact that demand for replacement parts and maintenance tools stems primarily from necessity, rather than from discretionary purchases. Additionally, the industry remains highly fragmented, with national retailers representing less than 20% of the entire market. We believe this leaves national players with plenty of opportunities to capture market share from independent retailers. In our view, AutoZone, Advance Auto Parts, and O'Reilly Automotive are in the best position to benefit from these favorable industry dynamics, thanks to scale advantages and superior distribution capabilities.
Although these companies generate the majority of their sales from the automotive parts retail business, they have been expanding aggressively into the faster-growing commercial market, which sells automotive parts to professional installers and repair garages. We believe these national retailers should be able to leverage their expansive store network by adding the commercial program to existing stores, which should help boost returns on invested capital. Demand in the professional segment tends to be more resilient in the face of economic swings, as it is less reliant on spending patterns. Furthermore, the commercial business stands to gain from favorable tailwinds as independent garages may benefit from incremental business due to the closures of automotive dealerships.
Size Does Matter
In our view, large national retailers are in the best position to benefit from positive industry trends. Given the lack of customer switching costs, low barriers to entry, and intense rivalry in this industry, we think economies of scale are the primary driver of excess returns, as bigger players gain cost advantages from greater purchasing volumes, and by leveraging operating expenses over a larger sales base. Additionally, large retailers have the ability to source a wide range of products at cheaper prices, and have shorter delivery lead times, which ensures better parts availability in its stores. In fiscal 2009, AutoZone's stores produced $239 in average sales per square foot, compared with $218 for Advance Auto and $202 for O'Reilly. Therefore, we believe scale advantages and unparalleled productivity has allowed AutoZone, the nation's largest automotive parts retailer (with more than 4,400 stores), to consistently generate returns on invested capital in excess of our estimate of its cost of capital.
In contrast, smaller players, such as Pep Boys (PBY), which has about 600 stores spread across 35 states, have struggled to compete with these larger firms. The smaller companies receive less favorable pricing from suppliers, and are not able to leverage advertising and distribution costs like larger competitors.
Advance Auto and O'Reilly are Accelerating
We think national retailers such as Advance Auto and O'Reilly (about 3,400 stores each) have gained a significant foothold in the industry. Over the past decade, Advance Auto has more than doubled its store base through aggressive new store openings. Furthermore, Advance Auto has seen early success in the commercial market, posting double-digit same-store sales growth over the past five years. Through the acquisition of 62 Autopart International professional stores, the company had a head start, and has further penetrated this market by introducing commercial delivery programs into its existing store base. As a result, Advance Auto generated almost $1.7 billion in commercial sales during the most recent fiscal year, which is more than double the $770 million delivered by industry leader AutoZone.
In April 2008, O'Reilly transformed itself from a strong regional player to an industry leader with a nationwide footprint through the acquisition of CSK Auto. In addition to cost savings from shared advertising and the consolidation of duplicate corporate functions, O'Reilly has benefited from lower merchandise costs, thanks to greater purchasing volume. As evidence, operating margins expanded 340 basis points in fiscal 2009. Furthermore, we think O'Reilly could gain significant market share in the commercial segment by overlaying the firm's dual-market strategy, which serves both the retail and commercial market, on CSK's store base. Prior to the acquisition, commercial sales represented only 10% of CSK's overall sales, versus approximately 48% at the core O'Reilly stores. In our view, scale advantages from incremental sales volume, as well as its strength in the commercial market, have placed O'Reilly in a better competitive position.
In conclusion, we believe AutoZone, Advance Auto, and O'Reilly are set to benefit from favorable industry dynamics, while smaller players like Pep Boys will continue to struggle. Given that the aftermarket parts market is highly fragmented, the national retailers have more room for growth, and will continue to gain market share at the expense of small independent retailers. In our opinion, industry stalwart AutoZone will be the biggest winner, while O'Reilly and Advance Auto are better positioned to capitalize on favorable industry trends in the commercial market. Despite positive tailwinds, such as older vehicles on the road and incremental business from the closure of automotive dealerships in the horizon, we think these stocks are fairly valued, as these benefits are already reflected in at today's prices.
Disclosure: Morningstar licenses its indexes to certain ETF and ETN providers, including Barclays Global Investors (BGI), First Trust, and ELEMENTS, for use in exchange-traded funds and notes. These ETFs and ETNs are not sponsored, issued, or sold by Morningstar. Morningstar does not make any representation regarding the advisability of investing in ETFs or ETNs that are based on Morningstar indexes. Tim handles their stock strategist posts (separate feed) if you need help formatting or have other Morningstar-related questions.