TC PipeLines, LP ( TCLP ) is a United States growth-oriented Master Limited Partnership (MLP). It was formed by TransCanada PipeLines Limited to acquire, own and actively participate in the management of United States based natural gas pipelines and related assets. The Company's portfolio of interstate natural gas pipeline investments in the United States includes a 100% general partner interest in Tuscarora Gas Transmission Company (Tuscarora), a 46.45% general partner interest in Great Lakes Gas Transmission Limited Partnership (Great Lakes), and a 50% general partner interest in Northern Border Pipeline Company (Northern Border). Its general partner is TransCanada, a leader in the responsible development and reliable operation of North American energy infrastructure including natural gas pipelines, power generation, gas storage facilities, and projects related to oil pipelines.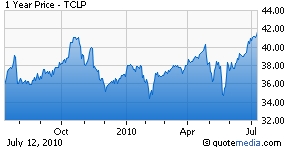 The publicly traded partnership came to my attention while screening for stocks hitting the most frequent new highs on Barchart. The stock hit 13 new highs in the last 20 sessions and had a 7.69% price appreciation in the last month. 12 of the 13 technical indicators on Barchart have a buy for an overall 96% buy signal. The stock is trading above its 20, 50 and 100 day moving average and has a Barchart Trend Spotter (tm) buy signal. The stocks trades at 41.72 with a 50 day moving average of 38.50.
Wall Street likes the stock too and has 2 buy and 6 hold recommendations published. Although I like it for its recent price appreciation, Wall Street likes the 8.7% dividend which seems to increase almost every year.
Investor sentiment measured on Motley Fool is high with CAPS members voting 141 to 9 that the stock will beat the market and the more experienced All Stars agree with a vote of 60 to 2.
For older investors this stock has a one-two punch: a nice dividend for income and price appreciation for the future. I'm adding it to my Barchart New High Portfolio because:
The stock has recent and consistent price appreciation
Wall Street has both buy and hold recommendations published based on forecasts of increases in sales and income
General investor sentiment is high
Disclosure: No position in TCLP at the time of publication