This is part 19 in a continuing series of articles discussing building a portfolio of dividend income equities. The strategy seeks to use value investing principles and apply them to stable companies offering reliable dividends. Further safety is sought by diversifying through a wide range of industry segments and often using multiple tickers in each of those segments.
Series parts 1, 2, and 3 lay out the philosophy, strategy, and methods of the Tortoise Strategy and Use of Covered Option Writing to boost performance. I recommend readers review each of these first 3 initial parts. Beginning with part 4, each subsequent installment reviews and analyzes one of the 16 tickers identified in the preliminary screen (listed in part 4). A full index of links to the complete series, including future installments as they occur, is available here.
Potash Corporation of Saskatchewan
| | | | |
| --- | --- | --- | --- |
| Potash Corp of Saskatchewan (NYSE:POT) | $ 33.33 | $ 1.40 | 4.20% |
(click to enlarge) (source: POT website)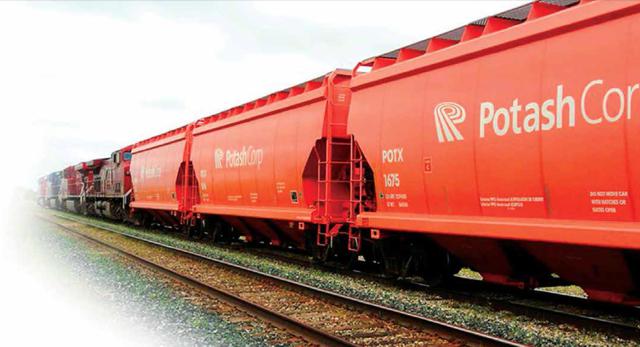 Potash Corporation of Saskatchewan , a Canadian company headquartered in Saskatoon, Saskatchewan, has the world's largest production capacity for potash (>20% of global capacity), and third largest of nitrogen (5% global capacity) and phosphate (2% global capacity). These are 3 of the primary crop nutrients used to produce fertilizer.
Investors are attracted to Potash Corp. as a position in the world's food markets, known to have a strong growing demand which outstrips arable land expansion. By 2020, per capita farmland is expected to be less than half that of 1950. Arable farmland per capita is shrinking as population grows and urbanization expands. Fertilizers are the critical link in expanding yield to supply food for a hungry world.
At first glance, world population demographics would seem to place the company in the catbird seat, holding the keys to the food locker. This may be true in the long run, but many headwinds will continue to impede the performance of the global fertilizer industry in general and Potash Corp. in particular for the next few years.
Large over capacity relative to demand.
Price weakness due to competition in major markets and lack of affordability in subsistence agriculture regions which dominate much of the world.
Long supply chains for Potash Corp. due to concentration of its production in Canada.
Supply chain distribution costs can exceed source product costs in much of the 3rd world where a large part of future demand growth is expected. This makes development of local supplies imperative to access these markets efficiently, an edge for new, smaller, local companies.
Major customers are becoming owners of Potash miners, seeding conflicting interests in product pricing.
Potash Corp. CEO Bill Doyle, a 15-year veteran at the post with 39 years of potash experience, will step down July 1st and be replaced by John Tilk, a 30-year mining specialist with no potash experience and coming from a much smaller operation.
The recent breakup of the Belarus - Russian consortium of Uralkali and Belaruskali which has destabilized prices in all major global markets.
Uralkali, the worlds largest producer of potash has announced its intent to target increase of market share without regard to price. (note: POT is largest capacity, not active production).
Prices have collapsed to below 2010 levels and downward pressure remains due to both organization breakups and excess capacity.
BHP Billiton (NYSE:BHP), rejected as a suitor for Potash Corp. in 2010, is opening its own major potash mine in Canada.
Many smaller mines are opening in consumer areas where they will avoid the high supply chain distribution costs.
Current unrest in Ukraine may disrupt a major consumer demand region for potash.
Shares of Potash have only recently returned to the pre takeover prices after shooting up in August of 2010 in reaction to BHP Billiton's hostile takeover move. Since that time, shares have maintained a strong, albeit slowly sagging performance even in the face of falling potash prices and increasing weakening demand. Reality did not set in for investors until the breakup of BOP, the combination of producers Belaruskali and Uralkali, in mid 2013 led to a 24% down-gap on July 29th of last year. Since then, shares have been slowly recovering about half of that loss, currently trading at $33.33.
(click to enlarge) (source: yahoo.com)

A look at the technical charts shows the stock to be in a rising channel with an upside boundary currently at $36 and lower limit about $32.25, rising about $0.60 per month. The trading range spends much of its time in the more restricted range indicated by the blue lines.
(click to enlarge) (source: yahoo.com modified by the author)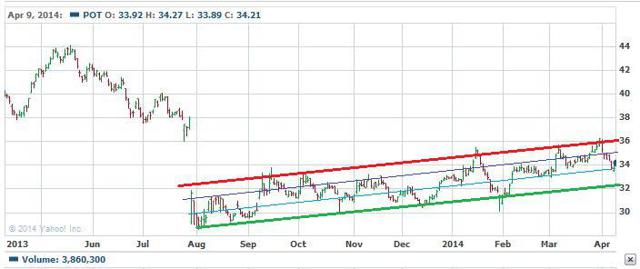 The YDP chart for Potash Corp. illustrates a complete delinkage from share pricing and dividend yield. Sharp distribution increases each year since the BHP takeover attempt in 2010 have had little effect on shares, allowing yield rates to soar. This indicates investors do not view POT as a dividend income opportunity as the basis of establishing value.
Dividend income equities typically show stable patterns of effective yield rate. Investors bid price up and down in reciprocal response to dividend distribution growth so as to yield a result of relatively stable trends of effective yield rate. The correlation of these 3 variables is defined by the mathematical Y = D/P (Y is yield, D is dividend distribution, and P is share price). This is characteristic of dividend income equities and indicative that yield rate can be a measure of value. For those not familiar yet with YDP charts, I refer you to my introductory article on YDP chart analysis and its precursor article with several YDP chart interpretation examples, and other articles in this current series.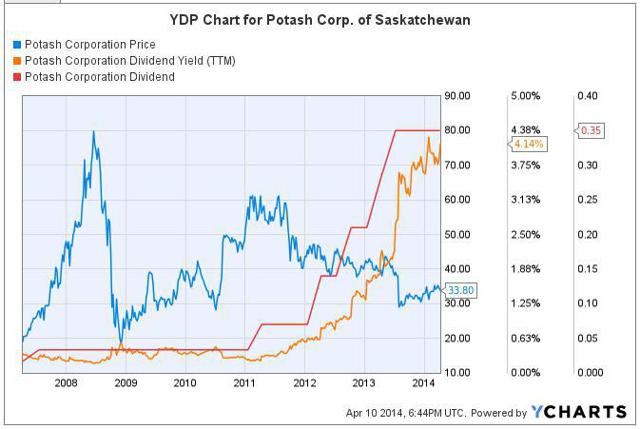 The payout ratios on the company's rising distributions have been steadily rising too, an indication that the increases are not driven by financial growth but only by turning over increasing portions of the cash flow to shareholders. This is not a sustainable model.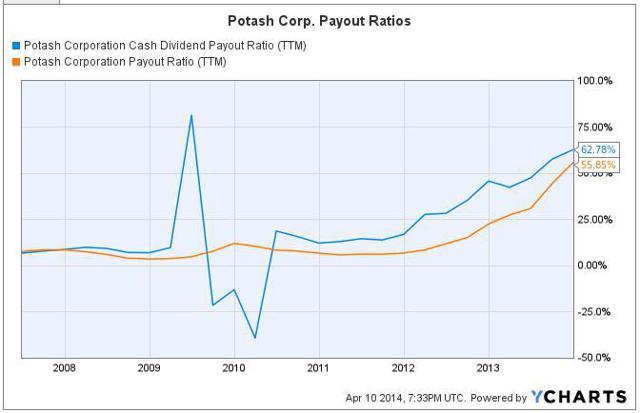 Traditional value metrics show the most recent peak in value coincides with the BHP takeover attempt of mid 2010. Since then, value ratios have been in slow decline with investor willing to pay lower multiples to the various measures of value such as cash flow, book value, earnings, operating yield, etc. Most of these metrics are now consistent with typical historical values exhibited by POT.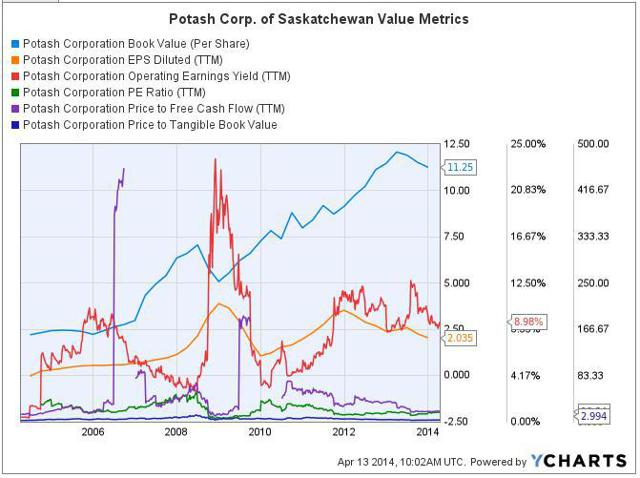 Potash Corp. currently demands a substantial P/E premium at 16.53 compared to its peers, Agrium (NYSE:AGU) at 12.86 and Mosaic (NYSE:MOS) at 12.75. Size only may be the only factor in this 30% difference. Many will consider size to be a hindrance in today's over-capacity market rather than justification for a premium.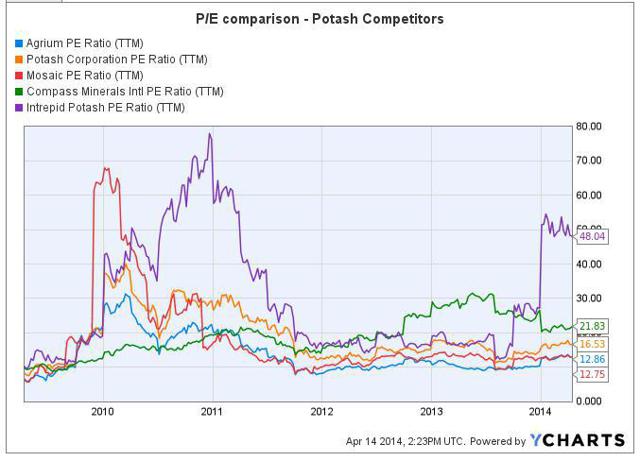 Management effectiveness indicates Potash has generally outperformed competitors in Gross Profit and operating margins. These numbers come at a cost of market share however.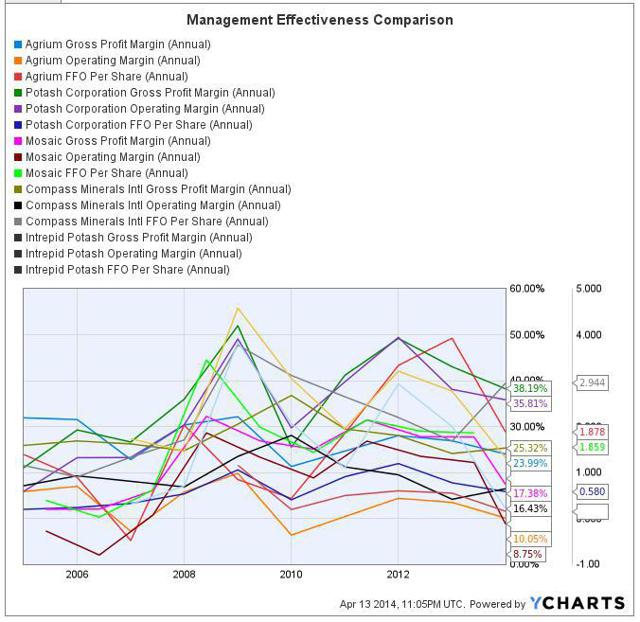 Overall, I do not subscribe to the popular belief that global potash prices have seen a bottom and can be expected to firm and rise in the near future. Over-capacity remains, competition is growing and market share competition at the expense of pricing power will remain intense. The development of smaller, more locally sited sources for potash in order to cut out large parts of the high cost global distribution channel will further stress Potash Corporation's position as largely a Canadian producer with long and costly distribution chains. Given all these negative overhangs, I believe a fair value is more in the range of $30.00 per share, consistent with pre-BHP takeover prices. The soft markets and changing competitive environment relative to supply chain logistics is obsolescing most, if not all, of Potash's historical industry advantages. Prices may be expected to move towards the mid $20s in the longer view as investors come to grips with the new market realities.
In Summary;
The global fertilizer industry is experiencing over capacity, breakup of regional combination pricing and intensified competition for market share at the sacrifice of pricing power.
Potash Corp. faces a large number of headwinds from both external and internal sources.
Potash Corp.'s near-term outlook is further clouded by the pending management transition from veteran industry CEO Doyle to outsider Tilk, a much smaller mining company CEO with no potash experience.
Share prices are rising against a background of falling prices (down 25% in the past year).
Investors should be wary of prices above $30.00.
This is not a dividend income equity candidate.
Current shareholders should consider covered options to boost yield and to obtain a bonus potential exit price relative to the current mid channel trading range.
Covered Options to boost performance:
Covered Calls (left side of chart)
Current shareholders may want to consider the near term 5/17/2014 $36.00 at a premium of $0.28 for 34 days to write Covered Call contracts. This is an annualized $3.01, representing a 215% boost on top of the current dividend yield of $1.40.
(click to enlarge) (source: schwab.com)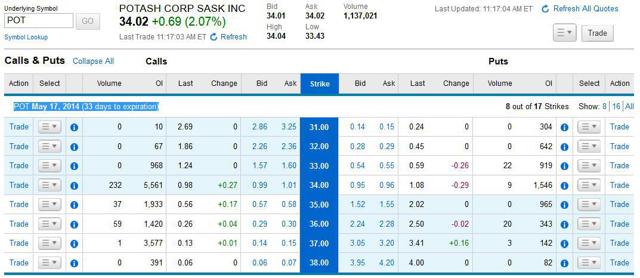 Cash Covered Puts
Given the fact that Potash Corporation does not qualify as a dividend income equity that investors should target owning at this time at any price within the expected trading ranges of the near future, cash covered puts are not recommended for it under the Tortoise Strategy.
Conclusions & Recommendations:
Income focused investors should shy away from Potash Corp.
Growth investors willing to take on considerable uncertainty and downside risk may evaluate holding these shares. A new entry at this time is not recommended.
Any price above $30.00 carries significant risk with insufficient reward opportunities in sight at this time.
Existing shareholders will find good returns from selling covered calls outside of the current projected trading channel ranges from the premiums available.
The 5/17/2014 $36.00 Call with $0.28 premium calculates to an annualized boost on top of existing dividends of 215%.
Existing shareholders targeting income should exit the shares using a suitably priced covered call to maintain any profit and maximize the boost from available premium.
Always be aware of ex-dividend dates and the potential for call, dividend capture, and Strike price adjustments by the option clearing house when writing contracts across dividend months.
This installment completes the initial Tortoise Series screen of 16 companies. I will spend the next few weeks presenting evaluations of some tickers of interest to me that are not traditionally noted as dividend income picks. After that, I will turn to evaluations of the classic Dividend Aristocrats (those with a long history of continuous and rising dividends and sustainable payout ratios) for value pricing and covered options to boost them to status of the GODs (Grand Old Dividends).
I hope you will continue to join my explorations of the conservative path to wealth and income. Simply click on the bold link labeled FOLLOW above the title at the top of this article to get an email notice of my new articles when they are published.
Find an index to my Tortoise Article series at this link.
An index to the GODs is also available.
Thank you for your continued interest,
Richard
Disclaimer: I am not a licensed securities dealer or advisor. The views here are solely my own and should not be considered or used for investment advice. As always, individuals should determine the suitability for their own situation and perform their own due diligence before making any investment.
Disclosure: I have no positions in any stocks mentioned, and no plans to initiate any positions within the next 72 hours. I wrote this article myself, and it expresses my own opinions. I am not receiving compensation for it (other than from Seeking Alpha). I have no business relationship with any company whose stock is mentioned in this article.