Covenant Transport, Inc.
(NASDAQ:
CVTI
) is a truckload carrier that offers just-in-time and other premium transportation services for customers throughout the United States. They do it all from driving the rigs, loading and unloading the trucks and keeping track of where your inventory is, when it will be delivered and also performs billing services. As the economy recovers they should land their share of new business.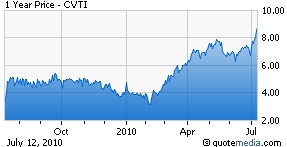 The stock had recent price appreciation in 15 of the last 20 sessions with a price increase of 30.40% last month. This is a 100% Barchart technical buy and trades at 8.75 with a 50 day moving average of 8.30.
Analysts for Wall Street brokerages have 1 buy and 3 hold reports published and estimate that sales will increase 11.60% this year and 8.30% next year. The recent price action may be attributed to estimates that the EPS will increase by 121.90% this year, 133.30% next year and continue at a 5.00% rate for the next 5 years.
Investors haven't discovered this stock yet but on Motley Fool those that have vote for the stock to out perform the market by a vote of 13 to 5 with the All Stars voting 3 to 2.
I'm adding this stock to the Barchart Van Meerten Speculative portfolio because:
Recent price appreciation of 30.40% with 15 new highs in the last 20 trading sessions
Wall Street analysts predicting increases in sales and earnings
Undiscovered but positive investor sentiment
Disclosure: No positiion in CVTI at the time of publication