The oil and gas industry was active in 2013 in the Western Canadian Sedimentary Basin, with wells and meters drilled both rising from 2012 levels. Alberta is the center of activity, and the drilling activity is seasonal, with the spring break-up and resulting muddy fields and roads making drilling difficult once the snow melts.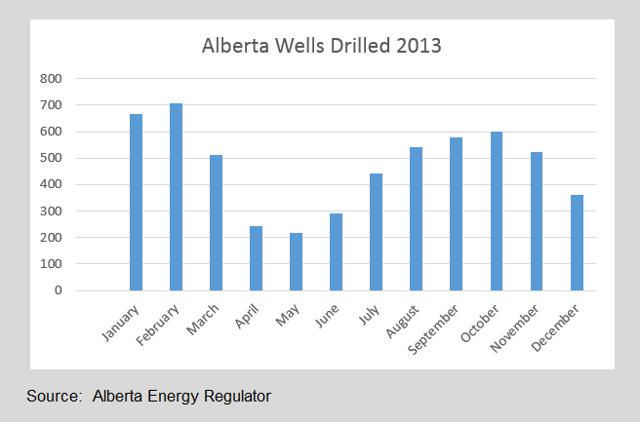 The 2013-2014 winter was particularly cold and long. A by-product of the long cold winter has been firm natural gas prices.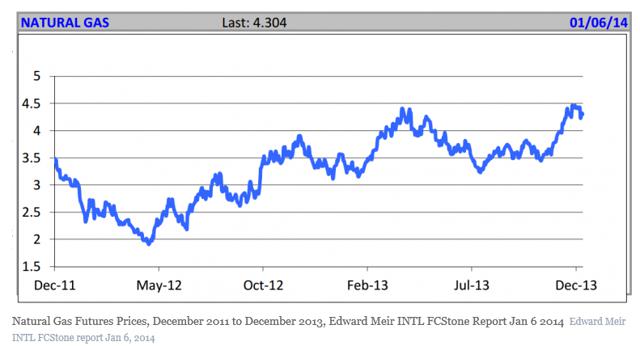 Source: International Business Times
In parallel, oil prices have remained relatively firm for quite some time.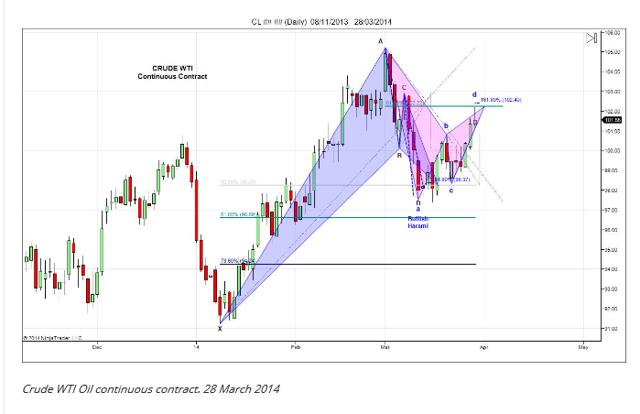 Source: MarketChartPattern.com
The narrowing of the spread between Edmonton par and West Texas Intermediate oil prices is another positive for Western Canadian producers.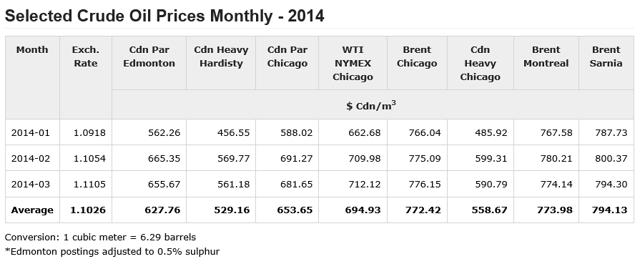 Source: Natural Resources Canada
These tailwinds have seen the beginning of a rally in the Canadian oil & gas stock universe, with the TSX oil & gas index up over 13% in the past year.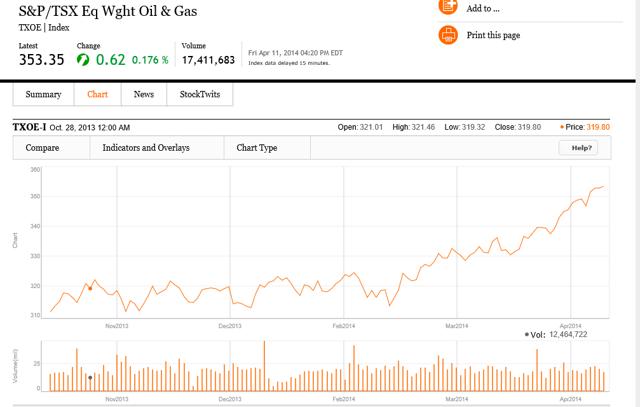 Source: Globe and Mail
In my view, this rally is in its early stages. Canadian oil and gas companies have adjusted their drilling programs to the collapse in natural gas prices from the low teens only a few years ago, cleaned up their balance sheets, and focused their drilling on liquids rich plays and continued development of Steam Assisted Gravity Drainage projects to exploit the vast bitumen reserves in the Canadian oil sands.
Companies that look like they are going to show positive improvements in cash flows, recycle ratios, and capital sustainability include:
There is a lot of talent among SA contributors setting out the prospects and issues for each name, as I have pointed out. All of these stocks carry risk, but the environment for their success is well-established, and the firmness in natural gas prices and extended drilling season arising from the cold winter is a short-term bonus. Often overlooked, the 10% decline in the Canadian versus U.S. dollar over the past year, combined with the $5 to $10 a barrel narrowing of the spread between Alberta and West Texas Intermediate oil prices creates an environment where the Canadian producers should show higher year-over-year net backs by quite a bit.
These entities have three things in common:
They pay reasonable dividends
They have credible expansion plans and competent managers
They are relatively inexpensive, although not without risk
In rough terms, I have set out the key financial aspects of each stock in the table below:

We will have Q1 results for each of these companies in the next few weeks. Look for solid financial performance and firm guidance, as they benefit from not only their own programs but also from a favorable environment.
I am long each of these names. They represent core holdings for me, and I am confident they will show reasonable returns for years to come.
Disclosure: I am long PWE, PGH, COSWF, LSTMF, ERF. I wrote this article myself, and it expresses my own opinions. I am not receiving compensation for it (other than from Seeking Alpha). I have no business relationship with any company whose stock is mentioned in this article.