Goldman Sachs (NYSE:GS) is one of the biggest banks in the world, and the bank enjoys a strong reputation. Whenever I think about this company, I remember a conversation I had a few years ago. I was at a family dinner and someone kept insisting that the market is "manipulated" by big investment banks and that it was impossible for a regular guy to make money in the market. Then I asked him who he thinks controls the banks and he said "Goldman Sachs for one" and then, I said "if you think they control the markets and can't be beaten, why don't you just buy shares of Goldman Sachs and enjoy the ride?"
Anyways, the chart below shows the share price fluctuations of the company since its IPO in 1999. After peaking at nearly $250 per share, the company traded for about $55 per share during the Great Recession when many people thought that big banks were going out of business. Later on, the company's share price fluctuated between $100 and $200 and currently it sits right in the middle of these two values.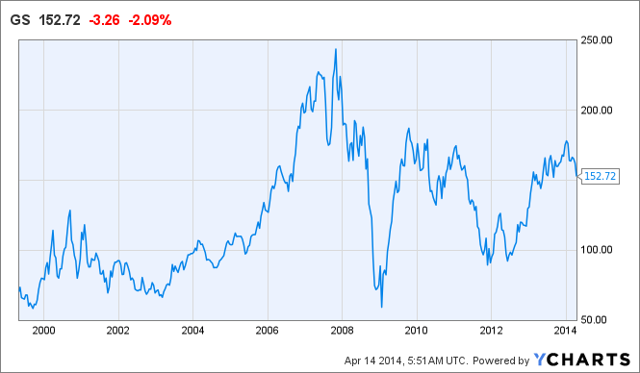 Click to enlarge
During this time, the company's revenues also saw some wild fluctuations. At the time of the IPO, Goldman Sachs was able to generate less than $15 billion in revenues and this figure did not change much until the housing boom of the early-to-mid 2000s, which was followed by the Great Recession. As a result, after peaking at $46 billion, the company's revenues fell to $23 billion during the recession. After the recession, the company's revenues climbed to nearly $50 billion where we saw another peak and this was followed by another sharp drop. Currently, the company generates about $34 billion in revenues, which is a lot better than at the time of its IPO but a lot worse than a few years ago.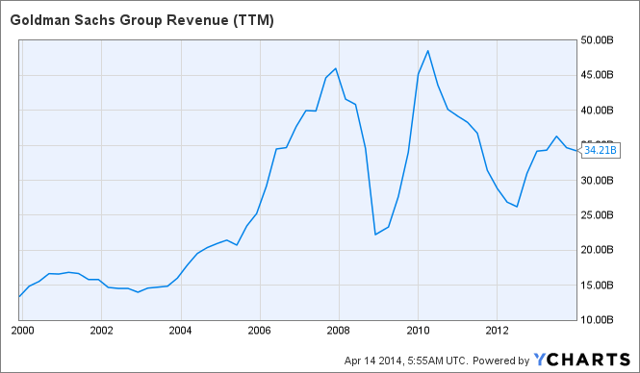 Click to enlarge
How did the company's revenue fluctuations affect its share price? Historically speaking, Goldman Sachs currently trades for a price-to-revenue ratio that is lower than what it historically was. In the first 5 years of the company's public history, it traded around 3 to 3.5 times its revenues. In the following decade, this figure fell to about 2.5 and currently it sits at 2.2. If we don't count a brief period during the Great Recession, Goldman Sachs enjoys a historically low price-to-revenue ratio at the moment.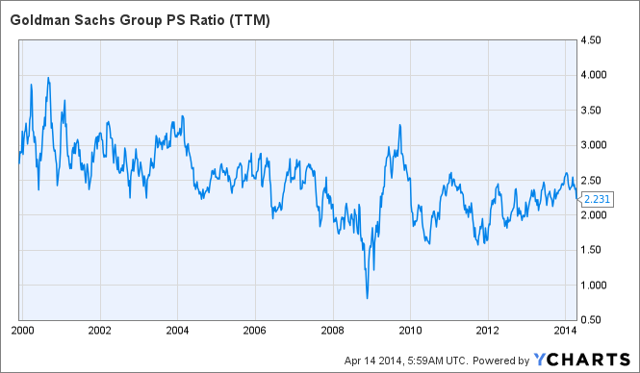 Click to enlarge
When we look at net income, we also see some fluctuations but things are looking better than historical averages. The company currently generates about $8 billion annually and this is a lot better than about $3 billion a decade ago. Still, the company generated as much as $15 billion just a few years ago. However, many people see this as an outlier performance.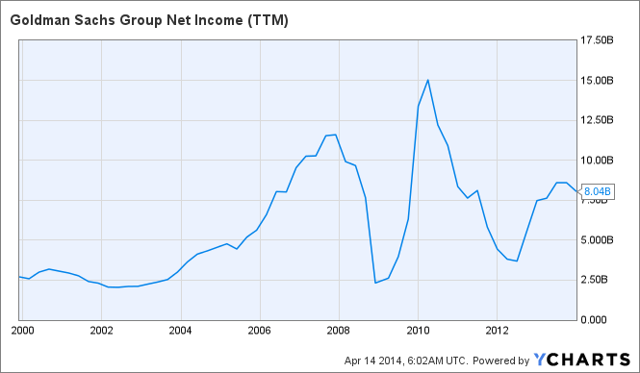 Click to enlarge
If we look at the company's share price as a function of its earnings over the years, we notice that at the current P/E of 9.8 (and normalized P/E of 8.2) the company is looking at a slightly cheaper valuation than its historical standards. In the early-to-mid 2000s, the company enjoyed a P/E ratio closer to the 15-20 range and the company saw its first single-digit P/E toward the beginning of the Great Recession. Historically speaking, Goldman Sachs' P/E has been closer to the 12-14 range, which indicates that investors are paying less for the company's earnings at the moment than they were before.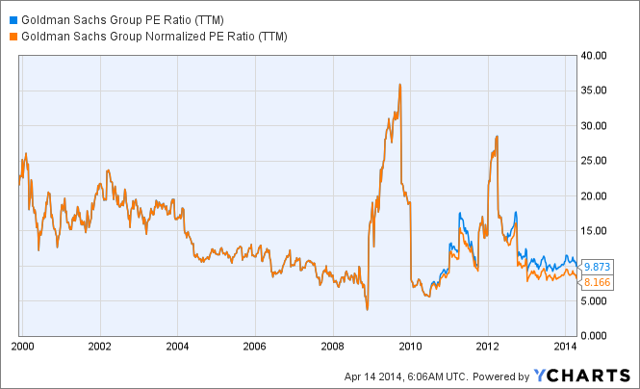 Click to enlarge
How about the bank's book value? After all, while it may not be very important when valuing a technology company, book value is one of the most important metrics in valuing a bank. When we look at Goldman Sachs' book value over the years, we see an interesting picture. The company's book value rose steadily from the time of IPO until 2011 and this rise did not stop even at the time of the recession. Yet, in the last few years, the company's book value has been relatively flat at around $70 billion. While this is still an all-time-high, many investors are worried about the slowing in growth rate of this particular metric.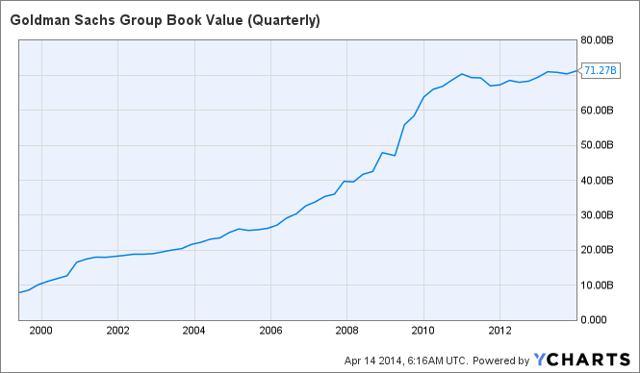 Click to enlarge
When we look at price-to-book value ratio of this company, we find that this value ranged between 0.90 and 1.14 and there was very little fluctuation here compared to the other metrics. This also tells us that price-to-book value ratio has been a rather consistent measure of the company's valuation over the years. Historically speaking, Goldman Sachs has almost always traded for a value that is a little over its book value (around 1.05-1.10) and the current valuation of 0.97 is below this average. We can say that the company is somewhat cheap when we compare its current price-to-book ratio with its historical standards.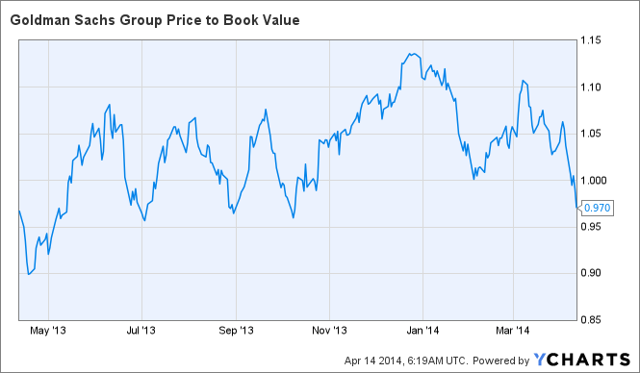 Click to enlarge
In the chart below, the orange line shows the past earnings of the company and the blue line represents analyst estimates for the next 3 years. Notice that analysts expect the company to grow its earnings in a rather consistent fashion and reach an EPS of $19.34 by 2017, which would give it a forward price to earnings ratio of 7.85. If the company can actually achieve the analyst targets, it will prove to be a pretty attractive investment at the current price.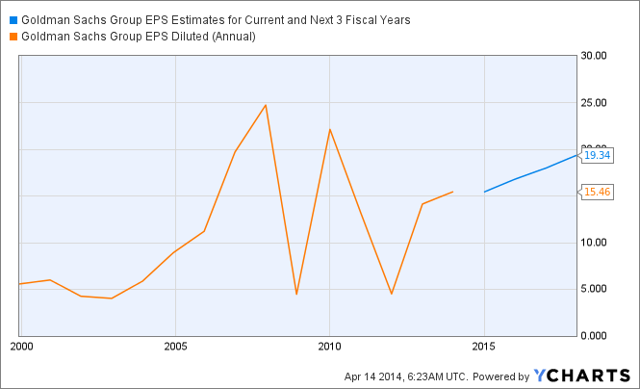 Click to enlarge
In the last couple of years, the equity market performed very strongly, mostly due to improving economies in the US, Europe and of course the generous money printing activities by central banks around the world. This has proved very profitable for investment banks like Goldman Sachs and we also saw a large activity of IPOs during this period. Now that the Fed is tapering QE and interest rates might be rising in the next couple of years, there is some uncertainty in the future earnings potential of investment banks. This should be kept in mind when evaluating companies in this particular industry.
If the company's share price falls below $145, I will be a buyer of Goldman Sachs because this price will represent a deep discount to the company's book value as well as past and future earnings.
Disclosure: I have no positions in any stocks mentioned, and no plans to initiate any positions within the next 72 hours. I wrote this article myself, and it expresses my own opinions. I am not receiving compensation for it (other than from Seeking Alpha). I have no business relationship with any company whose stock is mentioned in this article.