Occasionally, the markets have fire sales and those investors who remain alert will profit. The free flow of information has made markets relatively efficient in pricing assets, but not always. The reasons for those temporary inefficiencies are typically psychological or perception based. Take for instance a company headquartered in Greece.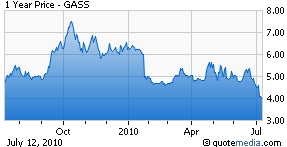 Stealth Gas, Inc. (NASDAQ:GASS) is the owner of an industry leading fleet of 34 small to medium sized seaborne LPG (liquid petroleum gas) carriers and three medium range product carriers. The average fleet age of their LPG carriers is just 11.2 years, versus an industry average of 20.4 years.
The shares trade below $4.75. The company has a tangible book value of $13.50. The company's principal asset is $589 million of ships. Year to date GASS has sold 5 ships. All ships were sold at close to their accounting costs, leading to the conclusion that stated book is a 'bona-fide' number. The company had $112 million in total revenue over the past twelve months (ending 3/31/10).
After suspending the dividend in 2009, the company implemented a share buyback program. The board authorized $15 million in purchases. There are 21.5 million shares outstanding, giving the company a market cap of less than $105 million. GASS holds $51.5 million in cash & equivalents, or $2.40 per share (3/31/10).
CEO Harry Vafias owns 19.9% of the company's shares. Control is in the marketplace but clearly he "eats his own cooking".
GASS recently announced an opportunistic purchase of a newly built Aframax crude oil tanker for $56.5 million – a favorable price relative to recent market activity which prices the ship's value at closer to $62 million. Upon delivery, it will be immediately employed on a bareboat charter for a five-year term to a European shipping company.
The company has moderate leverage - 43% net debt to capital - affording it continued flexibility to strategically expand. GASS has contracts to acquire 5 new build LPG carries over the next two years. Quite possibly, the company will increase its debt/cap ratio in order to maximize its fleet size and profitability.
Although headquartered outside of Athens, Greece, they are incorporated in the Marshall Islands. Their top customers include Shell (NYSE:RDS.A), Petredec and Vitol, leading oil and gas companies. The company's ships operate primarily in the Mediterranean and Asia Pacific region.
Charter rates have improved from their lows and stand at $7,989 (3/31/10). GASS currently employs 25% of its fleet in the spot market, anticipating improved market rates. Even at these relatively low charter rates, the company operates profitably. By comparison, the average daily charter rate in 2008 was $9,056. Given their fixed cost structure, a modest improvement in market rates will have a significant impact on earnings. Their daily operating breakeven cost per ship is $5,523 exclusive of items (as of 3/31/10).
One reason to expect firmer charter rates in the future is the supply/demand imbalance of the global fleet. There is limited new capacity coming on line in 2010 – 2011 and the global fleet is expected to experience a moderate contraction in 2012. Yet demand continues to increase because LPG is a natural by-product of oil and gas production, and the world's demand for energy continues to increase.
Ultimately GASS will create a niche business that will become economically irresistible to a larger integrated shipping company. GASS has concentrated on becoming the dominant player in its niche space. They claim a #1 market share of 13.5% in the "Handy size" sector of LPG shipping market (20 years or less aged).
Shares of GASS are extremely undervalued on a price to net asset value basis when compared to peers. The company is positioned to have sharp earnings growth as charter rates improve. In the mean time management has judiciously deploying capital buying in shares. Trading at 35% of book value makes these shares an obvious takeover target. If investors in the marketplace will not recognize GASS' franchise value then Mr. Vafias will have little choice but to realize shareholder value through other means.
Disclosure: Long GASS