Intel (NASDAQ:INTC) will report its Q1 earnings and revenue performance today. I'm convinced that the company will either deliver results that are below or near Wall Street estimates. I am not expecting the company to come up with better than hoped for numbers.
IDC reported a -4.4% reduction in PC sales for Q1 2014; it's therefore safe to assume that Intel's x86 chip business also contracted. IDC's report estimates that only 73.4 million PC units were sold this first quarter, compared to last year's 76.8 million. Gartner's own data puts the Q1 2014 PC sales at 76.6 million vs. last year's 77.9 million.
The discrepancy between IDC and Gartner's estimates is quite huge so Intel may yet surprise later when it makes its earnings report. In my own opinion, it is better to predict below Wall Street estimates rather so as not to be disappointed. I say Intel's EPS this quarter is between 0.30 and 0.35. Estimize professionals are more optimistic than me, putting INTC's EPS at an average of 0.39. The Estimize crowd also pegged revenue at $12.86 billion.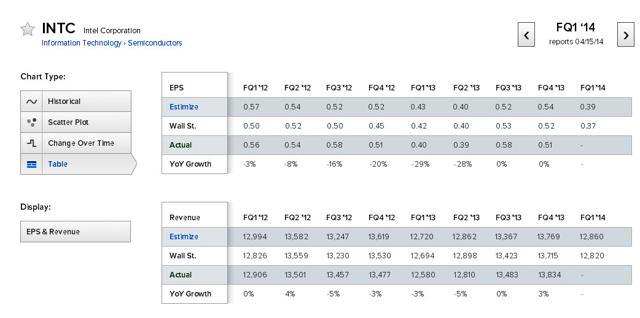 Source: Estimize
Yahoo Finance analysts predict an average of 0.37 EPS on $12.81 billion sales for Q1 2014. I reiterate my jaded estimate of 0.30 and 0.35. This quarter's earnings report won't benefit from the company's shutdown of its Costa Rica plant and lay-off of 1,500 workers.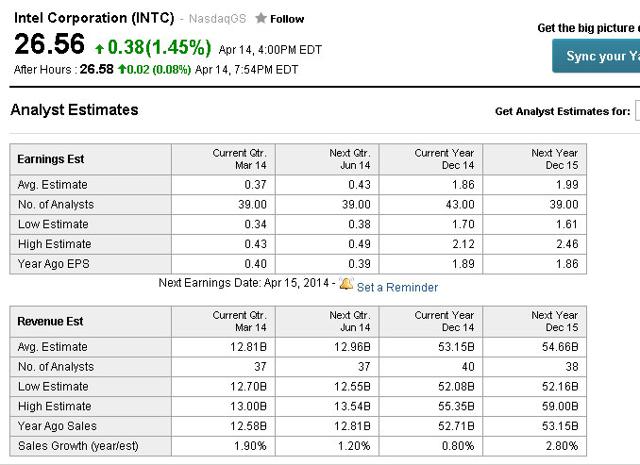 The Shenzhen Connection
Intel's failure to win the Samsung Galaxy Tab 4 is no longer a major headwind. Krzanich has deftly maneuvered the company to instead recruit a bunch of white box tablet manufacturers in Shenzhen, China. The great Ashraf has already explained how Intel can afford to sell its Bay Trail tablet chips at $5 to penny-pinching tablet Chinese tablet makers.
This contra revenue pricing will let Intel compete with Allwinner and Rockchip who also sell tablet SoCs at the $5 price level. Krzanich is so focused on fulfilling his promise of 40 million tablet chip sales for this year that he is willing to sell Bay Trail SoCs for less than what they cost to make.
Samsung and Apple already felt the power of Shenzhen's white box tablet companies who sold around 80 million sub-$200 tablets last year. Intel is hoping that some of the 130 million tablets that Shenzhen tablet makers will sell this year will contain Bay Trail chips. Ashraf explained that Intel will most likely sell its cheapest Bay Trail SoCs (the Z3735F and Z3735G) for $5 to seduce white box tablet leaders like Onda, Ainol, or Vido.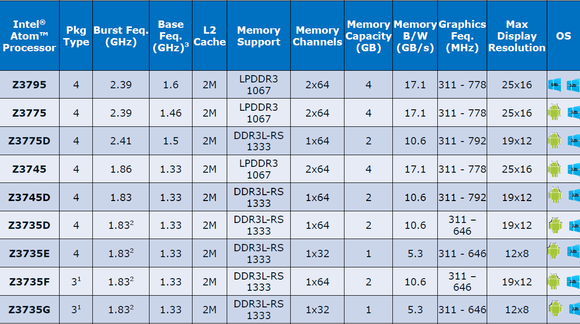 Source: Intel
In addition to the $5 Intel offer, Microsoft's decision to give away free Windows 8.1 will also encourage more Shenzhen companies to try making Windows 8.1 tablets instead of just focusing on the Android platform.
Lose Money Now, Regain it Later
Some INTC investors will whine again that Krzanich's contra revenue tactic for tablets is ineffective but I disagree. Shenzhen tablet makers will likely outsell Apple or Samsung this year. Intel needs to win the support of these Chinese companies to help INTC receive some serious loving from the stock market.
The stock market will forgive Intel's money-losing tablet campaign this year as long as it can prove that its mobile chips actually did 40 million sales. It is all about image - Intel has been a laggard because the market perceives it to be hopeless in the mobile chip sector. Qualcomm (NASDAQ:QCOM) is trading at higher P/E because that rival has managed to continuously outfox Intel in tablets and smartphones.
ARM Holdings (NASDAQ:ARMH) is trading at 128.10 P/E precisely because the ARM processor has made Intel's x86 SoCs irrelevant in the mobile arena. ARMH is licensing its IP to Allwinner and Rockchip, the two main chip suppliers to Shenzhen's tablet makers. Intel's $5 Bay Trail assault is also an attack against QCOM and ARMH.
Intel can recoup its contra revenue approach to tablets this year once most of its rivals are near or already bankrupt. Intel did it on the x86 desktop and server market. It certainly has the money to easily afford subsidies to lock in partner OEM companies in Shenzhen. Anyone who doubts this strategy should just look what Intel did to AMD and Cyrix. AMD's existence in the x86 market is still precarious at best. Intel has used its mighty dollars to keep AMD's often-better APU and CPU confined in low-ASP computers.
Conclusion
Krzanich's savvy seduction of Shenzhen white box manufacturers compels me to believe that Intel will indeed sell 40 million tablet chips this year. The $5 Bay Trail SoC is now at par with the ARM-based chips made by Rockchip and Allwinner. The $100 million gift to fund Shenzhen's smart devices development is another incentive for Chinese tablet makers to stay in the good graces of Intel.
Samsung's decision of not using a Bay Trail SoCs for its consumer-grade Galaxy Tab 4 is a blessing in disguise for INTC. The Shenzhen army is a better ally for Intel. Shenzhen-made tablets will definitely outsell Galaxy Tabs this year.
Shenzhen white box tablets are not only cheaper, but sometimes even produce better performance than branded models. I still am using and enjoying my more than 2-year old Ainol Novo Aurora Android 7-inch tablet.
INTC is a strong hold.
Disclosure: I am long INTC. I wrote this article myself, and it expresses my own opinions. I am not receiving compensation for it (other than from Seeking Alpha). I have no business relationship with any company whose stock is mentioned in this article.