Houdini is back for another act. This time, it's New York REIT (NYSE:NYRT), the only "pure play" publicly-listed REIT focused on office and retail buildings in New York City.
The magic is just remarkable for the spectacular financier, Nicholas Schorsch, who along with his loyal colleagues at American Realty Capital, have created a pipeline of 5 full-cycle liquidity events, the latest of which was last week in the form of American Realty Capital Healthcare Trust (NASDAQ:HCT).
I wrote an article on American Realty Capital Healthcare Trust last week after the company listed approximately 183 million shares of common stock on Nasdaq. The New York-based Healthcare REIT opened the first day of trading at $10.50, and the shares have closed last at $10.34.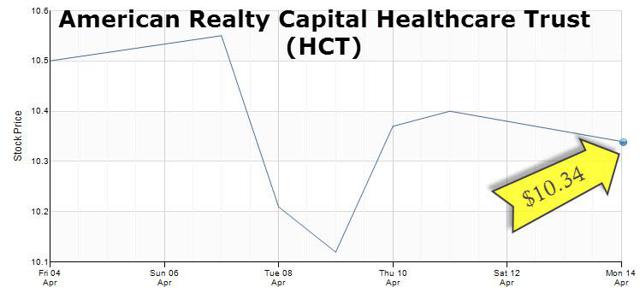 Click to enlarge
Today, Schorsch takes the stage again in his 6th liquidity event, and this magic is close to home in New York City. The new REIT, New York REIT, Inc., will list approximately 176 million shares today on the NYSE as the company offers a tender price of $10.75.
What's Special About The New Kid On The Block?
NYRT offers a compelling value proposition in that this REIT is the only "pure play" REIT focused exclusively on New York City real estate. While the closer peers like SL Green (NYSE:SLG), Empire State Realty Trust (NYSE:ESRT), Vornado Realty Trust (NYSE:VNO), Brookfield (NYSE:BPO), and Boston Properties (NYSE:BXP) all have exposure to the "Big Apple", NYRT is the only REIT with a 100% circle of competence in the Manhattan market.

Click to enlarge
Timing could not be better for Schorsch (and company), as his Non-Traded REIT acquired most of the portfolio during and after the Recession, when many investors and banks were sidelined and unable to respond to opportunities. Now that the NYC market is in a full recovery mode, NYRT is well-positioned to carve out a slice in one of the strongest markets in the World - New York Manhattan office rents are the 11th highest in the World.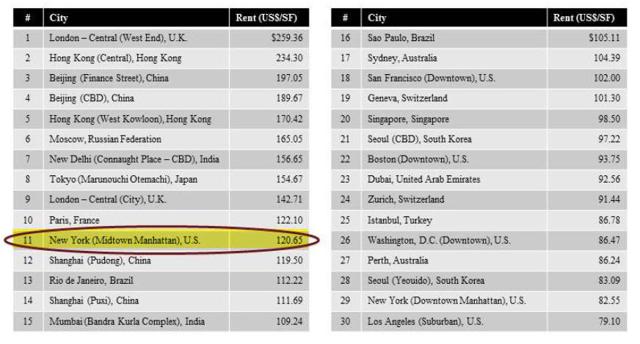 Click to enlarge
NYRT has also stayed under the radar (in terms of acquisitions), focusing on sub-markets that don't cater to the larger REITs and Investment Banks. As evidenced by the snapshot below, the Manhattan office market is supply-constrained, and NYRT has been able to exploit repositioning opportunities where value can be maximized by investing in pre-war office towers that require minor (generally wiring and cosmetic) renovations.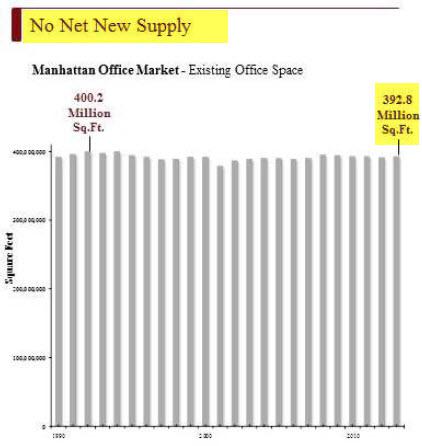 With very little new supply coming to market, Manhattan area office rents remain well below (17%) pre-recession (2008) levels. That's a strong value proposition for NYRT, as the company expects to generate strong organic rent growth by increasing rents when leases expire.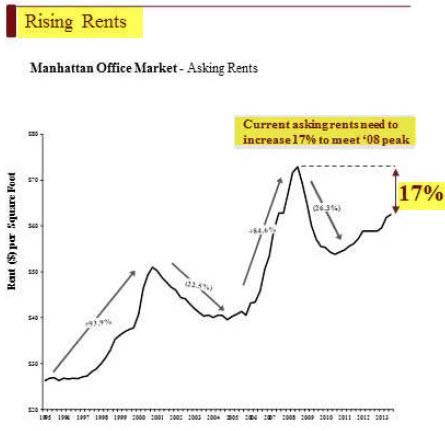 Let's Look Inside
As illustrated below, NYRT is projected to list as a $2.8-billion REIT (based on Enterprise Value) and one of the smallest REITs in the peer group.

Click to enlarge
NYRT's portfolio consists of 23 properties, with over 3.1 million of rentable square footage. As mentioned above, 100% of the assets are located in New York City.

Click to enlarge
Around 96% of the portfolio is located in Manhattan, with a few properties located in Brooklyn (4%) and Queens (.03%).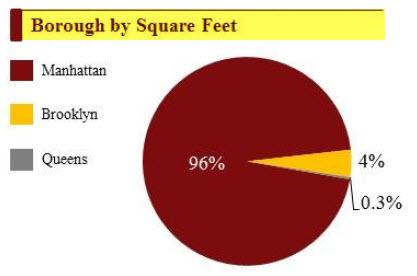 Around 82% of the portfolio is office, and the balance is retail (8%), parking (4%), hotel (4%), and other (2%).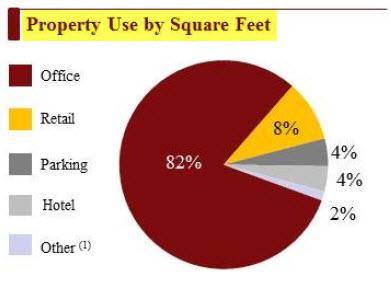 The Manhattan office portfolio consists of 8 buildings and over 2.58 million square feet. The portfolio is 93% leased, with an average remaining lease term of 10.4 years.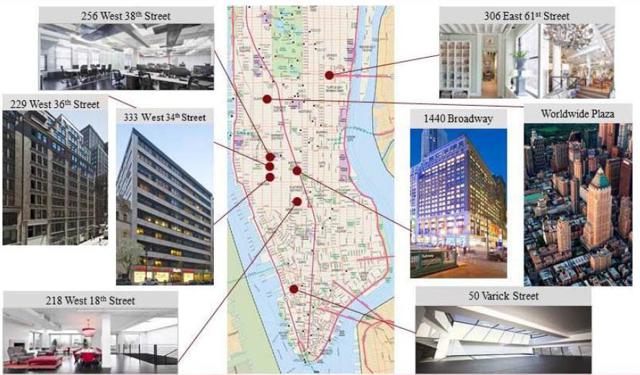 Click to enlarge
The Manhattan retail portfolio consists of 7 buildings and over 189,954 square feet. The portfolio is 96% leased, with an average remaining lease term of 7.9 years.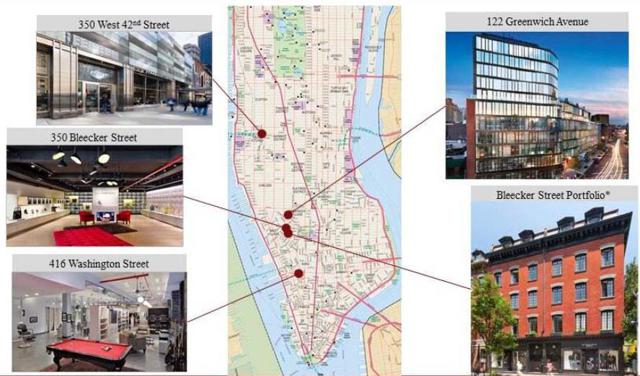 Click to enlarge
NYRT has an attractive lease maturity schedule, with a weighted remaining lease term of 10.1 years. The portfolio has well-laddered rollovers, with minor near-term maturities requiring modest cap ex.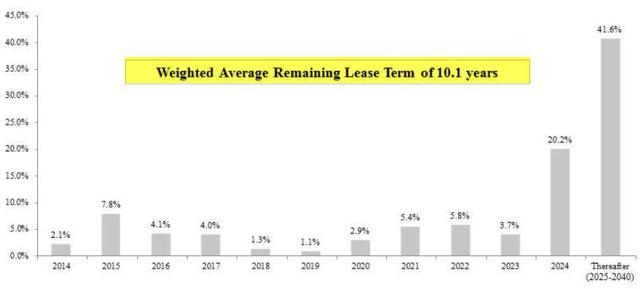 Click to enlarge
Here is a snapshot of NYRT's recurring cap ex proforma. As you can see, NYRT owns one hotel (Vicery Hotel) that was acquired as a distressed deal.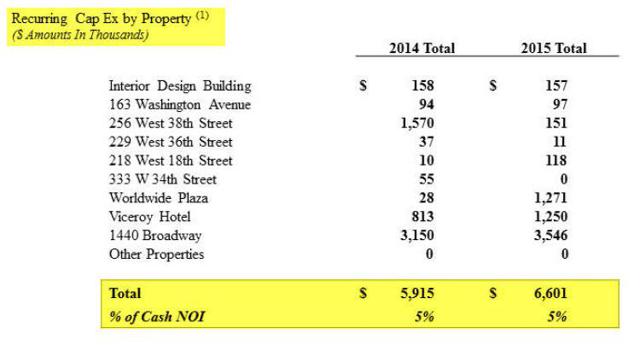 Click to enlarge
1440 Broadway (acquired by NYRT in December 2013) is 94% institutional-occupied, with companies like Macy's, Mizuho, Citibank, Western Union, and FedEx. 1440 Broadway is well-positioned in the Times Square South submarket, just two blocks south of the "Times Square Bowtie". The off-market transaction was acquired below replacement cost, at $699 per square foot.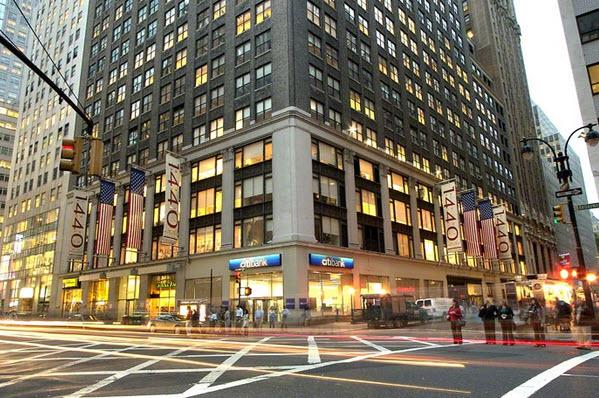 NYRT also acquired One Worldwide Plaza in October 2013. This trophy tower is 84% leased to two high-quality tenants: Nomura Holdings and Cravath Swaine & Moore. The building itself is 91% occupied, and has over 2 million square feet of gross lease area. NYRT has a 48.9% interest in this property.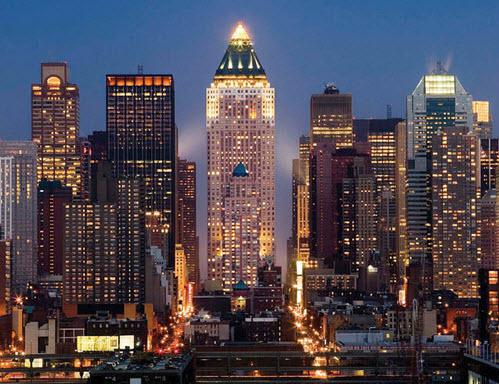 What Am I Getting?
As mentioned above, NYRT was incredibly active in 2013, buying around $1.8 billion of assets. The company is projecting around 14% NOI growth in 2015, driven primarily by leasing up Worldwide Plaza and 256 West 38th Street. In addition, NYRT anticipates ramping up profit at the Viceroy Hotel and leasing up 50 Varick Street. In addition, NYRT expects to drive external growth by acquiring more assets and buying out its JV partner at Worldwide Plaza (NYRT has a fixed option to acquire the remaining interest at $699 per sf in 2016).
NYRT plans to list approximately 176 million shares today, at a tender price of $10.75. The company expects to raise around $250 million, and the company is projecting its 2015 Adjusted Funds from Operations per share to be between $.52 to $.56.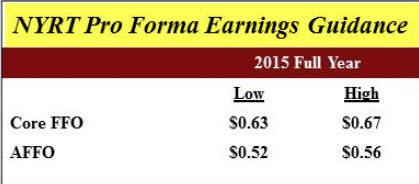 Using the company's mid-point AFFO estimate of $.54 per share, the company provided the following sensitivity analysis, indicating that the shares could trade from $13.50 to $16.20. I'll admit, I think these projections are somewhat frothy, as I consider these consensus estimates to be aggressive.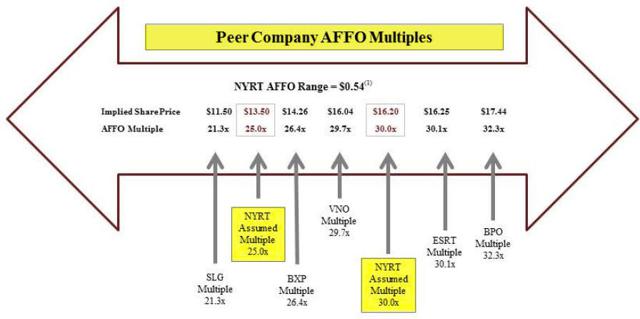 Click to enlarge
Using current valuation metrics, I prepared the graph below that illustrates the P/FFO multiples for NYRT's peers. As you can see, the average P/FFO multiple is 19.88x. I believe that NYRT will trade at the lower end of that P/FFO range and closer to that of SLG.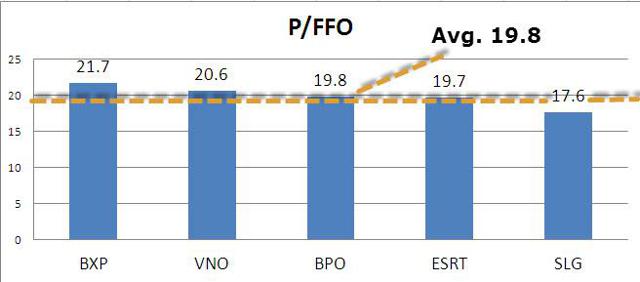 Click to enlarge
A good barometer for NYRT may be ESRT. This REIT listed a few months back, and the shares have traded up by 14%, with a valuation of around 19x P/FFO. ESRT has a much lower occupancy rate (86%), and the capital structure is much more complex. (see my article on ESRT here).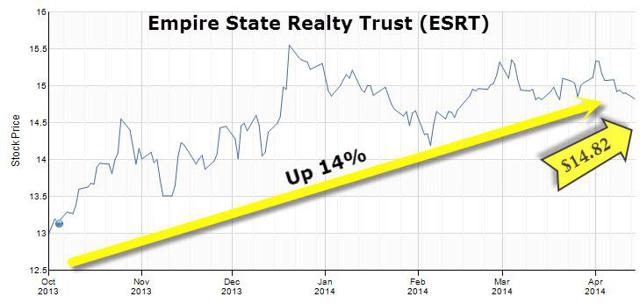 Click to enlarge
NYRT has a strong balance sheet that consists of approximately $511 million of debt. The credit metrics are solid with 4.7x Total Debt/2015 EBITDA and around 20% Net Debt + Preferred to Enterprise Value. NYRT has ample liquidity - around $365 million available on the $705 million credit revolver. Modest debt expirations forthcoming: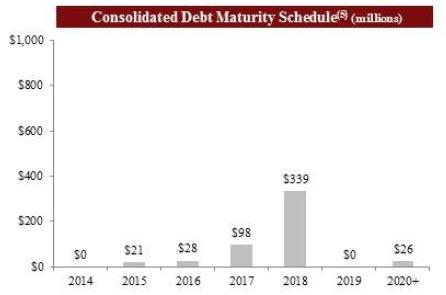 One must also consider the fact that NYRT is externally managed - a pet peeve of mine - and although I generally believe it's important to operate internally-managed REITs, NYRT has no internalization fee charged, and because the company is centrally located in New York City, I believe the externally-managed component is less concerning. I do like the fact that NYRT has a low-cost operating model, as evidenced by the G&A chart below: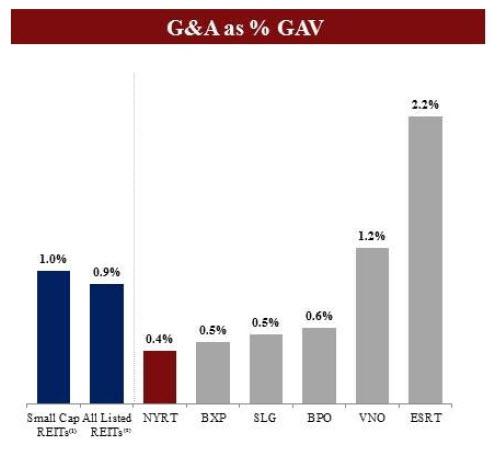 How Does The Dividend Stack Up?
Like most Non-Traded REITs, NYRT must revise its dividend (downward) to reflect a more competitive listing price. For you Non-Traded REIT investors, remember there's a trade-off between volatility and liquidity. So now that NYRT is liquid, the dividends being paid will decrease from $.605 per share to $.46 per share.
NYRT plans to pay out around 71% of its 2015 FFO, and based upon the tender price of $10.75, investors should expect to see a dividend yield of around 4.25%. That's likely to be one of the highest dividend yields in the peer group - the average of the group is 2.48%.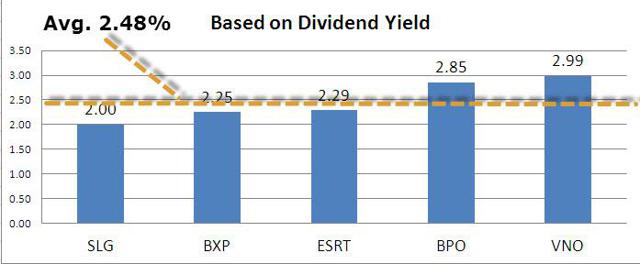 Click to enlarge
Of course, we all know that Houdini knows how to impress his audience, and based upon the more recent success of American Realty Capital Properties (ARCP), a high-paying dividend is the name of the game.
It's hard enough to build a REIT from scratch and provide investors with attractive shareholder returns; however, Nick Schorsch has become a top performer for incubating Non-Traded REITs and monetizing them for the benefit of retail investors.
Although I'll be watching from the sidelines today, I believe that this REIT listing is one of the best-constructed (by Schorsch) to date. NYRT has found a niche in New York City, and I believe that the business model has some sound characteristics, with a "wide moat" beginning to form. The senior management team is obviously well-schooled in NYC real estate, and NYRT has taken advantage of the opportunities that exist in the B-class office market.
This is one of the few times that I have recommended a BUY price on the first day of trading, but I'm bullish on this REIT and I believe there's some magic ahead. The tender price of $10.75 is attractive, and I believe that Schorsch is now the crowned wizard of Non-Traded REIT-dom. Sing this one out loud:
Oh, ho, ho
It's magic you know
Never believe, it's not so
It's magic, you know
Never believe, it's not so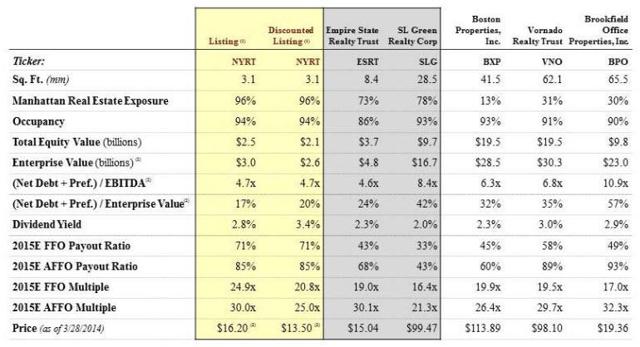 Click to enlarge
For more information, subscribe to my REIT newsletter here.
Source: SNL Financial and NYRT Presentation.
Disclaimer: This article is intended to provide information to interested parties. As I have no knowledge of individual investor circumstances, goals, and/or portfolio concentration or diversification, readers are expected to complete their own due diligence before purchasing any stocks mentioned or recommended.
Disclosure: I am long O, DLR, VTR, HTA, STAG, UMH, CSG, GPT, ARCP, ROIC, MPW, HCN, OHI, LXP, KIM. I wrote this article myself, and it expresses my own opinions. I am not receiving compensation for it (other than from Seeking Alpha). I have no business relationship with any company whose stock is mentioned in this article.