This is an update to the latest rankings for the 25 BDCs that I cover and a follow up to "BDC Rankings: March 2014" taking into account the latest reported financial results as well as updated pricing and valuations, revised analyst EPS estimates and recommendations as well as the new analyses from my most recent BDC reports.
BDCs have started to rebound since being excluded from certain indices and this could be a buying opportunity. BDCs react to market conditions quicker than most stocks and in this case investors may have already priced in some or most of the changes from the Russell reconstitution and we may be getting closer to a bottom but there will continue to be volatility through June with more dips along the way. When BDCs rebound it will most likely be quick as well and I have also noticed that analysts are already starting to upgrade some of the higher quality BDCs. For more information regarding the Russell reconstitution exposure for each BDC see (Part 1, Part2 and Part 3).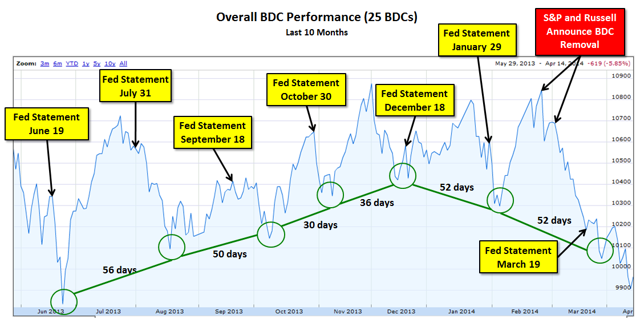 New BDC added to my coverage:
FS Investment (NYSE:FSIC) has been operating as BDC since January 2009 and I will be adding it to my coverage this week after its IPO tomorrow listed on the NYSE. FSIC is managed by affiliates of Franklin Square Capital and sub-advised by affiliates of GSO Capital Partners, the credit platform of The Blackstone Group. Last week I spoke with management regarding its strategic direction and approach to investing. This will be one of the larger BDCs that I follow with a $4.1 billion portfolio that is 82% senior secured loans (see table below), growing net asset value ("NAV"), recently increased its monthly dividend and announced special dividends for Q3 and Q4 of this year. The good news for investors is that FSIC does not have exposure directly related to the Russell indices because it is not public yet. I will have a special report coming out before the IPO with pricing, projections and dividend coverage as well as its relative risk profile and rankings.
Highlights for FSIC with associated rankings:
Dividend growth of 10% over last 12 months (ranked #3)
Dividend coverage of 113% using core NII (ranked #3)
9% NAV growth over the last 24 months (ranked #4)
Special dividends announced of $0.20 for 2014 (yield of 2% using NAV)
Current monthly dividend of almost 9% annual yield using NAV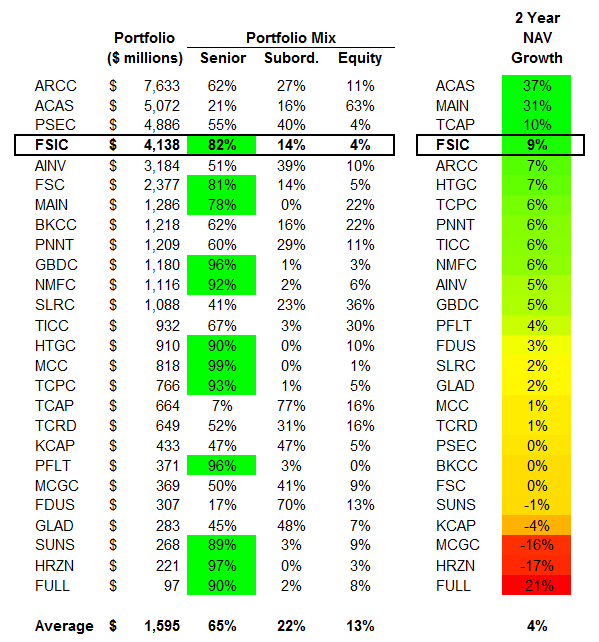 For more information regarding FSIC please see my "FS Investment Corp IPO Update".
These are the five general criteria I use to evaluate BDCs:
Profitability (dividend coverage, fees, NAV and EPS growth)
Risk (portfolio quality and vintage, rate sensitivity, diversification, volatility)
Return (sustainable, consistent, growing)
Analyst Opinions (outlook, recommendations, price targets)
Valuation (NAV, P/E, growth rates, total return)
Changes since the March 2014 rankings:
Suggested Portfolio Changes: I have added TCP Capital (NASDAQ:TCPC) and removed Fidus Investment (NASDAQ:FDUS) from the lower risk 'Total Return' portfolio and replaced KCAP Financial (NASDAQ:KCAP) and Main Street Capital (NYSE:MAIN) with Triangle Capital (NYSE:TCAP) and New Mountain Finance (NYSE:NMFC) in the 'Higher Total Return' portfolio as discussed in "Total Return BDC Portfolios For Q2 2014". Gladstone Capital (NASDAQ:GLAD) is also in my 'Higher Total Return' and 'Underdog' portfolios and I have upgraded it from a 'Hold' to a 'Buy' based on improved credit quality, NAV growth, commitment to dividend coverage, low use of leverage, selective portfolio growth and expected total return as discussed in my "GLAD: March 2014 Report". I have removed MCG Capital (NASDAQ:MCGC) from the suggested 'Underdog' portfolio for many reasons including large declines in analysts projected 2014 EPS from $0.46 to $0.30 as well as an anticipated quarterly dividend cut to $0.07 discussed on the last earnings call.
Recent Equity Offerings: both MAIN and NMFC raised equity capital since the last rankings as discussed in "Main Street Capital Makes A Move". However the MAIN offering was much more accretive adding 5% to its NAV per share.
I have reduced the risk ranking for Fifth Street Finance (NYSE:FSC) to 6.6 due to reasons discussed in "FSC: April 2014 Report" and still consider FSC to have a safer than average risk profile.
EPS projections for American Capital (NASDAQ:ACAS) have been lowered by analysts for the second time in the last 30 days, and analysts lowered 2014 EPS projections for BlackRock Kelso Capital (NASDAQ:BKCC) to $0.92 compared to its dividends of $1.04 ($0.26 per quarter). Analysts have also reduced EPS projections for KCAP. The only positive EPS changes by analysts were for NMFC and FDUS but I have been using my own projections which are now more in-line with the analysts so there was no change to the profit ranking.
Undervalued BDCs: Currently there are many BDCs that undervalued due to the recent price declines and some have dropped more than others giving them higher rankings for the valuation category. BDCs that dropped more than the average are FDUS, Full Circle Capital (FULL) that is down 16%, Hercules Technology Growth Capital (NASDAQ:HTGC), Apollo Investment (NASDAQ:AINV), Golub Capital BDC (NASDAQ:GBDC) and TICC Capital (NASDAQ:TICC). At this point I believe FSC, NMFC, HTGC, TCPC, Prospect Capital (NASDAQ:PSEC), Medley Capital (NYSE:MCC) and PennantPark Investment (NASDAQ:PNNT) are all undervalued by at least 10% and considered a 'Buy'. Other BDCs that are undervalued but considered a 'Hold' are TICC, AINV and GLAD. MAIN, Ares Capital (NASDAQ:ARCC) and THL Credit (NASDAQ:TCRD) are considered 'Buys' as well but not as undervalued as the others. Both GBDC and TCAP are quality BDCs that I currently consider a 'Hold' due to pricing but would suggest that investors watch for dips in the upcoming weeks for a better entry point. Updates to recommendations and pricing can be found in my weekly newsletter.
Overvalued BDCs: The most overvalued BDCs are FDUS, MCGC and Solar Capital (NASDAQ:SLRC). FDUS and SLRC have outperformed the average BDC since the Russell announcement.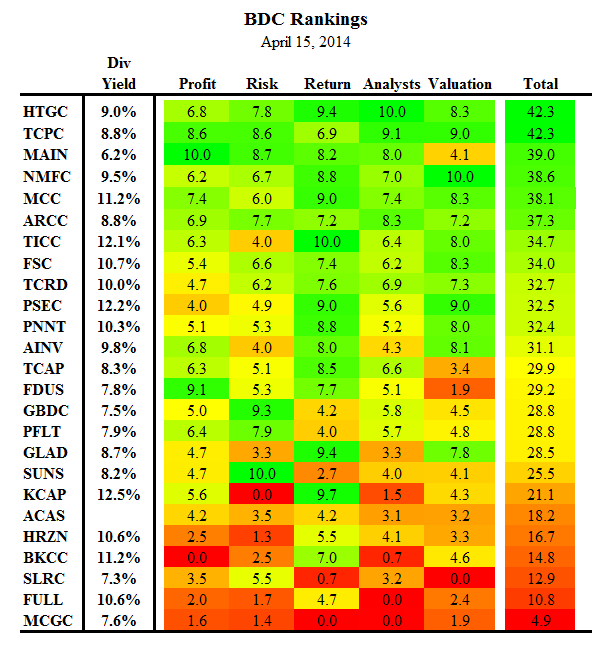 Investors should only use this information as a starting point for due diligence.
Disclosure: I am long HTGC, MAIN, TCPC, FSC, ARCC, TCRD, PSEC, NMFC. I wrote this article myself, and it expresses my own opinions. I am not receiving compensation for it (other than from Seeking Alpha). I have no business relationship with any company whose stock is mentioned in this article.
Editor's Note: This article covers one or more stocks trading at less than $1 per share and/or with less than a $100 million market cap. Please be aware of the risks associated with these stocks.