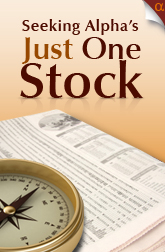 Several times a week, Seeking Alpha's Jason Aycock asks money managers about their single highest-conviction position - what they would own (or short) if they could choose just one stock or ETF.
---
Ranjit Thomas of Spice Capital is a CFA who manages a long/short portfolio and has worked in the management consulting, private equity and hedge fund industries.
If you could only hold one stock position in your portfolio - long or short - what would it be?
The stock is Lincoln Educational Services Corp. (NASDAQ:LINC).
Lincoln provides career-oriented post-secondary education in the U.S., offering degrees and diplomas in health sciences, automotive technology, skilled trades, hospitality and information technology. The diversity of the courses offered helps the business be largely independent of how the economy performs. Most programs are for 12-15 months and trade-oriented.
The company has 31,000 students and operates in 17 states, giving it plenty of room to expand to other states. Some 40% of the enrollment is in health sciences (medically related) courses, 30% automotive and 15% in skilled trades - like preparing people to be electricians and heating/cooling technicians. The company is slated to generate revenue of $655 million this year with net income of $68 million. It has a market cap of about $520 million, and no net debt.
How does your choice reflect your investment approach?
We look for fundamentally sound companies with sustainable businesses, generating cash in line with reported profits, and trading at attractive valuations. Organic growth and the company returning cash to shareholders through dividends or share repurchases are additional pluses. LINC is growing revenues organically at 10-15% per year, expanding margins, and has instituted a stock buyback program. At its recent price around $20, the stock trades at nearly 8 times 2010 EPS and 7 times 2011 EPS. Free cash flow has been close to net income, although the company has recently ramped up capital expenditure to support growth.
Can you talk about the sector? How much is your selection based on LINC's industry, as opposed to a pure bottom-up pick?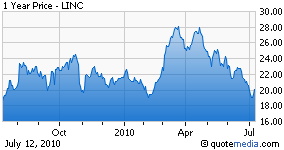 This is purely a bottom-up pick, although it is true that the valuation of all the players in the for-profit education industry is currently depressed. There has recently been intense media and government focus on industry recruitment practices and the ability of graduating students to repay their debt. The industry is changing some of its practices in response to new government directives, and there is a possibility that this noise will continue for a while. Once this cloud clears, the industry can go back to its business of upgrading the skills of young adults.
How is LINC positioned with regard to competitors?
LINC is the largest company providing vocational (practical skill-based) training in the U.S. Its main competitor is Universal Technical Institute (NYSE:UTI), which is largely in the auto space. Other competitors in the degree-oriented space include Apollo Group (NASDAQ:APOL), ITT Educational Services (NYSE:ESI) and Strayer Education (NASDAQ:STRA). There are also a number of smaller ("mom and pop") competitors.
How does the stock's valuation compare to its competitors?
LINC trades at 8x 2010 EPS, comparing favorably to its competitors ESI at 8x, APOL at 9x and STRA at 24x. All of them are growing at 10-15%, with the exception of STRA, which is growing at 20%. We don't believe in using nonfundamental metrics like EV/EBITDA, but if you were to look at the companies on this metric, the result would be similar.
Does your view differ from the consensus sentiment on LINC?
Sentiment is currently overly negative on the sector. We do not believe that proposed regulatory changes will have a major impact on the growth and profitability of the sector. In a worst-case scenario where financial aid conditions are tightened significantly, we see a 5-10% revenue hit. There is also some concern that in an improving economy, fewer people will feel the need to further their education. We believe this concern is overblown as the economy is improving slowly, unemployment remains high, the jobs of tomorrow (in the medical field, for instance) require higher and different skills than the jobs of yesterday (in construction, for instance), and the business is diversified enough to withstand slowing enrollment in particular courses.
Certain prominent hedge fund managers have been aggressively bad-mouthing the industry in public forums, comparing it to the subprime mortgage industry. This has led to a lot of investors bailing out of the sector, but we believe the arguments put forth have many flaws. To point out one, the ability of borrowers to repay subprime loans rested on the further appreciation of homes that had already appreciated significantly in the last decade and were primed for a fall. The ability of borrowers to repay educational loans is dependent on the earnings power of individuals, which has not had a sharp rise in recent times, and fundamentally is not in danger of falling significantly. The subprime crisis is not likely to have occurred if loans were based on borrower income, rather than the expectation of asset appreciation.
Recently in Just One Stock we featured Apollo Group (APOL), and this concern (and the regulation overhang) was a key point. Also, APOL got some praise because as a degree-oriented school its enrollment was less prone to spiking in a bad economy than more trade-focused schools; do you think LINC could underperform degree-oriented competitors because of cyclical concerns, if the economy rebounds strongly?
If we had a super-strong recovery, where for instance, construction jobs boomed once again, this could cause trade-oriented schools to underperform degree-oriented ones. In a normal or tepid recovery, this would not be the case. I should also point out that based on current indicators, we don't seem to be heading for a very strong recovery.
How does Lincoln's management play a role in your selection?
Management has clearly demonstrated the ability to grow revenues and increase margins by leveraging the cost base. They also have a willingness to do the right thing with the cash generated by returning it to shareholders through share repurchases.
What catalysts, near-term or long-term, could move the stock significantly?
The passing of the current regulatory cloud will go a long way towards investors warming up to the sector. If the company were to beat earnings estimates like it has the last few quarters, that is sure to be received positively.
A private equity firm named Stonington Partners owns about 10% of the company and is likely to look to exit at an opportune time. The removal of this overhang should help the stock in the long-term.
A year from now, we can see investors paying 14 times 2011 EPS, for a stock price of $40, representing a 100% upside from the current level. It is also possible that one of the larger competitors in the industry may look at acquiring the company to add complementary trade-based courses to their mainly degree-based business. Finally, there is the possibility that a private equity firm will see this as an attractive opportunity to take the company private at a reasonable premium.
Assuming that the regulatory environment clears up in the November timeframe, what sort of growth should investors expect from LINC?
Going forward, one can expect growth of about 10% in revenues and 10-15% in EPS, aided by slight margin improvement and the effect of share repurchases.
What could go wrong with your pick?
Draconian government regulations that significantly affect revenues would derail the investment thesis. The government has to decide whether it is in favor of having Americans upgrade their skills to compete in a global economy, or whether it wants to score political points by going after an industry that generates a return for its investors in the process of providing a valuable service. Also, as with any company, if management decides to overpay for a large acquisition instead of returning cash to shareholders, that could significantly alter the value of the stock.
Thanks, Ranjit, for sharing your thesis with us.
Disclosure: Ranjit Thomas is long LINC.
Read more Just One Stock articles »
If you are a fund manager and interested in doing an interview with us on just one stock or ETF position you'd hold, please email Rebecca Barnett.