Yahoo (NASDAQ:YHOO) is a U.S. based Internet company that's based in Sunnyvale, CA. The company, headed by CEO Marissa Mayer, was founded in 1994 and employs over 12,000 individuals.
Yahoo has been volatile in trading - up 39.5% in the last twelve months, but starting off 2014 on the wrong foot and shedding 17.3% of its value since the beginning of the new year.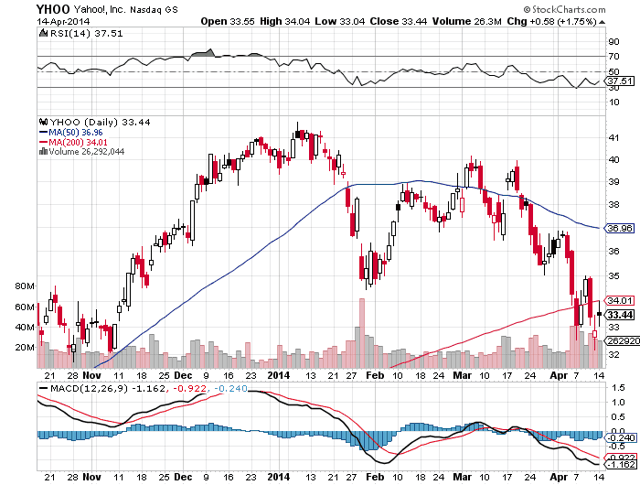 Yahoo is set to report earnings after the bell today, Tuesday, April 15th.
Analysts are expecting $0.37/share on $1.08 billion in revenues, compared to year ago EPS of $0.38 and $1.07 billion in revenues.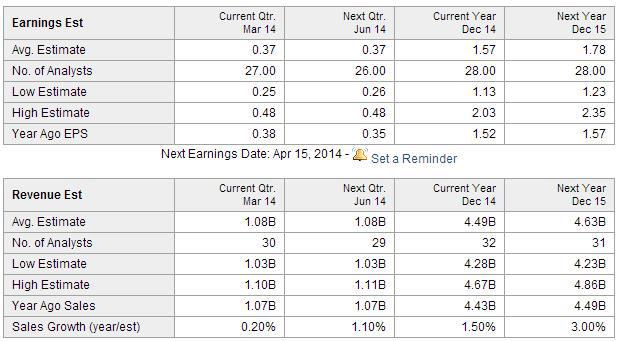 There's going to be a ton of focus not only on Yahoo, but on how the company's stake in Alibaba could potentially be a driving force for Yahoo and its investors. CNBC.com reported on the importance of Alibaba to Yahoo:
Alibaba, a Chinese e-commerce giant, is planning a mammoth IPO this year, and Yahoo's earnings may provide a clue as to how Alibaba will be valued when it goes public.

Alibaba, which has experienced revenue growth of 60 percent since last year according to Squali's estimates, should remain a positive catalyst for Yahoo's stock as Alibaba's IPO approaches. The Chinese company currently accounts for a whopping $21 per share of Yahoo's stock and will continue to drive growth in the near term, according Pivotal Research's estimates published in a recent note.
Recent news around Yahoo has been about the company's board shakeup, which Seeking Alpha has reported on late last week:
Peter Liguori, CEO of TV broadcasting/newspaper giant Tribune, won't stand for re-election at Yahoo's 2014 annual meeting. (8-K)
The disclosure comes two weeks after American Express marketing chief John Hayes said he won't stand for re-election. Dan Loeb and two allied directors left last year.
Nonetheless, the WSJ reported in January Yahoo has spent months searching for two board members "with experience running a company."
Yahoo had just recently been upgraded by Macquarie this morning, as well:
Macquarie upgraded Yahoo to Outperform citing the 17% pullback in shares since March 5. The firm recommends buying Yahoo ahead of the Alibaba IPO and has a $40 price target for the stock. Yahoo shares closed yesterday up 58c to $33.44 following an upgrade at SunTrust.
Additionally, there is going to be renewed focus on Yahoo's advertising and its mobile audience. A move into video has also been opined as one of the next logical steps for the company.
A potential trade for earnings could be a long straddle, which expires this Friday. Yahoo traditionally has made volatile moves after it reports earnings, and I'm not expecting this report to be any different. A long straddle covers both your upside and your downside movement.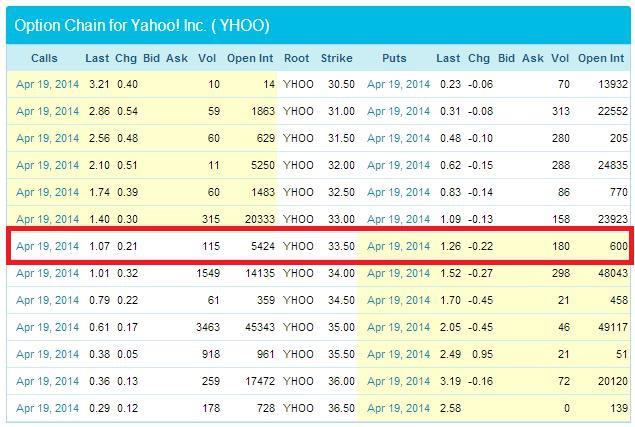 A $33.50 long straddle will cost you $2.33, making your post-earnings break-evens at $35.88 or $31.12, implied volatility of just under 10% for the stock.
While I reserve the right to place this long straddle trade today, I remain neutral on Yahoo stock for the long-run.
Best of luck to all investors.
Disclosure: I have no positions in any stocks mentioned, and no plans to initiate any positions within the next 72 hours. I wrote this article myself, and it expresses my own opinions. I am not receiving compensation for it (other than from Seeking Alpha). I have no business relationship with any company whose stock is mentioned in this article.