The SEC-enforced quiet period on underwriter research on Square 1 Financial Inc (NASDAQ:SQBK) will come to an end on April 20, 25 days after SQBK's March 26 IPO.
The conclusion of the quiet period will allow the IPO underwriters to release detailed research reports on the provider of venture capital-oriented banking services, and will likely lead to at least a temporary rise in the price of SQBK shares.
SQBK's IPO priced at $18 per share, above the expected range of $15-$17 per share, and the firm enjoyed a solid first-day return of 14%. The stock has since traded side ways but about its IPO price; SQBK closed at $19.73 per share on April 14.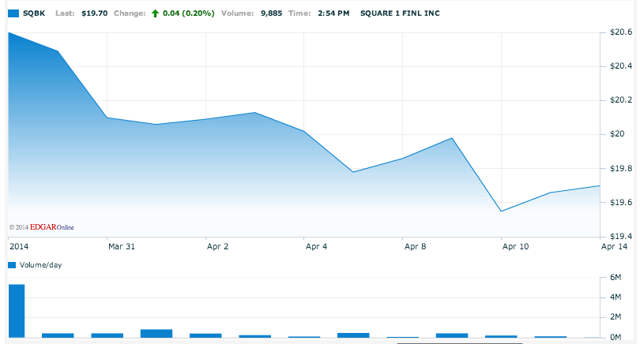 (Nasdaq.com)
SQBK's underwriters, Keefe Bruyette & Woods Inc. and Sandler O'Neill and Partners LP, will attempt to recapture the excitement that drove the firm's strong IPO with a series of positive research releases beginning on the twentieth.
Noted Trends In Quiet Period Expirations
The results of recent academic studies, along with the results of our own research over the past two years, have generated empirical evidence of a correlation between the number and reputation of IPO underwriters and a boost in the price of shares at the end of the quiet period. Prices typically start to increase several days in advance of the quiet period expiration.
Experienced investors understand that the IPO underwriters will only release positive information on a recently-underwritten firm, and buy early in the hopes of capitalizing on the upcoming releases. These initial buys create the perception of increased demand, leading to a surge in share prices before the quiet period actually expires.
SQBK's Unique and Well-Positioned Business
SQBK is a financial services company, focused specifically on the financial needs of private equity and venture capital firms, as well as the portfolio companies that those firms fund.
SQBK's services include asset-based loans, term commercial loans, fee-based banking services, including cash management and credit cards, and revolving lines of credit, among others. SQBK's short-term loan facilities are tailored to the relatively swift cycle of venture investment and company maturation. The firm's venture bankers are highly experienced in dealing with that cycle as well, allowing SQBK to effectively and accurately track the risks associated with its loans.
SQBK competes with other providers of venture banking products. Silicon Valley Bank (NASDAQ:SIVB) is the only other pure play commercial bank serving a similar market, but SQBK also competes with the likes of First Republic Bank (NYSE:FRC), Comerica (NYSE:CMA), Bridge Bank (NASDAQ:BBNK), and City National Bank (NYSE:CYN).
For more information, see our previous article on the SQBK IPO.
Management With Strong Banking Experience
President, CEO and Chairman Douglas H. Bowers has acquired nearly 30 years of banking experience through his work with Bank of America and its predecessors. His positions at Bank of America included Head of Foreign Exchange, Head of Commercial Banking, Head of Large Corporate Banking President of Europe, Middle East and Africa, and President of Bank of America's leasing business. He also briefly served as Managing Director with LoneStar/Hudson Advisors.
Quiet Period Expiration A Buying Opportunity for Investors
Though SQBK's performance on the market since its IPO has been less than spectacular, we believe that the strong IPO was more than a fluke. SQBK finds itself in an underserved market during a period of economic recovery - a period of increasing venture investment, in other words.
The firm is already making quite a bit of money, as well, reporting an income in excess of $22 million for calendar 2013 in its IPO filings.
SQBK's quiet period expiration is an opportunity for investors to get a piece of the rising firm, during a glow of positive information.
Disclosure: I am long SQBK. I wrote this article myself, and it expresses my own opinions. I am not receiving compensation for it (other than from Seeking Alpha). I have no business relationship with any company whose stock is mentioned in this article.