Wells Fargo Looks Strong
Wells Fargo (NYSE:WFC) posted its first quarter financial results and beat the expectations of many Wall Street experts.
The positive results stem from decreasing losses on loans and lower expenses. The bank realized a profit of $5.9 billion, which is an increase of 14 percent from the same quarter in 2013. This calculates to $1.05 per share, versus analyst estimates of 96 cents per share.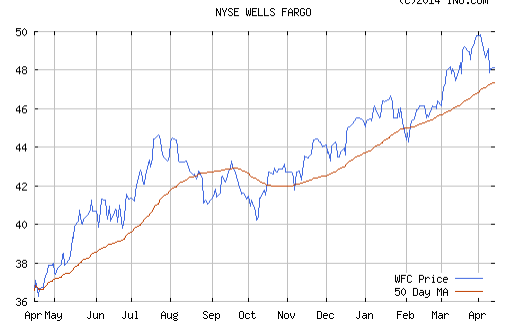 (Ino.com)
A Top Pick For Professionals
Professional investment managers and Wall Street observers have regarded the bank as the one to watch since the bank easily passed the recent stress test conducted by the Federal Reserve. In fact, this latest financial report is the 17th consecutive quarter of earnings growth. This easily beats many major banks in performance.
WFC Positive Performance Highlights Slump for JPMorgan and Bank of America
Wells Fargo's positive financial performance highlighted the poor performance of other banks, such as JPMorgan (NYSE:JPM) and Bank of America (NYSE:BAC), which had less than stellar first quarter earnings.
In addition, Wells Fargo has evaded the controversial regulatory issues that have occupied certain rival banks. Currently, Citigroup (NYSE:C) must answer inquiries regarding fraud in its Mexico division, and JPMorgan has made headlines regarding regulatory issues.
Although Wells Fargo made a significant change is senior management recently, investors barely blinked. Chief Financial Officer Timothy J. Sloan stepped down to lead the wholesale banking division.
A Leader in Mortgage Lending
Currently, Wells Fargo holds the position of the largest mortgage lender in the United States, and this establishes the bank as leading indicator of the U.S. housing market. In the first quarter of 2014, Wells Fargo underwrote more than $35 billion in mortgages. This represented a decrease of around 28 percent from the previous quarter.
However, the bank expanded its total loan portfolio to over $826 billion, an increase of $4.2 billion over the same quarter from last year. Strong growth in auto loans and commercial real estate drove the increase.
Less Exposure to Risk, Controlled Expenses
In addition, Wells Fargo has less exposure than other banks from fixed income trading operations that face tough new regulations. JPMorgan experienced a significant slump in earnings because of this. By contrast, Wells Fargo held to traditional banking efforts, including an expansion of consumer loans and deposits. As a result, Wells Fargo's consumer banking division showed a profit of $3.8 billion, an increase of around 30 percent from the prior year.
This expansion in consumer banking, which includes a variety of products such as auto loans and checking accounts, got a boost from the improving economy. Banking experts consider the growth as a strong indicator that consumer credit has begun to loosen allowing cash to flow again.
In addition, the bank has succeeded in keeping down expenses, in large part by shedding over 6,000 jobs in its mortgage division during the latter half of 2013. Other factors played a role in the success of the first quarter results, such as the release of a $500 million reserve that the bank had held against potential loan losses and a decrease of 42 percent in credit losses due to an improving economic climate.
Conclusion For Investors
Amid strong negative sentiments for megabanks recently, Wells Fargo stands apart with more concrete, less risky platforms in consumer banking. Out of the group reporting earnings, it has certainly shone-with the big disappointments of BAC and JPM highlighting WFC's core success.
That WFC is not plagued by regulatory scandals and a high rate of executive turnover (JPM's commodities chief Blythe Masters, as well as JPM top executive Michael Cavanagh) is also a strong point.
Investors should strongly consider taking some profits in JPM and BAC and moving some of their profits to WFC instead.
Disclosure: I have no positions in any stocks mentioned, and no plans to initiate any positions within the next 72 hours. I wrote this article myself, and it expresses my own opinions. I am not receiving compensation for it (other than from Seeking Alpha). I have no business relationship with any company whose stock is mentioned in this article.