We have been covering Advanced Micro Devices (NYSE:AMD), a US-based x86 and ARM chip designer, since the end of the sell-off in 2012. Two years ago, AMD was predicted to go bankrupt, but at that point in time, we did not agree. Sellers who sold AMD by following headlines such as this Bloomberg report missed a golden buy opportunity. AMD has been behind competitors, in terms of both valuation and market success, so is it still a good value? Currently, the market is generally positive due to the successful launches of Sony's (NYSE:SNE) PS4 and Microsoft's (NASDAQ:MSFT) Xbox One. As a result, now may be the time to be cautious. AMD is fairly valued, or might even be overvalued now. Let us explain.
Many AMD PC products were a disappointment last year, including Temash and Kabini, which never made it into top-selling products, but the revenue from console (PS4 and Xbox) sales covered up the dismal financial performance of these products. The techie predictions failed to materialize in the PC market. The number of AMD-powered laptops and desktops has been constantly falling. The only rising volume business has been the R9 290 Desktop Graphics cards, outside of consoles. This has been attributed to the Litecoin and BitCoin virtual currencies, since AMD's Desktop GPU solution is more than twice as fast as Nvidia's (NASDAQ:NVDA) for encryption purposes and faster for Electronic Arts' (NASDAQ:EA) blockbuster, Battlefield 4. Unfortunately for investors, this has no meaningful impact, as desktop graphics are a small part of the AMD business. The success of the Radeon R9 290 on the desktop has not been translated to notebook GPUs, which far outnumber desktop GPU sales, according to JonPeddie research.
As a sign of AMD's inability to keep even royal followers, we moved from using an AMD FX-8150 to a better-performing and lower-power Intel (NASDAQ:INTC) i7 system. With a forward P/E of 26.73, AMD looks expensive compared to peers like Intel (13.47 Forward P/E). Only in the Price to Sales, or P/S metric, does AMD look cheap. However, with margin compression, this is misleading. The only factor that makes one hold is the possibility of a large sales beat, but what do other technical factors tell us about this possibility?
Insider Selling over last 6 months
An interesting indication that the company may not trade higher in the short term, is a series of insider sell orders. This is in contrast to the series of buys 2 years ago. Insider buys in the $2 range was a great predictor of the current price being around $4.
According to Nasdaq.com, the insider sales were :
| | | | | | | | |
| --- | --- | --- | --- | --- | --- | --- | --- |
| | Officer | 11/22/2013 | Sell | Direct | 73,246 | 3.3300 | 7,664 |
| | Director | 11/21/2013 | Sell | Direct | 18,000 | 3.4000 | 18,564 |
Number of shares shorted
Short selling was another reason why we bought AMD when it was below $3. A quick analysis of the number of shares shorted shows that they have roughly stayed near the level in 2012, despite the large rise in share price. Historically, a contrarian indicator for AMD is when more than 120 million shares have been shorted (see 2012 diagram below). Right now, there are only 100 million shares shorted.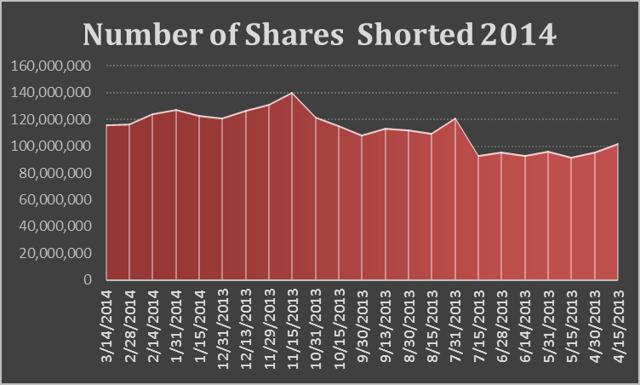 A look back at the picture of shorts illustrates the difference between 2012 and 2014: AMD was over-shorted in 2012. Therefore, the conditions for massive undervaluation of the company are no longer there.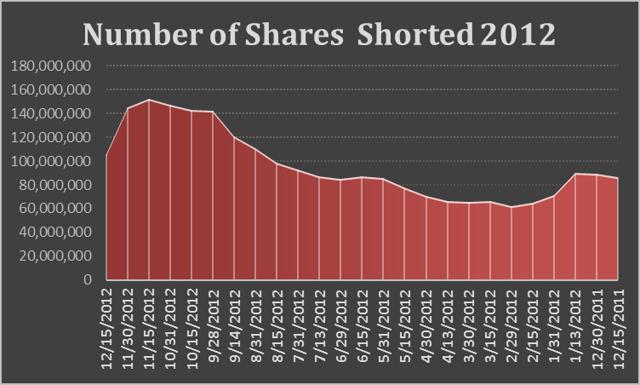 Gordon Growth Model
Our simple models have proved remarkably useful. For instance, if you look back at this article, we predicted Microsoft being on target to achieve a $32-$40 valuation. A similar simulation now, with new rates and a WACC of 7%, is showing AMD to be priced fairly. Due to high debt, we assume only a maximum of 50% FCF can be ever used to pay investors. If AMD grows FCF by around an average of 4.5% per annum, it may be fairly valued. A more realistic growth of 2-5% implies a fair value share price of $2.3-3.8. AMD is unlikely to achieve such growth, and with treasuries hovering around 3.5%, refinancing maybe more expensive than predicted.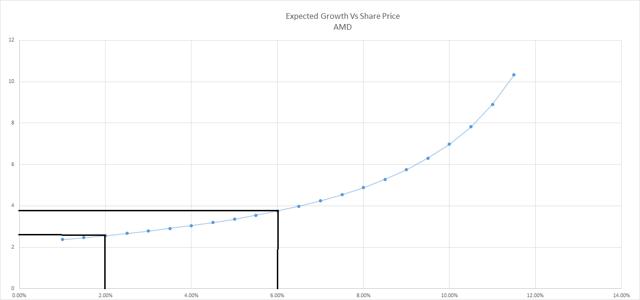 The current valuation has large downside if there is a quarterly miss. In layman's terms, for the short-term future, AMD could have as much downside as it has upside.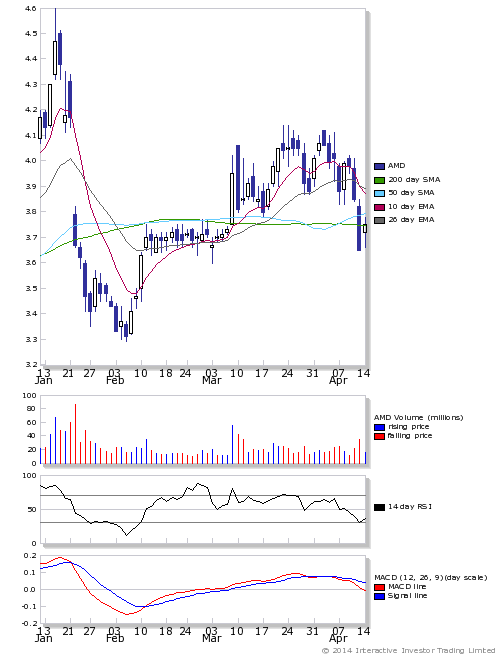 If you look at the technical picture above, AMD is also looking weak, having just broken down below the long-term moving average in the 3-month chart. RSI is just above oversold territory, so it might rebound before it continues downward.
Conclusion
At this time, we are more likely to agree with the authors who rate AMD a sell than a buy. The short-term technical picture looks bad for AMD, thus, currently it is not undervalued, despite the 26% revenue increase since last quarter. Quarterly rises are not sufficient, real growth requires sustained sales growth. Consoles cannot provide a constant rise in revenue when the PC business is slowly falling apart. Consoles and GPUs can only guarantee that AMD will survive. However, we think there is more downside before there will be upside. The upside will come in the longer term from a combination of Kaveri, more consoles and ARM servers and lower-power mobile GPUs. For the moment, we would reduce long exposure or consider shorting.
Disclosure: I have no positions in any stocks mentioned, but may initiate a long position in INTC over the next 72 hours. I wrote this article myself, and it expresses my own opinions. I am not receiving compensation for it (other than from Seeking Alpha). I have no business relationship with any company whose stock is mentioned in this article.