Saturday, April 19 will mark the conclusion of the SEC-enforced quiet period on underwriter research on Nord Anglia Education Inc. (NYSE:NORD), 25 days after the firm's March 25 IPO.
With the end of the quiet period, the IPO underwriters will be permitted to release research reports on the international premium school operator, likely causing at least a temporary increase in the price of NORD shares.
After pricing at $16 per share, the midpoint of the expected range, NORD quickly shot to $19.91 per share before beginning a slow decline over the past two weeks; NORD closed at $17.76 per share on April 14 still well above its IPO price.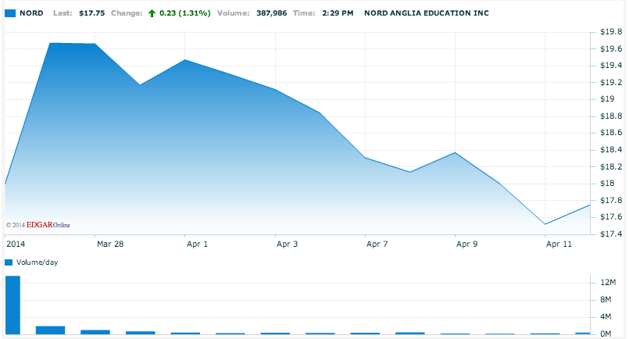 Click to enlarge
Source: Nasdaq.com
NORD's underwriters, including Goldman Sachs & Co, JP Morgan Securities LLC, Credit Suisse Securities LLC, Barclays Capital Inc., Deutsche Bank Securities Inc., HSBC Securities Inc., BMO Capital Markets Corp, RSC Capital Markets LLC, William Blair and Co LLC, are expected to release positive research reports beginning on the nineteenth which could power the stock higher.
Important Quiet Period Trends
Both our research over the course of the past two years and the results of recent academic studies have empirically evidenced a correlation between the quantity and visibility of IPO underwriters and a boost in the price of shares at the end of the quiet period.
Prices typically will begin to rise several days before the quiet period has actually expired as investors buy up shares before the underwriters release their reports. Experienced investors realize that the underwriters will exclusively release positive information on a firm they recently underwrote. These early purchases create the perception of rising demand, leading to increased share prices before the expiration of the quiet period has arrived.
Overview of NORD
NORD is an international operator of English-language premium schools, with 27 K-12 schools serving over 17,000 students as of March 9, 2014. These schools cater to wealthy ex-pat Anglophones (73% of the schools' student population was made up of ex-pats as of November 30, 2013), and, as such, are strategically located across Europe, North America, China, Southeast Asia and the Middle East in areas with large ex-pat communities, significant foreign direct investment, and rising disposable incomes.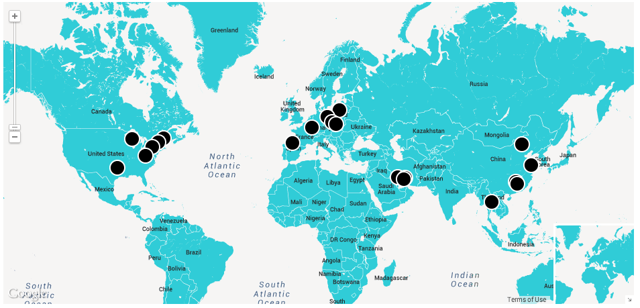 Click to enlarge
Source: Nord Anglia Website
NORD certainly puts the "premium" in premium schools. In fiscal 2013, the firm's average revenue per student was approximately $26,600. Despite the high price tag, parents are attracted to the school's record of placing its graduates in excellent programs; approximately 20% of 2013 graduates matriculated to one of the top 30 universities in the world.
NORD competes with other English-language schools worldwide. The International School Consultancy Group's most recent figures denote in excess of 7,000 international English-language schools, 42% of which teach the British curriculum offered by most NORD schools.
See our previous article, highlighting NORD's IPO, for further information.
Management With Varied Business Experience
Andrew Fitzmaurice has served as the CEO of NORD since 2003. He previously served as the CEO of easyCar.com and in various positions with TNT Express UK, including division managing director. Mr. Fitzmaurice holds a degree in economics from the University of Wales Cardiff.
Investors Should Consider NORD QP Expiration A Buying Opportunity
NORD's relatively quiet performance on the market thus far is likely to change for the better when these high profile underwriters release their detailed research reports.
We therefore view the upcoming quiet period expiration mostly as a positive opportunity for aggressive investors.
Disclosure: I am long NORD. I wrote this article myself, and it expresses my own opinions. I am not receiving compensation for it (other than from Seeking Alpha). I have no business relationship with any company whose stock is mentioned in this article.