BlackRock (NYSE:BLK) is taking some important steps to cement its place as the largest money management firm. By changing its management structure, the company is trying to establish quality leadership for the indefinite future.
Time will certainly tell if BlackRock's organization will result in corporate stability; however, if the past is any guide, the money manager's chances are better than average.
International Course, Strong Leadership
A well-respected international company, BlackRock has effectively pioneered a steady course, while avoiding the types of controversies that have dogged similar firms. One of the world's most influential financial firms, BlackRock is well-served by the experienced abilities of CEO Laurence Fink.
Facing Up To Industry Challenges
Though BlackRock does have a decent track record, the firm deals with the same challenges facing the money management sector as a whole. For the financial industry, regulatory changes are multiplying rapidly. See our previous articles on issues facing JP Morgan (NYSE:JPM) and Bank of America (NYSE:BAC). Some argue that the current political environment is less than hospitable for companies like BlackRock.
To meet these challenges, BlackRock is expanding its top ranks through a strategic reorganization. In an April 6 memo, a number of changes were outlined by CEO Laurence Fink and President Robert Kapito. As former COO Charles Hallac takes on a new role as co-president, Rob Goldstein is stepping up to fill Hallac's old position. Goldstein has already distinguished himself as the guiding force behind BlackRock's institutional client business. In all, at least 10 senior executives are taking new positions in this corporate reshuffling.
As several company co-founders have left the fold, BlackRock has taken conscientious efforts to groom a new generation of leaders. In 2012, the company welcomed eight new additions to its global executive committee, an important deliberative body. The current leadership changes further demonstrate BlackRock's commitment to preserving its corporate vision.
A Less-Than-Glamorous Genesis
In 1988, BlackRock saw a relatively meager beginning in a tiny New York City office. In the following decades, it is safe to say that Fink and Kapito embodied a textbook example of entrepreneurial verve and imagination. Despite a few missteps along the journey, the pair built the company into a recognizable global brand.
Conclusion For Investors
Though BlackRock can't measure out its future with complete certainty, the firm's experiments with change are compelling and well-planned. It is likely that BlackRock's organizational innovations will spur appreciable gains for shareholders.
In addition, BlackRock has consistently paid shareholders increasing dividends (as seen below), and its chart shows impressive growth in 2013; both positive signs for the firm in 2014.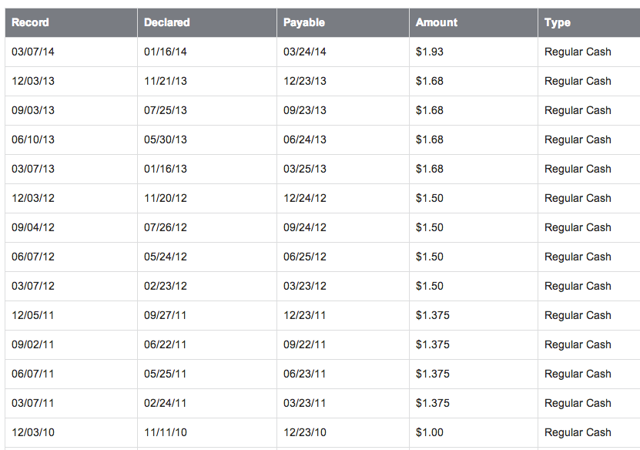 Source: BlackRock Website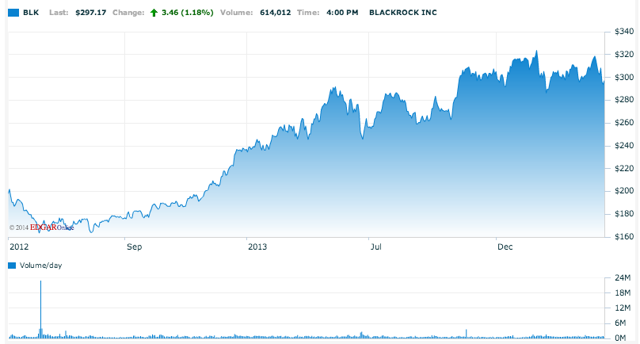 Source: Nasdaq.com
Disclosure: I have no positions in any stocks mentioned, and no plans to initiate any positions within the next 72 hours. I wrote this article myself, and it expresses my own opinions. I am not receiving compensation for it (other than from Seeking Alpha). I have no business relationship with any company whose stock is mentioned in this article.