We wanted to share some thoughts about EnteroMedics (NASDAQ:ETRM), our top pick in the biotechnology industry. EnteroMedics' shares recently fell to a near four-month low after a sharp sell-off among health care and biotech stocks. However, the company has fundamental catalysts in place that are expected to drive its stock price higher. Upcoming catalysts include an FDA review panel, potential FDA approval, and commercial launch in the U.S. ETRM also has highly positive analyst ratings, with one-year price targets that are about more than triple the current price.
Company Overview
EnteroMedics, founded in 2002 and headquartered in St. Paul, Minnesota, is a medical technology company that has developed the Maestro System, a unique minimally invasive solution for treating obesity, which utilizes the company's patented VBLOC (Vagal Blocking for Obesity Control) therapy, to intermittently block signals of the vagus nerve, utilizing high-frequency, low-energy, electrical pulses. VBLOC therapy helps patients lose weight by limiting expansion of the stomach, reducing the frequency and intensity of stomach contractions, and producing a feeling of early and prolonged fullness.
Key Catalyst: FDA Panel Advisory Meeting
On June 17, 2014, EnteroMedics will conduct its much anticipated FDA panel meeting to review the company's premarket approval application for the Maestro System as a treatment for obesity. The company's focus will center on preparing for the June panel review through mock panels, practice Q&A sessions, and other preparations. In terms of probability for a successful panel review, it appears that the FDA has progressed towards a more risk-benefit approach when reviewing obesity therapies since the ReCharge trial's endpoints were established. Additionally, EnteroMedics offers a less invasive and safer yet effective treatment for the large and under-treated obese population, which should leave the company well-positioned for potential U.S. regulatory success. Assuming an affirmative recommendation from the panel, the Maestro System could receive FDA approval and begin generating revenue later this year. A double on the company's June stock price, should Maestro receive an affirmative recommendation, is fair and reasonable.
The Maestro System: Overview
The Maestro System represents a novel approach to tackling the burgeoning obesity epidemic by trying to address the root cause, hunger. Without physically altering the digestive anatomy, the Maestro System delivers neuroblocking stimulation, referred to as VBLOC therapy, to the vagus nerve (connects stomach to brain). The therapy is designed to reduce the feelings of hunger as well as produce early and prolonged feelings of fullness, both of which lead to reduced caloric intake and absorption.
The Maestro System utilizes an internal pulse generator and two small electrodes to deliver intermittent high-frequency, low-energy, electrical pulses to the vagus nerve. The electrical pulses are designed to block communication between the vagus nerve and the brain, which in turn limits the expansion of the stomach and reduces both the frequency/intensity of stomach contractions. These two functions, respectively, contribute to more controllable hunger sensations between meals and produces earlier and more prolonged feelings of fullness. Therapy on the vagus nerve also has an impact on pancreatic function, slowing the release of digestive juices, which in turn slows digestion and emptying of food from the stomach to the small intestine.
The technology is protected by 26 patents in the U.S., four in Europe and four in Australia. The company also has 16 U.S. patent applications pending including four cases with a notice of allowance and 32 national stage patent applications, including applications in Australia, China, India, Europe and Japan.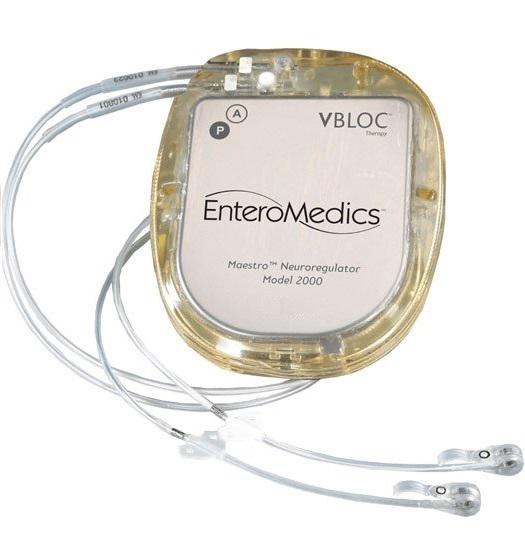 On December 4, 2013, the company saw its shares rise by nearly 64% on the back of strong 18-month follow-up data from its VBLOC therapy. The data showed stability in the treatment group and a widened gap vs. the control group out to 18 months. This is encouraging as the data showed durability out to 18 months as well as very good safety data as serious adverse events of only 4.3% were well below the 12-month FDA endpoint for <15%. However, as a reminder, the predefined efficacy thresholds were not met. Patients treated with VBLOC achieved statistically superior 25% Excess Weight Loss (NYSEARCA:EWL) compared to 12% EWL for a control group of patients who received sham treatment with the device turned off. In other words, the 18-month data showed a significant 13% EWL difference margin between VBLOC and sham control arm. For comparison, the currently available set of surgical options for weight loss include gastric bypass, sleeve gastrectomy, and gastric banding, which have achieved one-year EWL of roughly 60%, 55% and 45%, respectively, but with higher adverse event and mortality rates compared to VBLOC. Recently approved obesity drugs Belviq and Qsymia achieved average drop in total body weight loss (NYSE:TBL) of 3-4% and 6-9%, respectively, while VBLOC achieved TBL of 10%.
Moreover, according to an editorial published in the February 10th edition of The Journal of The American Medical Association's (JAMA) Internal Medicine ("The New Weight-Loss Drugs, Lorcaserin and Phentermine-Topiramate Slim Pickings?"), the two weight-loss drugs, Belviq and Qsymia, carry significant risks which outweigh the benefits. The authors argue, "In our view, approving the drugs for marketing without more definitive evidence (of heart safety) is an unnecessary gamble". The authors go on to say, "Until there is more convincing evidence about the cardiovascular safety of these drugs, physicians and patients should approach them cautiously". That said, this offers additional credence to the company's solicitation for approval as its its VBLOC therapy has exhibited a superior safety profile in both of its clinical trials.
In addition, the significant difference between VBLOC and all the currently approved bariatric procedures is that there is no manipulation of the patient's natural anatomy. The pulse generator and the leads are all placed laparoscopically, and the system is fully reversible. Furthermore, because the system functions by triggering an earlier sense of fullness, there are no dramatic adjustments to a patient's lifestyle or eating habits. Because of VBLOC, the patient can naturally achieve a sense of satiety without any dietary restrictions or concerns of dumping syndrome.
Looking forward, given the lack of options available for the obese patient population, risks associated with current options, and long-term risks/costs of obesity in general due to co-morbidities, and given that VBLOC therapy is a safer, cheaper alternative to surgery, there is a very good chance for the company to gain FDA approval this year.
The Market Opportunity Could Be Huge
Obesity is widely recognized as one of the top public health issues in the world. In fact, the American Medical Association recognizedobesity as a full-fledged disease in June 2013, creating more urgency around its treatment and a more favorable reimbursement climate. Every year, nearly 1 in 5 U.S. deaths can be directly attributed to an obesity related illness. Moreover, fully 34.9% of the U.S. population is defined as obese, with an increased risk for diabetes, cardiovascular disease, and osteoarthritis. Yet, only 150,000-160,000 patients in the U.S. undergo gastric bypass each year according to The American Society for Bariatric and Metabolic Surgery, a fraction of the 15.1 million morbidly-obese candidates for surgery. Additionally, according to BCC Research, the global bariatric devices market was valued at nearly $1.2 billion in 2013 and is expected to reach nearly $1.9 billion by 2018, and register a five-year compound annual growth rate of 9.6% from 2013 to 2018.
That said, given the huge potential market and the opportunity to achieve a high growth rate for the business, EnteroMedics could be attractive asset for a larger company in search of new revenue drivers.
Commercialization Strategy
If approval is granted, the company expects to commercialize the Maestro device in the U.S utilizing a direct sales force supported by field technical and marketing managers as a source for training. Moreover, following FDA approval, the company plans to move Maestro into full commercialization and expand the indications for use. International commercialization efforts are already underway, as the company has engaged distributors in Australia and the Middle East. In Australia, the company hopes to attain physician reimbursement for the procedure and for the device itself within the next 12 months. In addition, progress has been made in another major obesity market, the Gulf Coast countries of the Middle East, with the company obtaining an exclusive multi-year distribution agreement with Bader Sultan & Brothers.
Financial Outlook
The company ended the fourth quarter 2013 with $23.3 million in cash, up from $21.3 million at the end of the prior quarter, and $6.9 million in debt. Net loss for the quarter was $6.6 million, with a per share loss of $0.11. The company raised $11 million through its ATM facility during Q4, and has raised a total of $13.5 million under its $20 million ATM equity facility as of February 11, 2014. That said, the current cash should sustain operations through the FDA panel in June and possible approval later this year.
Potential Risks:
If the company were unable to either secure reimbursement or secure at a lower than anticipated level for its Maestro System, the pace and magnitude of adoption for this new technology could be slower than anticipated, impairing future sales growth.
Although the Maestro is the only product of its kind on the market, it may encounter future competition from companies with greater financial resources and larger organizations for marketing, sales, distribution, and service. Some of the company's competitors offer broader product lines and may offer price discounts as a competitive tactic.
The company may need to seek additional capital in order to continue to fund its operations in the future. Such financing could be dilutive to stockholders or impose debt covenants and obligations.
Analyst Targets
Of the five analysts who cover the stock, the lowest price target stands at $3, which implies a potential upside of 100%, and the highest price target stands at $7, represents a potential upside of approximately 365% from the current closing price of $1.50 per share.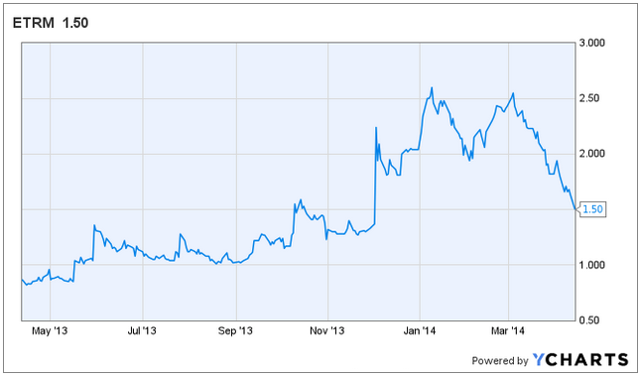 Bottom Line
EnteroMedics has developed a revolutionary, first of its kind device to treat obesity. There is a high probability that the Maestro System will gain FDA approval later this year, based on (1) superior safety profile, (2) statistically significant and clinically meaningful efficacy, and (3) FDA's shift towards a more risk-benefit approach in its review of obesity therapies. Given the current valuation of ETRM shares, the risk/reward profile of the company is favorable and a significant upside for investors is expected.
Disclosure: I am long ETRM. I wrote this article myself, and it expresses my own opinions. I am not receiving compensation for it (other than from Seeking Alpha). I have no business relationship with any company whose stock is mentioned in this article.
Additional disclosure: Biomed Group is a group of investment professionals and writers. This article was written by Amit Cohen. This information is not to be construed as an offer to buy or sell any security mentioned on this article.
Editor's Note: This article covers one or more stocks trading at less than $1 per share and/or with less than a $100 million market cap. Please be aware of the risks associated with these stocks.