Costco Wholesale (NASDAQ:COST) saw some attractive revenue growth for the second quarter of its 2014 fiscal year. But its earnings fell far short of what analysts expected, perhaps signaling that times could get more challenging for the retailer. In spite of these troubles, should the conservative investor take this moment to buy Costco shares at a discount, or is the unfavorable downturn in business a sign that the company might be too risky?
Costco's Q2 earnings decline
For the quarter, Costco reported revenue of $26.3 billion. This represents a 6% jump compared to the $24.9 billion the company reported in the year-ago quarter, but falls shy of the $26.7 billion analysts anticipated. In its earnings release, management attributed the company's lackluster revenue growth to regional comparable-store sales results: the company experienced flat performance in its international segment, combined with a 4% rise in the U.S.
However, if it weren't for gas-price deflation and foreign exchange rate fluctuations, the company's comparable-store sales would have expanded 7% abroad.
Looking at profits, Costco performed even worse during the quarter. Instead of the $1.17 per share that analysts hoped to see, the company's profitability only came in at $1.05 per share. When you consider that the business reported earnings of $1.24 per share in the year-ago quarter, the picture looks even worse.
Richard Galanti, Costco's CEO, explained that: "our last year's earnings figure was positively impacted by a $52 million or $0.14 per share income tax benefit that was in connection with the portion of the special cash dividend we paid in December of '12 to company 401(k) plan participants."
So the real earnings EPS figure can be ascertained as falling from $1.10 to 1.05. According to Galanti, the business was negatively affected by "weaker sales and gross margin results in certain non-foods merchandise categories, particularly during the four-week holiday selling season; weaker gross margins in our fresh foods business; and lower reported international profits, resulting from the significant weakening of foreign exchange rates."
How does Costco's five-year track record compare to its peers?
Over the past few years, Costco has been on a real tear. Between 2009 and 2013, for instance, the company reported sales grew 47% from $71.4 billion to $105.2 billion. This growth has been due to both a rise in store count, as well as an increase in comparable-store sales over time.
During the same time frame, Costco's profits were more impressive. Over the past five years, the business saw its net income rise 88%, from $1.1 billion to $2 billion. This jump in net income can be chalked up to an increase in revenue over time, as well as increased economies of scale; the business saw its aggregate cost of goods sold and selling, general, and administrative expenses fall from 97.5% of sales to 97.1%.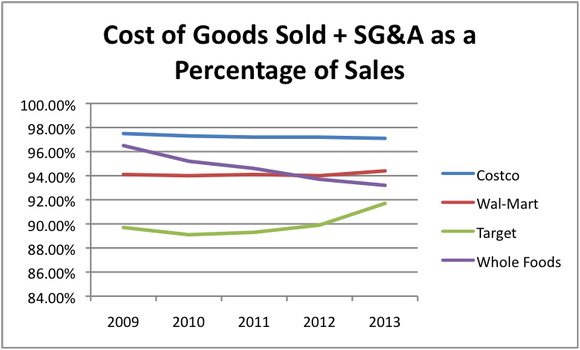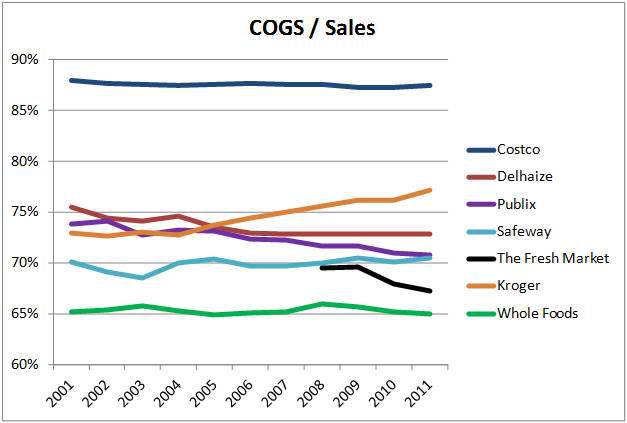 Source: Company filings
In comparison, neither Wal-Mart Stores (NYSE:WMT) nor Target (NYSE:TGT) have done as well. Over the past five years, Wal-Mart's revenue rose only 17% from $408.1 billion to $476.3 billion. Meanwhile, net income increased only 11.5% from $14.4 billion to $16 billion. Target hasn't been so lucky. Over this same period, the company's revenue rose 11% from $65.4 billion to $72.6 billion, while net income fell 21% from $2.5 billion to $2 billion.
The primary reason for the lackluster rise in profitability for both Wal-Mart and Target has been each company's cost of goods sold and selling, general, and administrative expenses in relation to sales. In aggregate, these expenses rose from 94.1% of sales to 94.4% for Wal-Mart and from 89.7% of sales to 91.7% for Target.
Probably the only significant retailer to outperform Costco in both revenue growth and net income growth was Whole Foods Market (NASDAQ:WFM). Over the past five years, the company saw its revenue rise 61% from $8 billion to $12.9 billion, while net income soared 275% from $146.8 million to $551 million. In aggregate, the company's cost of goods sold and selling, general, and administrative expenses decreased from 96.5% of sales to 93.2%.
As far as regular supermarkets are concerned (second graphic), it is amazing how low the prices are kept at Costco:
"They sell fuel at a loss and probably sell food at cost," Morningstar analyst Michael Keara says in an interview with MSN. One of the chain's many fans, he estimates that Costco's markup is half of its big-box competitors.
Nonmember surcharges: Thinking about shopping at a warehouse club without footing the bill for a membership? Costco is the least expensive, with a 5% surcharge for nonmembers. BJ's is the highest at 15%, while Sam's Club's surcharge is 10%.
Going forward, Costco's clear lead on prices is its main strategic advantage.
Millennials are Costco's greatest challenge
UBS analyst Jason DeRise trimmed his price target on Costco Wholesale from $123 to $120, and maintained a Neutral rating given the company's challenges with Millennials (described as those with birth years ranging from the early 1980s to the early 2000s).
Said DeRise, Costco continues to be a great retailer, but investors are increasingly seeing it has a blind spot: Millennials. On the Q2 conference call, this was discussed by management as an opportunity. In addition to its mobile app and relaunched website last year, areas of focus include (1) adding organic fresh meats and produce, (2) increased involvement with social media and (3) testing Google Express' delivery in the Bay Area.

The analyst contends Costco must attract the "frugal, affluent Millennial" to its stores long-term and highlights: (1) Low home ownership is a key barrier for Millennials shopping Costco. Home-owner Millennials are 17% more likely to shop at Costco than other Millennials. (2) But, current Millennials who shop Costco are not loyal: These Millennials are also more likely to shop at ~2x the number of retailers compared to Costco's Boomers. This smaller group of wealthy Millennials are free-spenders, who happen to shop at Costco. (3) Wealthy Millennials who do not shop Costco are 4x larger than those who do shop at Costco. These are "frugal, affluent Millennials" who are finding value from a limited number of retailers, such as Target, dollar stores and Amazon (NASDAQ:AMZN) (but will still splurge at the Apple (NASDAQ:AAPL) store regularly)."
Costco IS the strongest Large US retailer
If we look at retailing around the world, it is clear that this lucrative cash generating business is monopolized by a few large players. Due to their low debt burden and excellent track record, i believe that in the US, Wal-Mart and Costco, along with Safeway (NYSE:SWY) will certainly emerge at the top of the game. It is my firm belief that due to the changing lifestyles of younger people who gravitate to larger urban centers (Costco has consistently been expanding into affluent urban areas), smaller stores have a bright future in the US. Costco is excellently positioned in the future to tackle the gradual demise of big-box stores and continue expanding as a leader in the grocery business. At the end, I would like to express my astonishment that a US President has mentioned Costco explicitly in his last State of the Union speech.
If you need to be long on one US retailer, let it be Costco.
Disclosure: I have no positions in any stocks mentioned, and no plans to initiate any positions within the next 72 hours. I wrote this article myself, and it expresses my own opinions. I am not receiving compensation for it (other than from Seeking Alpha). I have no business relationship with any company whose stock is mentioned in this article.