The last time I wrote about Kraft Foods Group, Inc. (KRFT), I stated, "Due to the slightly bullish technicals, high dividend yield, and high return on equity I'm going to be pulling the trigger on a very small batch of this particular name right now." After writing the article, it proceeded to move higher to the tune of 7.48%, versus the 1.87% gain the S&P 500 (NYSEARCA:SPY) posted, and recently, it was time for my quarterly portfolio change-out, and I decided to sell Kraft out of the portfolio and replace it with General Motors Company (NYSE:GM), because I believe GM has a lot more growth to it than Kraft.
General Motors designs, builds and sells cars, trucks and automobile parts globally. On February 6, 2014, the company reported fourth-quarter earnings of $0.67 per share, which missed the consensus of analysts' estimates by $0.20. In the past year, the company's stock is up 13.01% excluding dividends (up 13.89% including dividends), and is losing to the S&P 500, which has gained 18.16% in the same time frame. With all this in mind, I'd like to take a moment to evaluate the stock on a fundamental, financial and technical basis when compared to Kraft to show why I've made the switch for the consumer goods sector of my dividend portfolio.
Fundamentals
The company currently trades at a trailing 12-month P/E ratio of 13.68, which is inexpensively priced, but I mainly like to purchase a stock based on where the company is going in the future, as opposed to what it has done in the past. On that note, the 1-year forward-looking P/E ratio of 6.7 is currently inexpensively priced for the future in terms of the right here, right now. Next year's estimated earnings are $4.86 per share, and I'd consider the stock inexpensive until about $73. The 1-year PEG ratio (0.38), which measures the ratio of the price you're currently paying for the trailing 12-month earnings on the stock while dividing it by the earnings growth of the company for a specified amount of time (I like looking at a 1-year horizon), tells me that the company is inexpensively priced, based on a 1-year EPS growth rate of 35.88%. The company has great near-term future earnings growth potential, with a projected EPS growth rate of 35.88%. In addition, the company has great long-term future earnings growth potential, with a projected EPS growth rate of 18.7%. Below is a table of the fundamental metrics I look for in a company, and shows how GM fares against Kraft. All data is as of 24th Feb, 14.
| | | | | | | | |
| --- | --- | --- | --- | --- | --- | --- | --- |
| Ticker | Price ($) | TTM P/E | Fwd P/E | EPS Next YR ($) | Target Price ($) | PEG | EPS next YR (%) |
| GM | 32.55 | 13.68 | 6.70 | 4.86 | 72 | 0.38 | 35.88 |
| KRFT | 56.21 | 12.44 | 16.37 | 3.43 | 51 | 1.49 | 8.33 |
Financials
On a financial basis, the things I look for are the dividend payouts, return on assets, equity and investment. The company pays a dividend of 3.69%, with a payout ratio of 50% of trailing 12-month earnings, while sporting return on assets, equity and investment values of 4.7%, 24.6% and 3.7%, respectively, which are all respectable values. Because I believe the market may get a bit choppy here and would like a safety play, I believe the 3.69% yield of this company is good enough for me to take shelter in for the time being. Below is a table of the financial metrics I look for in a company, and shows how GM fares against Kraft. All data is as of 24th Feb, 14.
| | | | | | |
| --- | --- | --- | --- | --- | --- |
| Ticker | Yield (%) | Payout TTM (%) | ROA (%) | ROE (%) | ROI (%) |
| GM | 3.69 | 50 | 4.7 | 24.6 | 3.7 |
| KRFT | 3.74 | 46 | 11.7 | 59.8 | 21.2 |
Technicals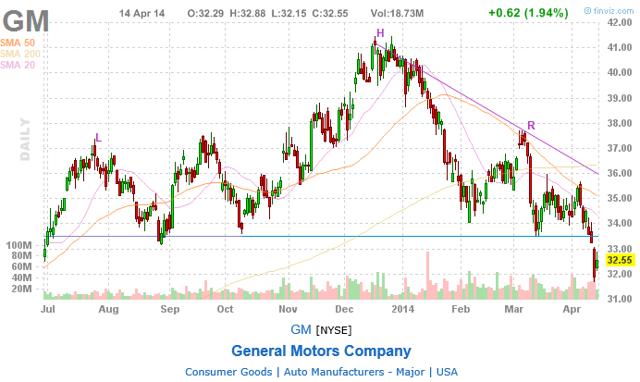 Click to enlarge
Here is a chart of GM indicating a head and shoulders pattern, a bearish pattern. I am by no means a chartist, but a head and shoulders, as described by Investopedia, has the following characteristics: 1) "price rises to a peak and subsequently declines. 2) Then the price rises above the former peak and again declines. 3) Finally, the price rises again, but not to the second peak, and declines again." The first and third troughs are considered shoulders, and the second peak forms the head.
From my experience of head and shoulders patterns, you figure out where the neckline is and measure half the distance to the top of the head to figure out how much further the stock is going to drop. The stock must break the neckline with "umph", though, meaning on large volume. It looks as if GM has done that, broken the neckline with strong volume. So taking $33.50 as the neckline (shown on the chart) and $41 as the top of the head, half that distance is $37.25. Taking the difference between $33.50 and $37.25, we get $3.75. So now, I would subtract $3.75 from $33.50 to get a target of $29.75 for the immediate future. If you're a chartist reading this, please chime in on the philosophy I'm using, as this is just from my experiences.
Recent News
The company has announced that some top executives shall be leaving shortly. The heads of communications and human resources will be pursuing other interests.
Opel, the European car maker which falls under the GM umbrella, expects that it will be profitable before 2016. Opel CEO Karl-Thomas Neumann says increasing demand in Europe, in addition to the company's careful investments in production are helping the turnaround for the company.
Delphi Automotive (NYSE:DLPH) was pinched real hard by GM to get inexpensive ignition switches manufactured, according to The Detroit News. It was believed that Delphi made pricing concessions that may have affected quality. As an engineer, I'm disgusted to hear this. I never discount safety or quality for cost. Yes, I know economics and making/saving money for the company is important, but I just have ethical values. I just completed a bidding process with a group of vendors and ended up selecting the most expensive vendor, because the quality of their design (and a couple other aspects of the project) was much more superior to their competitors.
Conclusion
Yes, the company has been in the news a lot lately, with more recalls than I care to remember, but I believe the company will hit rock-bottom soon, if it hasn't already. These are two different types of consumer goods companies; fundamentally, I believe GM to be inexpensively valued, based on 2015 earnings and earnings growth potential, and that Kraft is fairly valued on both metrics. The main reason why I'm picking up GM is the great earnings growth expectations on a near and long-term basis. Financially, I'm giving up a little bit of dividend, but I believe it is okay, because I like the capital appreciation opportunity much better with GM. On a technical basis, GM is exhibiting a bearish head and shoulders. I have initiated my position in GM a month ago, before all the recall issues, and am down 10.68% on my position. I will provide reports on how each is doing against each other as the future progresses.
Disclaimer: This article is meant to serve as a journal for myself as to the rationale of why I bought/sold this stock when I look back on it in the future. These are only my personal opinions, and you should do your own homework. Only you are responsible for what you trade, and happy investing!
Disclosure: I am long GM, SPY. I wrote this article myself, and it expresses my own opinions. I am not receiving compensation for it (other than from Seeking Alpha). I have no business relationship with any company whose stock is mentioned in this article.