MusclePharm Corp. (OTCQB: OTCQB:MSLP) is a nutritional supplement company that develops, manufactures, markets, and distributes a range of powders, capsules, tablets, and gels for the fitness sector. Since going public, the company has had consistently improving sales, yet has been unable to turn that into value for investors. The company has had some issues that analysts have been critical of, such as consistent dilution and excessive executive compensation, but the ability of the company to capture market share, continue to scale the company, and prepare for up listing to the NASDAQ will propel the company higher.
Criticism- Dilution
The past year has not been a happy time for investors as sales continued to climb, but share price declined: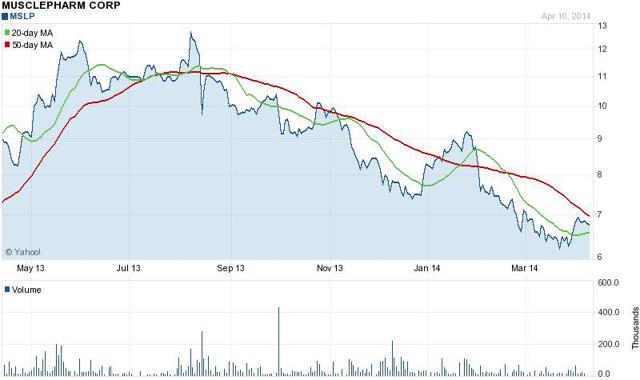 Click to enlarge
(Source: Yahoo Finance)
The company currently has 10,349,912 shares outstanding, which at a price of $6.79 equates to a market cap of $70 million. However, over the past year, the company has issued close to 4 million shares in order to fund operations.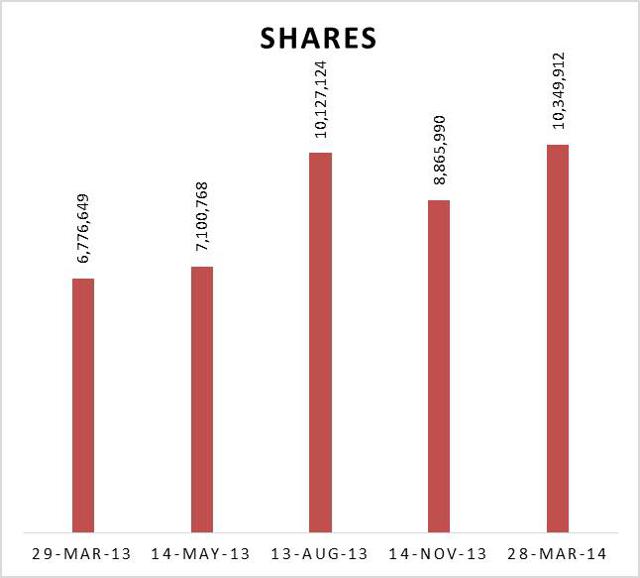 Click to enlarge
(Source: data taken from company 10-Q's)
For shareholders, that represents an increase of almost 50%, while at the same time, the share price has fallen from around $11 to just under $7, around a 60% decrease. While the shares have increased, and the price has fallen, the market has continued to price this company at the $70 million mark. The company has used the dilution to fund operations, increase inventory, and acquire BioZone, all of which are helping to keep the company growing, but reduce shareholder value.
Criticism - Executive Compensation
Previous authors have really dug into the company for the level of executive compensation.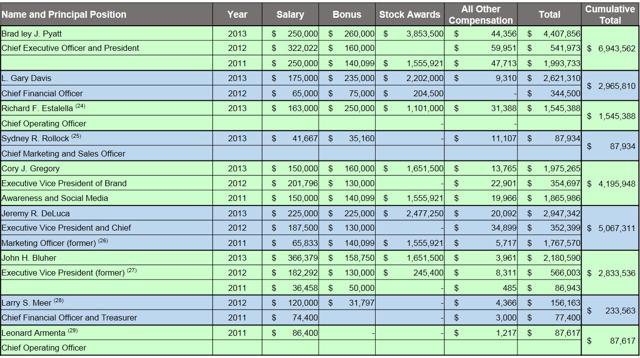 Click to enlarge
(Source: data compiled from FY13 10-K)
While the base salaries all seem inline with what should be expected from an executive management team, the stock awards seem outrageous. In addition to that, it's the "All Other Compensation" that is ridiculous when the onion is peeled back:
Pyatt 2013: 401k matching contributions of $14,566 and club membership of $8,119. The remaining balance consists of miscellaneous executive perquisites including cell phone charges, auto allowance, apparel, travel and promotional expenses.
Pyatt 2012: 401k matching contributions of $10,667 and club memberships of $12,987. The remaining balance consists of miscellaneous executive perquisites including auto allowance, apparel, travel and other promotional expenses.
Pyatt 2011: Automobile allowances of $16,761 and club memberships of $3,519. The remaining balance includes miscellaneous executive perquisites including medical expenses, apparel, travel and other promotional expenses.
DeLuca 2013: $7,361 in club memberships and $5,079 in 401k matching contributions. The remaining balance consists of miscellaneous executive perquisites including allowances for apparel, automobile travel and promotional expenses.
DeLuca 2012: $6,141 in club memberships and 401k matching contributions of $5,750. The remaining balance consists of miscellaneous executive perquisites including allowances for automobile, entertainment, phone, travel and other promotional expenses.
DeLuca 2011: Miscellaneous executive perquisites including travel and other promotional expenses.
The allowances for club memberships, as well as stock awards are excessive, and in some cases higher than executive compensation at much larger companies. It's this level of compensation that triggered the SEC investigation into the company. During the recent FY13 conference call, Brad Pyatt addressed this issue
Yeah. I mean we've -- collective work with SEC for almost a year. It has taken longer than we all anticipated, however, we've been very thorough in the way we've been given them the documentation they needed and we feel pretty confident that the biggest things are looking at us past perks that maybe weren't disclosed properly, but we're talking to number that's less than $200,000 for three years, but if you look at the 10-K, we now have put all the perks in from the last three years and that was the biggest table that the SEC was concerned about and wanted to see that we disclose which we just did now.
I attribute these issues to a young and greedy CEO, who had starts in his eyes and milked it for all it was worth. I believe he's now been put in check, understands his fiduciary and shareholder responsibilities, and will forego these types of "perks" in the future, or at least disclose them. Time will tell. Although in the conference call he stated they will now make sure they disclose them in the future, not that they wouldn't continue them.
Positive - Market Share
During the conference call, Mr. Pyatt outlined how the company is growing and the different markets it is moving into.
First is the different demographics. The company now has a line devoted to women (FitMiss), one dedicated to serious bodybuilders (Arnold Series), and one for athletes (MP).

Click to enlarge
In addition to the supplement and nutrition sector, Mr Pyatt hinted in the FY13 conference call the desire to move into the energy drink sector:
We're been heavily in development for the last six months working on a line called DROPZ and we're probably in the Q4 to Q1 timeframe of launching that. There's a big trade show in October that's more tailored to the 7/11 and C stores that will be going to and so what you can look for about Q4 launch time of that and we're going to launch first will be an energy-based product that will combine the pure energy relationship that we have with ChromaDex which we believe is a safer caffeine substance and that allows us attack that market with a new delivery system combined with Qzone.

And if you look at -- we're really excited about the energy market because it's a such a big market, controlled by obviously three or four dominant players and based off our research if you kind of look through the history of energy drinks, the kind of one from pop, joules, Mountain Dews, then it went to Red Bull, then it went to a bigger can of Monster, then it went back down to a five-hour energy shot.

So, delivery is always the -- an innovation is always the driver for new products in that distribution channel and if you look new energy, I believe last year, their first year off the gate, they did almost $70 million in sales. Granted they have a huge partner of distributing their brand, but we feel that our DROPZ energy product has a substantial upside in the C store channel in 2015.
While the company needs to be cautious about diversifying too quickly, the research into the market and products, and then moving in when they are ready, will help with additional revenue and stability.
Positive - Scale the Company
The company is working to scale the company into a global distribution system. The company recently added a distribution center in Tennessee. The company is looking at establishing distribution centers in Brazil, western Canada, and the UK.
Internationally, the company has launched in Canada, Australia, Taiwan, Brazil, and the UK. The foreign distribution centers will become increasingly important as the global sales begin to grow and take a larger part of their shares. When asked about the percentage of US vs International sales, Mr Estalella responded:
I think as you look at where we're coming in to end 2013, you'll see that international now represents about 31% of our mix, and domestic representing the other 69%, so that's where we're coming in today, but know that we're continuing to see momentum. And as stated, you will see that our goal is to get international upward to 40% of the total business. And let's just say that we're on track relative to that objective.
In addition to the scaling of operations, the company has also scaled the endorsements and spokespersons it has been able to sign. The website sports the likes of Arnold Schwarzenegger, Eric Decker, Colin Kaepernick, Chady Dunmore.
Positive - Increasing Revenues
The past year represented another of explosive growth for the company. Sales grew by $43.8 million, a 65% year-over-year growth, to $110 million. At the same time, gross profit has continued to increase, reaching $33 million for the year.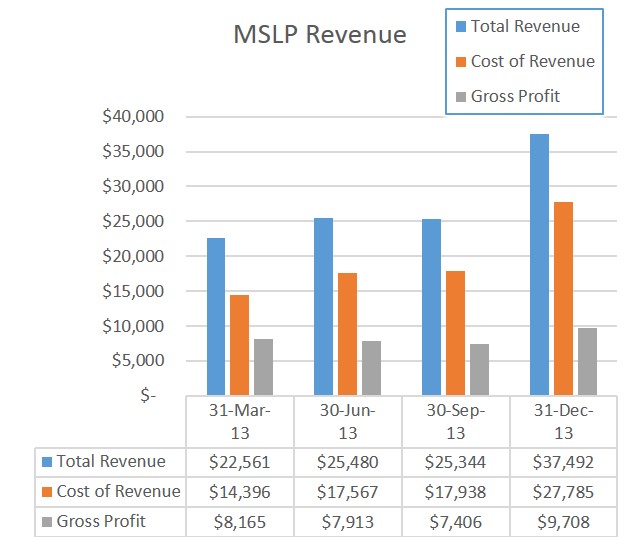 In spite of the increasing revenue and gross profit, the company is still operating at a loss. Year-over-year losses have continued to narrow, and the company expects to post a profit for the first time in 2014. From the recent conference call:
From an operating loss standpoint, we saw the losses in Q4 of 2013 at just under $6 million or 15.9% of net sales, versus $2.5 million in Q4 of 2012 or 15.4% of net sales. For the year that number was $14.3 million or 12.9% of gross sales versus $8.7 million in fiscal 2012 and 13% of gross sales.

Again, the loss from operations in 2013 included $10.5 million of one-time charges. In the fiscal year, we feel very confident that we will generate an operating profit in 2014.

Last but not least in this area, earnings per share, we saw earnings per share at a negative $0.45 or I should say a loss per share of $0.45 for the quarter versus $1.12 for Q4 in the same period last year and for the year at $2.46 loss versus $13 loss for the same -- for the fiscal year 2012.
So with $110 million in sales, and $33 million in gross profit, and a market cap of $70 million, the market has placed a valuation of about 2X gross profit and .6X sales. By comparison, Monster Beverage (NASDAQ:MNST) is trading at 9X profit and 4.76X sales. GNC Holdings (NYSE:GNC) is trading at 4X profit and 2.6X sales.
Catalyst - Up listing
Based on comparable earnings and sales multiples, I believe that up listing will propel the company higher. During the recent conference all, Mr Pyatt alluded to this:
NASDAQ listing we believe will happen this year. It's not a question of this; it's a question of when. And we feel confident this will happen this year.
It may be optimistic, but the company appears to be on track to make it there. Once it is listed, this will be a major catalyst for shareholder appreciation. This will open up the company to larger holdings and funds. This will likely very conservatively move the valuation of the company up from a 2X profit and .6X sales, to something closer to 3X profit and 2X sales:

Click to enlarge
This is all based on the current number of outstanding shares. Obviously any further dilution would lower the shareholder valuation.
Conclusion
MSLP has faced some challenges from a young management team that has made some mistakes over the past few years. In spite of these mistakes, the company produces a superior product that the market loves, propelling sales higher. I believe that now they have solved some of these mistakes, and developed a vision for moving into the global marketplace. If the company can turn a positive profit for shareholders in FY14 and get the company listed on the NASDAQ, shares will move higher.
Disclosure: I have no positions in any stocks mentioned, but may initiate a long position in MSLP over the next 72 hours. I wrote this article myself, and it expresses my own opinions. I am not receiving compensation for it (other than from Seeking Alpha). I have no business relationship with any company whose stock is mentioned in this article.