It goes without saying that the housing segment in America is a main economic pillar, and most everyone has declared the problem solved, clearly adding that the worst is over and the recovery has legs. Prices are up, foreclosures are down, and Ozzie and Harriett have returned to suburbia ready for spring planting.
I wrote "Distorted Housing Market Gives False Hope" almost nine months ago, indicating that private equity's involvement in the real estate market created a mirage. Maybe as pure coincidence because I am not that visible, Jonathan Gray, Blackstone's (NYSE:BX) global head of real estate, was a guest on CNBC ten days later stating that Blackstone was not done buying houses yet, and that interest rates weren't a problem.
"Out there on the ground, yes, rates are moving up - but that's because of better economic performance," he said. "But in our sector in particular, the lack of new supply is making it stronger than the economy at large."
I agree that rates aren't, and have not been, the main problem, and macro structural economic issues are to blame. Last month it was reported that "Blackstone's Home Buying Binge Ends as Prices Surge," which will affect housing demand, foreclosure or not, and chances are that Blackstone will figure out a way to spinoff its REO to Rental investments, if they haven't done it already. Adding visibility to the industry and as Q1-2013 earnings start to roll, JPMorgan (NYSE:JPM) informed us that "mortgage lending revenue fell 84 percent from the same quarter last year." Citigroup (NYSE:C) reported that "mortgage originations tumbled sharply to $5.2 billion from $18 billion a year earlier and $8.3 billion in the fourth quarter," and Wells Fargo (NYSE:WFC), the largest mortgage lender in America, was singing the same tune.
Income from mortgage banking fell by 46 percent to $1.5 billion from the same quarter last year. Wells Fargo's new home loans fell by two-thirds to $36 billion in the quarter from $109 billion a year earlier, the lowest since the third quarter of 2008, when the housing market was under heavy stress.
It doesn't take a genius to realize that the underlying economic weakness and structural deficiencies are not conducive to a full-throttle recovery, and that what ails us is a long way from an acceptable resolution. Although I hear how the consumer is finding its footing and is getting ready to propel us forward, the ongoing discrepancies cannot be ignored, as auto loans indicate.
U.S. buyers are taking out bigger car loans with longer pay-back periods as lenders offer lower interest rates and accept borrowers with weaker credit ratings, a report released on Wednesday showed. The average loan on a new car climbed to $26,719 in the third quarter, up by $756 from a year earlier, and the most in at least five years, according to data collected by Experian Plc. Despite borrowing so much more, average monthly payments on new car loans rose only $6 to $458. That is because banks and finance companies were willing to lend at lower rates and grant borrowers more time to repay.
In short, every dollar is being squeezed and for as long as possible, while unemployment provides no solace and incomes fall short of a healthy environment. That is not business as usual.
Private equity's shot in the housing arm provided the headlines that wouldn't haven't been there otherwise, and as they pull back, the disease will manifest itself once again. Much like QE, REO to Rental is an experiment, and it influenced the housing market in ways not seen before. Meanwhile, a report indicated that "while national trends for troubled properties are improving, there are 19 states where newly started foreclosures are heading higher." And while the rough winter still provides cover, some facts cannot be resolved by a snow blower, with "Pending Sales of Existing Homes in U.S. Decline for Eighth Month," registering a 10.2% drop from one year earlier, as of February 2014.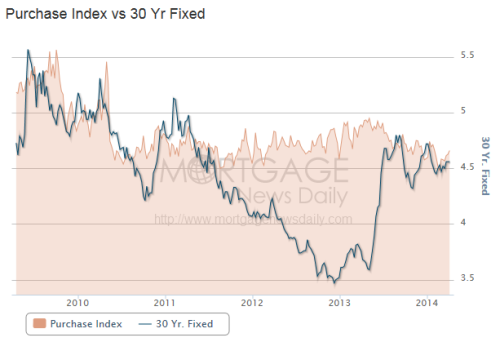 In addition, the Mortgage Bankers Association' purchase index is roughly where it was four years ago, and the index has stayed within a band since the middle of 2010, with a muted response following a significant rate reduction of 150 basis points over two years on the 30-Year fixed mortgage, which has literally evaporated. There's also an observable continuous decline that started around Q1-2013.
Almost on a daily basis, gurus and experts take to TV screens telling us that the economic recovery is well on its way, and then proceed to complain that after five years the economy is still anemic. Groundhog Day? Yes it is, and while the majority look for esoteric formulas and political scapegoats, regardless of ideological stripes, seeking an explanation for contemporary woes, they overlook the fact that simplification is the key to comprehension. According to a Washington Post/ABC News poll conducted in December of 2013, 79% of Americans still think that the economy is in a recession, and rightly so. But why bother explaining again?
If one has not noticed, "Adjustable-Rate Mortgages Make a Comeback" and while the WSJ pointed out that ARMs were "one of the main culprits of the housing crisis," banks say that this "time is different," which is always a laughable assertion. Let me make two important points: 1) the vast majority of borrowers are clueless regarding interest rate movements and risk; and 2) if one cannot afford a fixed interest rate on any given amount, one cannot afford that amount, period.
As pointed out before, let's not forget about the monumental student loan albatross, which presents an ongoing obstacle to the housing industry's expansion via first time buyers, a segment that is vital because it allows existing home sellers to move up the ladder. Apparently, student loan data is reminiscent of the proverbial "burying your head in the sand," as "Fed Student-Loan Focus Shows Recognition of Growth Risk" points out.
The Department of Education releases defaults rates on federal loans once a year and only for borrowers who haven't made required payments for at least 270 consecutive days during the two- and three-year periods after they graduate or drop out. The rates don't include students with extensions - such as deferrals and forbearance, or federal income-based repayment programs - which can indicate signs of borrower distress. They also don't include private loans, which account for about 15 percent of the market.
Wilbert van der Klaauw, one of the New York Fed economists, was surprised: "We didn't realize there was so little data." Well, considering that "only" a little more than $1 trillion has been borrowed, why worry?
Despite the fact that the Fed's balance sheet is still expanding, the Fed continues to reduce QE either because it sees an improving economy, is concerned about inflation, or is using that as a pretext to slowly exit the silly experiment. The evidence shows that interest rates actually increased since QE3, as shown by the chart below, and opinions may vary between a stronger economy and higher inflation to come, or a simple reaction to lower treasury demand and increased risk going forward. Talk about painting oneself into a corner. Then again, the Fed shouldn't worry about interest rates and, apart from Volcker in the 80s to combat inflation, every time they touch the knob they screw up. While QE3 was designed to keep rates low, markets disagreed and there wasn't a thing Bernanke or anyone else in the building could do about it.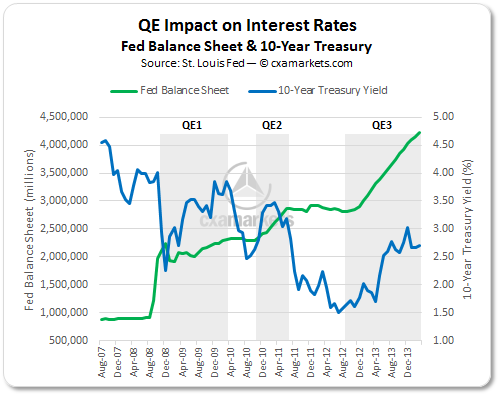 The mantra that the Fed controls interest rates is wildly exaggerated, unless the Fed financed government debt directly. If that was the case, why bother with auctions? Let's say that there's an auction for 30-Year Treasury bonds with a coupon rate of 3.5%, and if nobody buys it, the rate must go up to meet the rate that buyers demand. Let me illustrate, using a recent auction in China as an example.
The Chinese government was unable to sell all the bonds offered at an auction on Friday, its first such failure in nearly a year amid concerns about slowing growth in the world's second-largest economy. The failed bond auction raises the stakes for Beijing as it tries to rein in debt levels, illustrating that even the state will have to pay a higher cost for funding as banks focus more on investment risks and demand improved yields. In the bond auction the finance ministry had hoped to sell Rmb28bn ($4.5bn) of one-year bonds. However, it ended up selling just Rmb20.7bn, the first time since June that a government debt sale failed to reach its target. Traders said there was strong appetite for the government bond but only at rates above what the finance ministry was willing to pay to borrow money.
Please note "concerns about slowing growth," and the normal reaction is for rates to drop. But there's the risk side, and if a government and/or corporation face a weak economic future, diminished revenue increases the likelihood that debt will not be repaid. It's harsh out there, and if slow growth led exclusively to lower rates and central bank control over interest rates existed, Greece would be in heaven.
While the calls for a stock market breakdown are in and some sectors have weakened considerably, there's no evidence yet that sentiment has shifted from my macro perspective, despite the recent pullback, which can be viewed as a training exercise. On a calendar basis, risks will be substantially elevated by the end of Q2-2014, when a confluence of factors - U.S. earnings, China, Europe (was there last week and it's ugly) and the drums of war - will start to test the resilience and dedication of "all-is-well" advocates.
I would like to touch on a hot topic that is surrounded by controversy: High Frequency Trading. The jury is still out and I don't have much specific to add, but suffice it to say that HFT is a disaster waiting to happen. That statement hinges on the fact that HFT is driven by software written by humans, and, as we well know, there's always that bug that chooses to surface at the most inappropriate time. There's yet another side to this story that hasn't been explored, and that is HFT liability due to contributory negligence. If another flash crash occurs and actually sticks by the closing and then feeds on itself, not only are plenty of "wise" players likely to be wiped out, but there will be plenty of legal room for innocent market participants to sue the perpetrators, having the potential of setting legal precedent. Remember LTCM and the illustrious PhDs that designed a fail-safe system with "complex" mathematical models that failed to anticipate the eventual and "simple" bailout? Remember the movie "Trading Places?" Settlement is when the chickens come home to roost.
On the flip side, and despite the negative connotation that the word "trader" carries in some circles, being a trader is unlike any other job. Reason being that decisions and subsequent outcomes are rewarded and penalized instantaneously with nobody to blame. Never once was my pay reduced because I screwed up while toiling in the corporate world. I play by market rules, skip most of the market tools available, and always place market orders regardless of price - 10 cents more, 10 cents less, who cares? No hedging. No scaling. No limits. No stops. No regrets! And If anyone sees the economic opinions and observations above as sour grapes, as was the case the last time I wrote, please check my returns here.
Life in itself is a collection of intertwined algorithms, and the excitement and fulfillment comes from designing systems that not only beat the market fair and square, but deliver substantial profits year in and year out. Never once did I try to figure out a way to cheat the system - and there are plenty of traders that fit the bill - otherwise I would be a bank robber because I love high speed chases. Insider trades, as an example, may allow someone to buy a Lamborghini on ill gotten gains, but these people know that they are mediocre at best, and they struggle with their personal reality every single day of their lives, despite the deceiving appearances. One can only pity them. I watched the "Wolf of Wall Street," a movie on the cusp of being classified as soft porno, which redefined "having skin in the game." The conclusion drawn was that they were ultimately fools preying on the greed of dumb and dumber across the social strata, while consuming drugs to escape their ineptitude.
Disclosure: I have no positions in any stocks mentioned, and no plans to initiate any positions within the next 72 hours. I wrote this article myself, and it expresses my own opinions. I am not receiving compensation for it. I have no business relationship with any company whose stock is mentioned in this article.