I have been long gambling concern Las Vegas Sands (NYSE:LVS) since the second half of 2012. It has been a wonderful performer over that time frame. The shares doubled from the levels I took my original stake at, before recently pulling back some 15% within the overall decline of the market over the past few weeks.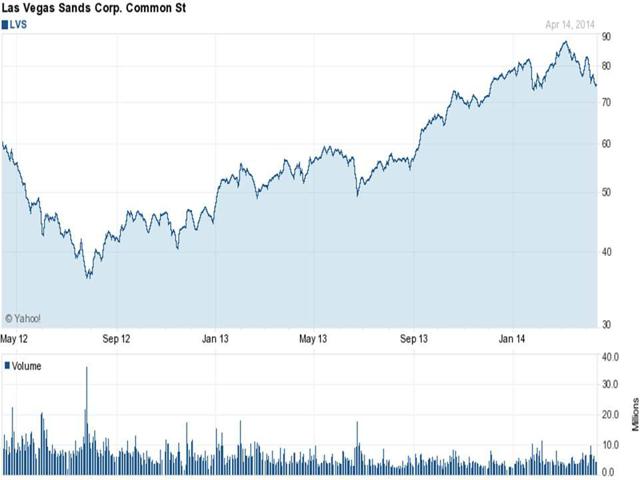 The company's name is a misnomer. The vast majority of its revenues come from fast-growing Asia, not Las Vegas. Its primary properties are in Macau, where gambling revenues are 6-7 times that of Las Vegas overall, and growing much faster.
I believe these properties are the core reason Las Vegas Sands looks attractive on the recent dip. JPMorgan came out today predicting gaming companies in Macau will see, on average, a 20% increase in revenues and over 30% gains in profits in Q12014 year-over-year. Goldman Sachs believes gaming revenue will increase 16% year-over-year for all of 2014. Citi Research thinks growth will be better than 20% this year.
Las Vegas Sands is one of or the best-positioned gaming company in Macau. The shares have a little bit of everything for investors. Income investors will like that its dividend yield is near three percent (2.7%) again, after the stock's recent decline. The company has also doubled its dividend payouts over the past two years. Look for solid dividend growth to continue given the company's growing cash flow.
Las Vegas Sands also appeals to growth investors. For the company overall, revenues should gain better than 15% and earnings should gain over 30% this fiscal year. The shares are selling for ~19x forward earnings, a bit over the overall market multiple. However, the company is growing much faster on an earnings and sales growth perspective than the average firm in the S&P 500; so the slight premium is more than warranted. The stock has a very reasonable five-year projected PEG (1.15) given its yield and visibility of earnings.
If Japan opens up to gambling, which I believe it will eventually have to do given its growth challenges and burdening government debt load; Las Vegas Sands should be well-positioned to take advantage of that large opportunity. The company also has some ~$10B in high-end retail properties, which it could either sell-off or spin-off in a REIT structure, which would be welcomed in the investment community.
The median price target by the 22 analysts that cover the stock is currently $88.50 a share. This is ~20% above the current price level, and where the stock was trading roughly a month ago before the market pullback. ACCUMULATE
Disclosure: I am long LVS. I wrote this article myself, and it expresses my own opinions. I am not receiving compensation for it (other than from Seeking Alpha). I have no business relationship with any company whose stock is mentioned in this article.