By Craig Bowles
Overview
Goldman Sachs (NYSE:GS) is scheduled to report 1Q2014 earnings before the opening bell on Thursday, April 17. The firm indicated it would provide a press release at 7:30 a.m. EST and follow with a conference call at 9:30 a.m. webcast at Goldman Sachs Investor Relations. Goldman's results also have the potential to impact the financial sector as well as the broader market gauges, particularly the index futures, given the investment bank's influence.

Outliers & Strategy
Key measures:
Earnings Per Share: Goldman Sachs typically provides a "clean" number that is comparable to consensus. The current Street estimate is $3.44 with a range of $3.10 to $3.83. Consensus was $3.96 two months ago. (Source: Yahoo! Finance)
Revenues are seen coming in at $8.70 bln, a decrease of 13.8% from 1Q2013. The range is $8.24 bln to $9.28 bln.
Now officially a member of the Dow Jones Industrial Average, Goldman Sachs' earnings are even more critical to the market. Following reports from JP Morgan Chase (NYSE:JPM), Citigroup (NYSE:C), Bank of America (NYSE:BAC) and Wells Fargo (NYSE:WFC), Goldman results will be a key litmus test measuring the health of the U.S. financial services sector.
Implied Volatility: The options markets are implying a 2.96% move one day after earnings are disseminated.
Recent News
04/14: Blackstone, Goldman Sachs to buy KKR's Ipreo in the deal estimated at $975 million.
04/10: Goldman's $550 million SEC fine is part of a deal that includes an SEC promise not to prosecute on problems with other mortgage backed securities, according to a post on Forbes.com.
04/08: Goldman follows shut down of HFT operations by possibly closing Sigma X dark pool operations. Closing such money making operations suggests something truly big and transformational is underway, according to a post on Zerohedge.com.
04/08: Koch Industries and Goldman's private-equity unit are near an agreement to buy printing-ink maker Flint Group from CVC Capital Partners, according to a report on Bloomberg.
04/02: Goldman is in talks with IMC Financial Markets to sell its floor-trading business that operates in the New York Stock Exchange, according to a post on Benzinga.com.
04/02: Goldman Sachs was fined €37m as part of an EU cartel inquiry into subsea power cables, according to an article by Financial Times.
Technical Review
Goldman Sachs' shares have now pushed below the 200-day MA. Support was around $150 last summer and could provide support again. While Goldman has been relatively weak the last two months, the stock had outperformed the market since late 2012 and is now back to a market performance. A positive report could get a quick bounce back to the $163 area but the stock needs to be closer to $170 to escape the bulk of resistance. Conversely, a push below $150 would have traders searching through less than solid support areas. (Chart courtesy of StockCharts.com, click to enlarge)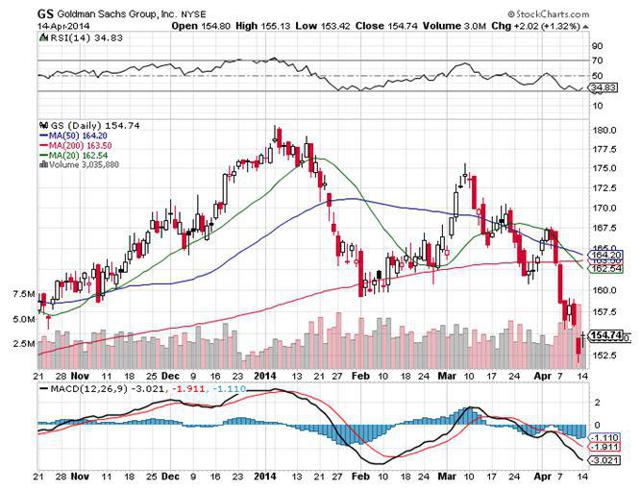 Summary
The Street expectations have been reduced on Goldman and banks in general. While various fines and settlements have weighed on the stock price recently, the company's future won't have to deal with the same problems. Goldman shares trade at a modest 10x trailing earnings (Morgan Stanley (NYSE:MS) is at 21.4x). Also look for the broader market to respond favorably if Goldman is able to deliver a characteristically strong report relative to market expectations (the high number on the Street is $3.83 and was $4.40 as recently as last week).
DISCLAIMER: By using this report, you acknowledge that Selerity, Inc. is in no way liable for losses or gains arising out of commentary, analysis, and or data in this report. Your investment decisions and recommendations are made entirely at your discretion. Selerity does not own securities in companies that they write about, is not an investment adviser, and the content contained herein is not an endorsement to buy or sell any securities. No content published as part of this report constitutes a recommendation that any particular investment, security, portfolio of securities, transaction or investment strategy is suitable for any specific person.
Disclosure: I have no positions in any stocks mentioned, and no plans to initiate any positions within the next 72 hours. I wrote this article myself, and it expresses my own opinions. I am not receiving compensation for it (other than from Seeking Alpha). I have no business relationship with any company whose stock is mentioned in this article.