"Something is rotten in the state of Denmark."
The title of this piece is a play on this famous quote originating from William Shakespeare's play, Hamlet. The essence of the line implies - the fish is rotting from the head down - all is not well at the top of the political hierarchy in Denmark. When I heard the news General Electric (NYSE:GE) CEO Jeff Immelt might give up his CEO position earlier than anticipated, this line immediately came to mind. Immelt is slated to complete his 20-year run at General Electric in 2021. Directors at GE are reportedly rethinking the concept of a 20-year run for a CEO. This news, coupled with the fact the stock is down nearly 10% year-to-date has me wondering if there is something more amiss at GE.
In the following sections, I will attempt to distinguish what is real from repartee regarding GE's current state of affairs. I will then do my best to distill a judicious buy or sell recommendation on the stock.
Rumor has it GE is rethinking the company's 20-year tenure program for CEOs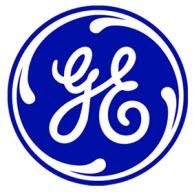 According to a WSJ.com piece out early Tuesday morning, GE may be considering halting the company's long-standing 20-year CEO tenure program. The move begs the question, is there some bad news in store for shareholders when GE reports earnings on before the market opens on April 17th? I just don't understand why the company would chose to make this move at this particular time. The weak stock performance as of late has some GE shareholders clamoring for Immelt's removal. According to the rumor mill, Lorenzo Simonelli, head of GE's oil and gas unit, and Steve Bolze, who directs the power and water business, are two of the leading contenders to replace Immelt.
I say this move is way overdue. I do not feel having a 20-year tenure program adds any value whatsoever. As a matter of fact, it isn't based on GE's current stock performance and fundamental circumstances.
Stock fundamentals and performance are weak
The PEG ratio is a primary factor in determining whether a stock is undervalued or overvalued. GE's current forward PEG ratio is 1.8. The company's five-year average forward PEG ratio is 1.5. This implies the company is currently trading at a 21% premium to its five-year historical average. Taking this into account, the shares should be trading for closer to $21, rather than $25 currently. Furthermore, GE's trailing two-month PE of 18.3 is a 15% premium versus the company's five-year historical average TTM PE of 15.9. The best case is the current forward PE of 14.9 is only trading at a 5% premium to the historical average of 14.2.

(Information provided by Thomson Reuters)
GE is in the midst of a major turnaround. Nevertheless, I'm not so sure the story is intact. While GE's sales did pass the $1 billion mark in 2013 in several emerging market countries, sales in the US, Europe, Pacific Basin and Americas regions actually declined 1% year-over-year.
The stock is down nearly 10% year-to-date, and is currently testing the 50-Day SMA. Moreover, looking at the chart, you can see we are at a major inflection point.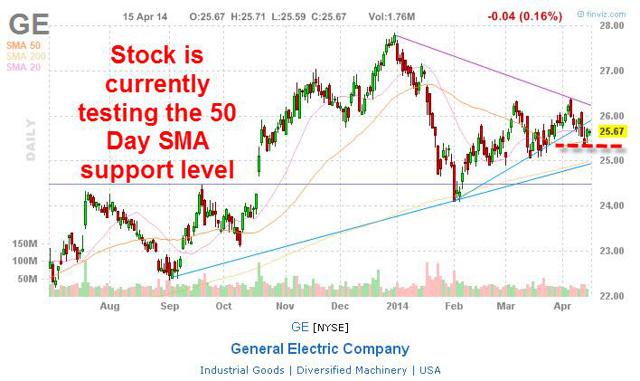 (Chart provided by Finviz.com)
The bulls and bears are in a tug-of-war regarding the stock, and the bears are winning. The current technical formation is usually indicative of continued downside. The stock is currently in a bearish pattern that indicates distribution. It's hard to get excited about a stock whose performance and fundamentals are both signaling trouble ahead.
Emerging market and geopolitical risks are high and growing
GE is counting on growth coming from emerging markets. In the last few months, two major developments have taken place that may seriously threaten the stability of these markets. Axel Merk, chief investment officer of Merk Investments, told CNBC that Fed members have been acting confused, and a lack of clarity in policy direction would continue to hurt the more vulnerable emerging markets this year.
"Fed policy is going to be volatile and the key implication from that is that it's poison for emerging markets, because the volatility is bad for markets with little liquidity."
Emerging markets, which have been one of the biggest beneficiaries of quantitative easing, were hit particularly hard last year, when talk of "tapering" first started to panic investors. Countries with higher current account deficits saw vicious sell-offs as a result.
The elephant in the room is the Russian factor. General Electric's Capital Aviation Services unit is the world's largest aircraft leasing company. The unit has 54 airplanes in Russia. If the conflict between President Vladimir Putin and the West escalates, this could be very bad news for GE.
The current geopolitical turmoil presents multinational corporations with two new major risks. Sanctions could inadvertently punish U.S. interests, and the Russians could push back against American companies as well. At the very least, there has been a significant amount of uncertainty and risk in the air currently.
Positives for GE
Financial Strength
GE has an enormous amount of firepower. It can move into a new industry and start making profits in short order by acquisition and expansion. GE's strong financial position allows the company to do a high level of R&D, which leads to increased profits.
Room for Improvement
GE is focused on improving EPS. It is working on both ends of the equation to get there. There is room for improved efficiencies throughout the company. As time passes, I posit we will see significant improvement to fixed and overhead costs. These savings will directly improve the bottom line.
Conclusion
I remain guarded on the prospects for GE after hearing the news of a shift in the company's CEO tenure program. On top of that, the recent softness in the fundamentals and stock performance doesn't provide me with much confidence in the current management.
Further, the recent uptick in geopolitical tensions and a possibility of sanctions backfiring makes the potential reward not worth the risk, in my book. I see the stock moving sideways, at best, to lower in 2014. I would not recommend buying into the stock prior to earnings due out on April 17th. GE is essentially a no-touch for me at this point. I am waiting for the other shoe to drop.
Disclosure: I have no positions in any stocks mentioned, and no plans to initiate any positions within the next 72 hours. I wrote this article myself, and it expresses my own opinions. I am not receiving compensation for it (other than from Seeking Alpha). I have no business relationship with any company whose stock is mentioned in this article.