Eagle Energy Trust (ENTYF) is a Canadian company with oil and gas operations in the USA. It pays a monthly dividend of CDN $0.0875 while currently trading at CDN $6.75. This gives investors a yield of approximately 15.6%. It is similar in nature to another Canadian headquartered company - Argent Energy Trust (OTC:ANGYF), which I recently published an article on for SeekingAlpha.
I've indicated that it is similar in nature to Argent because they both primarily produce oil as their source of income, are Canadian headquartered but have their operations in the USA, and up until last week both gave a monthly distribution of $0.0875. They both also had Premium DRIP and DRIP programs in place that essentially allowed investors to take shares of the corporation in place of cash distributions. In both situations, approximately 70% of investors have opted to do so.
Having said that, they do have their differences.
Argent has twice the production base that Eagle has, and their operations were spread out across the USA. Argent is currently giving average production guidance for 2014 of 6,000 barrels of oil equivalent product per day (BOED) whereas Eagle is smaller in size and has given guidance of approximately 3,350 BOED from two fields in Texas. Debt to cashflow levels are also different with Argent significantly more leveraged than Eagle is.
So why the comparison?
The key to both of these companies is their business model. The model pays a high distribution, but relies on a certain level of investors taking their distribution in the form of stock. By doing it this way, they can take the cash that isn't distributed and put it back into growing or maintaining existing production levels.
When that level of distribution is breached (and no guidance is given by the companies of what it is), then the cash flow going out to pay the distribution becomes too punitive for them to maintain the production profile all things being held constant. And when that happens, the company goes into a downward value spiral.
Last week Argent announced the stoppage of their Premium DRIP program. Because of the nature of the Premium DRIP program, when distributions are held the same and stock prices decline, the amount of shares increase proportionately. So at some point if a stock collapses, the board has to look at the dilution and say "does it make sense?"
In Argents' case, the board decided the stock was to low and they needed to "protect" the NAV value against excessive dilution. Argent cancelled the Premium DRIP programmed and slashed their dividend at the same time. Essentially, they indicated that unless the stock price was at or near issue price, the model fails.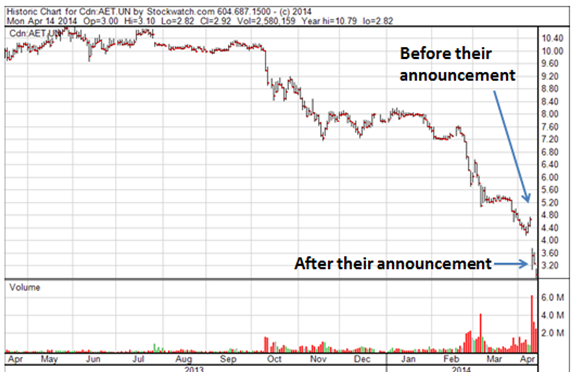 Source Stockwatch
Which takes us to with their similar model. The stock has been following Argent in its downward progression. One wonders just how lower it would need to go before the Eagle board cries "Uncle" and does the same thing?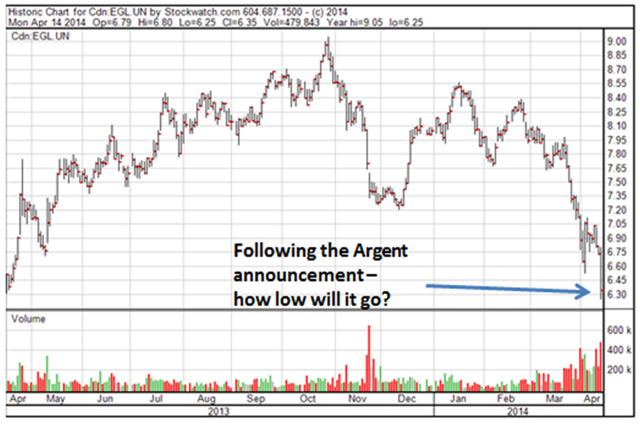 Source Stockwatch
Disclosure: I am long ANGYF. I wrote this article myself, and it expresses my own opinions. I am not receiving compensation for it (other than from Seeking Alpha). I have no business relationship with any company whose stock is mentioned in this article.