With taxes on everyone's mind today, I thought I would put together an updated look at Tax-Free Municipal Bond Closed End Funds as a nod to April 15. But one caught my eye, so instead of doing that broader look today (I'll have one soon, I hope), I thought I pull this one out for your Tax Day attention.
Black Rock Investment Quality Municipal Trust (NYSE:BKN) looks to me like a sweet buy right now in the Municipal Bond Closed End Fund space, and should be worth a hard look for the investor looking for tax-free opportunities.
The last time I wrote about muni bond CEFs was back in November 2013 (here). At the time there had been a marked sell off in municipals and I felt there were several bargains to be had. The 6 funds I singled out in that report are up 6.82% on market price on average and have seen their average discounts reduced by about 2 percentage points.
They are not unique. The muni bond asset class has had solid gains YTD and bargain funds are a lot harder to find. BKN may be one of them. BKN is a Morningstar 4-star fund. It can currently be had for a -5.1% discount on its NAV. That is about 1.5 percentage points below its 52 week average discount.
It is returning a tax-free (national) 6.65%. The table translates that into the tax-equivalent yield for a range of marginal tax rates.
| | |
| --- | --- |
| BKN Distribution Rate: | 6.65% |
| 2014 Marginal Tax Rate | Taxable Equivalent |
| 25% | 8.87% |
| 28% | 9.24% |
| 33% | 9.93% |
| 35% | 10.23% |
| 39.6% | 11.01% |
Distributions are paid monthly and have been $0.08 per share since Dec 2012.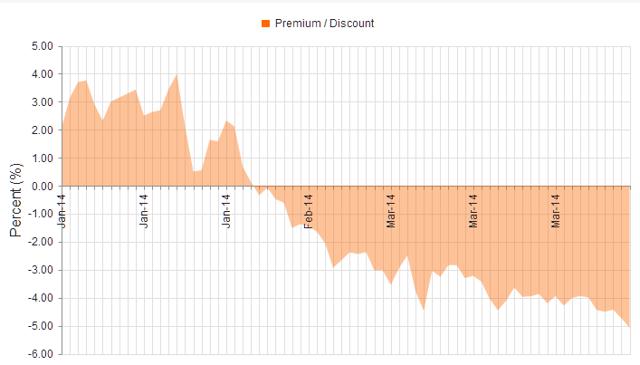 What I find exceptional about BKN is that YTD its NAV is up 8.34%, handily outperforming the asset class. Over the same time, its market price is down -0.28%. The price has moved from a premium of 3.14% to a discount of -5.1% (chart from cefconnect.com). In a category that is moving strongly up, this fund appears poised to make a price move soon.
The fund's name tells us it is focused on investment quality bonds. As one might expect, credit quality is high as seen in this table from the sponsor's site.
| | |
| --- | --- |
| AAA | 1.9% |
| AA | 24.4% |
| A | 47.1% |
| BBB | 19.4% |
| BB & Below | 2.7% |
| NR | 4.5% |
The top five states represented are California (16.5%), Texas (8.6%), Illinois (8.1%), New York (7.7%) and Florida (7.6%). Maturity data is only listed as 0-4 years (4.5%) and greater than 4 years (95.5%). AMT bonds comprise 8.5% of the portfolio and 23.9% is in insured bonds.
The fund is leveraged at 37.6% which is fairly typical for muni bonds CEFs.
For an investor looking for opportunities in tax-free high-yields, BKN should be an outstanding choice. Yields are high, credit quality is solid and the fund appears to be mispriced sufficiently to present an excellent buying opportunity.
Disclosure: I have no positions in any stocks mentioned, but may initiate a long position in BKN over the next 72 hours. I wrote this article myself, and it expresses my own opinions. I am not receiving compensation for it (other than from Seeking Alpha). I have no business relationship with any company whose stock is mentioned in this article.