Lazard Ltd. (NYSE:LAZ) is a leading global financial advisory and asset management firm with $187 billion in AUM, as of December 31, 2013. It operates from 40 cities across 26 countries in North America, Europe, Asia, Australia, Central and South America.
The firm provides advice on mergers and acquisitions (M&A), strategic matters, restructuring and capital structure, capital raising and corporate finance, as well as asset management services.
Excellent Fourth Quarter Results
Lazard reported operating results for the fourth quarter on February 5, 2014. Financial advisory gained momentum, with M&A revenue up 43% from the third quarter. Asset Management also had strong quarterly revenue of 20% on record AUM.
Adjusted earnings came in at $0.81 per share, significantly ahead of the Zacks Consensus estimate of $0.60 per share. Operating revenue increased 8.2% to $620 million, ahead of the Zacks Consensus Estimate of $561 million.
Operating margin increased to 22% from an average of 19% during 2010-12 and the company expects to achieve a margin of 25% this year.
Lazard had about $841 million in cash and cash equivalents as of December 31, 2013.
Positive Earnings Estimates Revisions and Rank
Lazard has been witnessing rising earnings estimates ahead of Q1 2014 results. The Zacks Consensus Estimate for 2014 and 2015 are $2.70 per share and $3.21 per share respectively, up from $2.61 per share and $3.14 per share 60 days ago. LAZ has delivered a positive earnings surprise in three out of last four quarters, with an average quarterly surprise of 24%.
The following "Price and Consensus" chart shows LAZ's strong track record in beating estimates.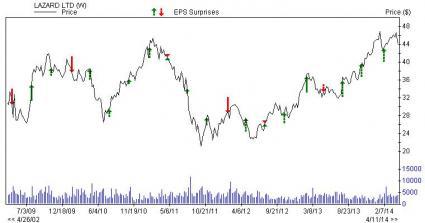 As a result of positive earnings momentum, LAZ regained a Zacks Rank #1 (Strong Buy) earlier this month.
Return of Capital to Shareholders
The company has an excellent record of returning cash to shareholders. Last year it returned a total of $416 million to shareholders, which included a special dividend of $0.25 per share on its Class A common stock.
Prior to Q4 results, LAZ announced a quarterly dividend increase for 2014 to $0.30 per share. This was the fourth consecutive year of dividend increase. During this time the company has doubled its dividend.
The Bottom Line
The Investment Management industry had a great performance last year thanks mainly to higher asset inflows and equity prices. The industry is currently ranked 60 out of 265 industries by Zacks (top 23%). The financial advisory business has also been doing very well.
Lazard seems poised to continue its strong momentum in the first quarter as well with a strong rebound in global M&A activity. While the financial markets are expected to continue to be volatile, management believes that the company remain in an excellent position, building on the investments made and efficiencies created.
Lazard (LAZ): Free Stock Analysis Report
(email registration required)