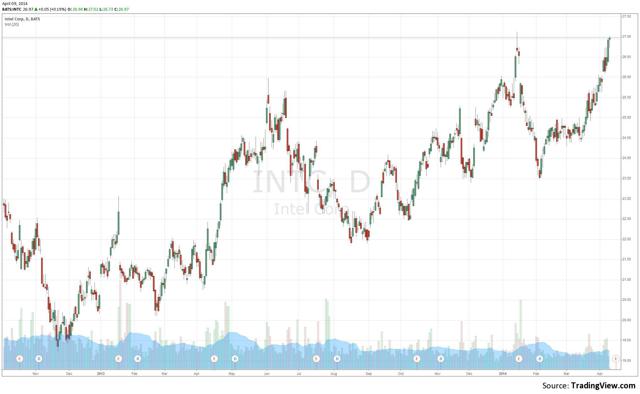 Click to enlarge
You may not have noticed it, but Intel (NASDAQ:INTC) has rallied nearly seven points since the bottom established in late 2012 - that's roughly a 40%+ upward advance through today.
On Wednesday, International Data Corp (IDC) released some very good news for the PC supply chain. Though worldwide personal computer (PC) shipments continued to decline during the first quarter of 2014, the pace of the fall was nearly a percentage point better than expected (-4.4% versus -5.3% forecast, -5.6% in the fourth quarter, and -7.3% in the third quarter). Much of the upside surprise during the period came from mature commercial markets as technical support for Windows XP expired.
After eight consecutive quarters of declines in worldwide PC shipments, we're certainly not expecting a significant rebound in unit demand anytime soon, but we don't think one is necessary for Intel to be successful. We continue to believe that IDC's expectations for stabilizing PC unit demand in 2015 will be sufficient enough to provide a shot of optimism to the PC supply chain, including the chip-making behemoth. Gartner believes the first quarter was even better for PC shipments, with units declining only 1.7% (relative to IDC's 4.4% decline). Though the pace of the fall varies between these two data providers, either case represents an encouraging improvement.
The worldwide PC shipment news is positive for much of the PC supply chain, but we think it is particularly welcome news for Intel. A large portion of our valuation thesis on Intel centers on stabilization of the PC market in 2015, and the data today indicates that this thesis is on track. Even after Intel's large price move higher recently, we continue to believe there is upside. We'll be taking a look at Intel's performance after it reports results after the market close today. We estimate Intel is worth $30 per share at the time of this writing.
Disclosure: I have no positions in any stocks mentioned, and no plans to initiate any positions within the next 72 hours. I wrote this article myself, and it expresses my own opinions. I am not receiving compensation for it (other than from Seeking Alpha). I have no business relationship with any company whose stock is mentioned in this article. INTC is included in the actively-managed portfolios.